Beach time! Can't hide the excitement when I planned our Cebu trip itinerary. I was looking forward seeing the beautiful beaches in Mactan Island so I did my research on a number of Mactan beach resorts that offer day trip packages. You can check them out here.
I chose BE RESORTS MACTAN among the rest. Their rates are affordable and within our budget and newly-built with modern decors. I actually saw a picture of the resort from my cousin's Instagram and became curious. My sister-in-law and her family were also able to stay there last year. Being a travel planner that I am, I sent them an email for my inquiries. Thanks to Joalyne, one of their reservations officer, for being so accommodating and patient 🙂
So after our sumptuous breakfast in the hotel, we took a taxi going to our destination. The taxi fare was Php287 from Waterfront Cebu City Hotel to Be Resorts.
It could have been a little less had we not dropped by the Lapu-Lapu Shrine recommended by the taxi driver who is also offering day tour packages. Almost all the taxis we took offered us a tour in Cebu tourist spots.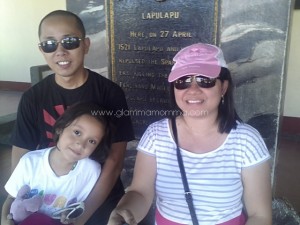 There was no entrance fee in Lapu-Lapu Shrine. Locals were offering umbrellas to be used. I'm not sure if they rent them out because I politely declined from the start. Vehicles were not allowed to park in front of the entrance but can park in the designated parking area for Php10.
It took us only about 10 minutes to have our pictures taken and show Kelsea the brave Lapu-Lapu. Thanks to the monopod I recently bought, we were able to maximize using it. From there, it was only a few minutes ride before we arrived at Be Resorts.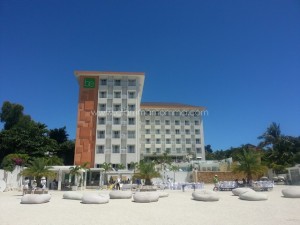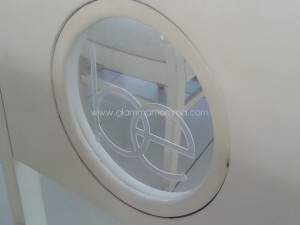 There were already a lot of guests around 9am. Joalyne advised me to arrive early because they only allow up to 100pax of walk-in guests so as not to crowd the resort.
Their day trip rates are as follows:
Adult rate – Php 850
Child rate – Php 550
Senior Citizen Rate – Php 580
Inclusions are:
– Use of swimming pool, jacuzzi and beach from 7am to 7pm
– Use of pool towels
– Set meal plus one round of iced tea
– 10% discount on Food & Beverages
– 10% discount on spa
– 10% discount on Fun & Sun water sports
We were given a wrist band to distinguish us from the checked-in guests. We were also given tags to claim the beach towels. Those tags will then be surrendered at the reception area before departing the resort.
Here are pics of the resort surroundings: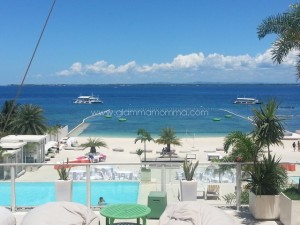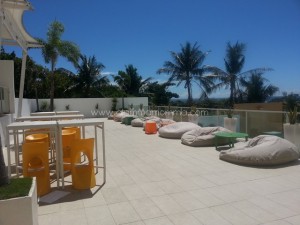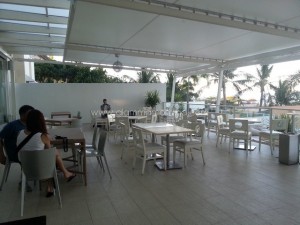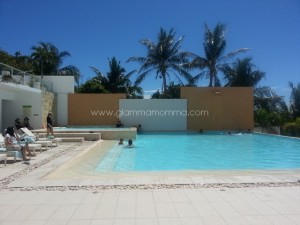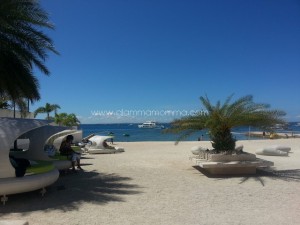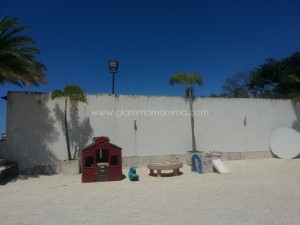 I initially wanted us to stay in their bed pods but they were all occupied so we settled at SALT, their beach bar. We were told that we can lounge there all through out our stay for the whole day.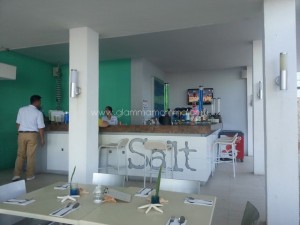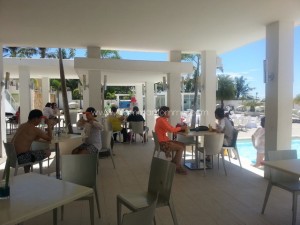 Kelsea was so giddy to dip in the pool so we hurriedly changed into our swim wear and enjoyed the pool and the beach. The beach resort has 2 swimming pools (adult pool and kiddie pool). Since we were staying at the beach bar, we used the kiddie pool which was just a few steps away.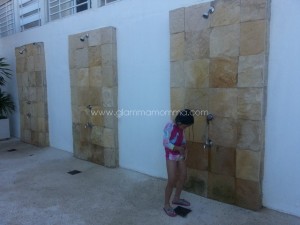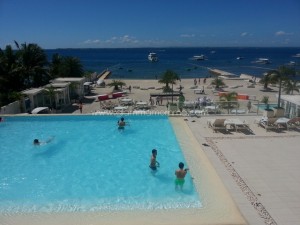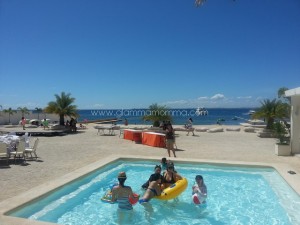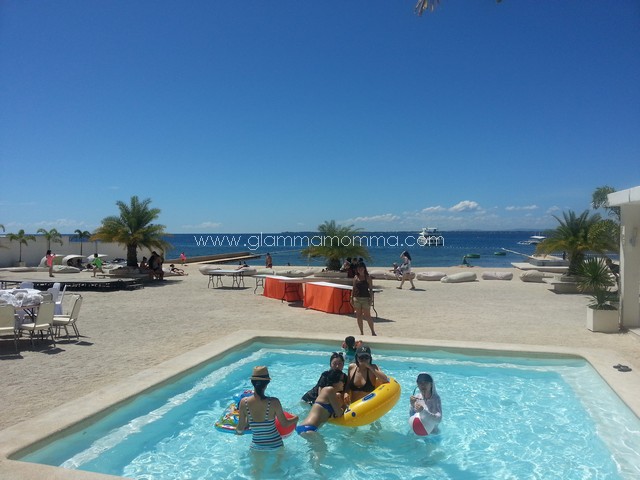 Next was checking out the beach. The sand was white but not that fine as compared to the sand in Boracay's Station 1.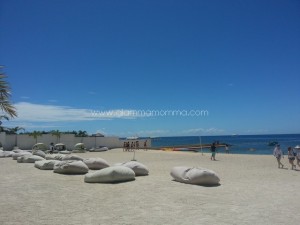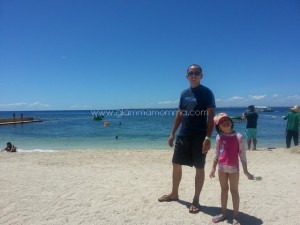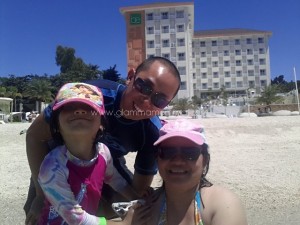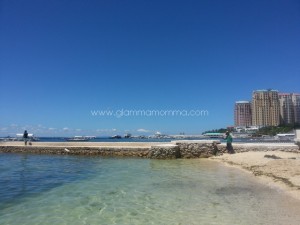 We forgot to bring Kelsea's aqua shoes so she insisted on wearing her slippers in the waters and then later on requested us to go back to the pool.
Swimming made us thirsty so we ordered drinks to keep us cool while Kelsea enjoyed her ice cream 🙂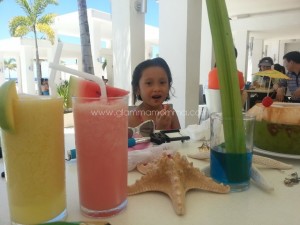 Buffet lunch was then served from 12nn to 2pm in their dining area. Walk-in guests need to present the official receipt to be allowed to get food and be served with the drinks. The food tastes just ok and nothing to rave about.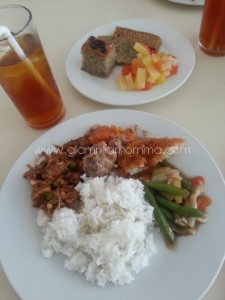 My mom decided to stay in the restaurant since it will be too hot for her to walk under the sun and stay by the beach bar. I think she made friends with a lot of staff. That's my mom! A plus for her because she knows how to speak in Bisaya.
Since it was too hot to be under the sun, swim and risk getting our skin burned even with sunblock, we rested for a while on their lounge beds.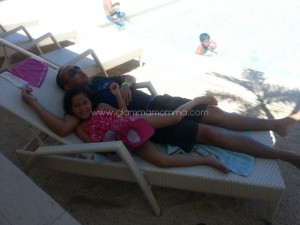 Swimming made us so thirsty and hungry, we then had pizza and drinks for snack. Too bad I wasn't able to take a photo of the pizza because we were all so hungry lol! Here's the menu of their beach bar just to give you an idea of the prices: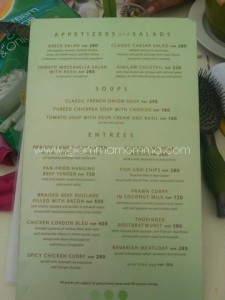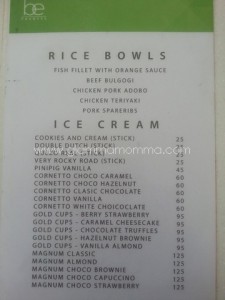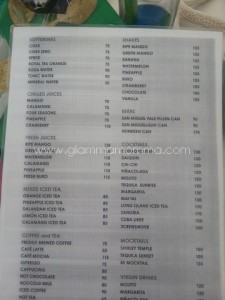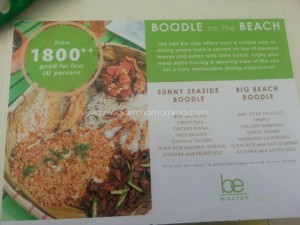 So aside from the day trip rate, be prepared for the food expenses since you'll surely get hungry and thirsty after a good swim 🙂
We were allowed to stay until 7pm but we decided to pack-up around 5pm. I really loved the resort's facilities except for the ladies shower room. There were only 2 shower cubicles so I hope they add more and put hooks or area where we can put our towels and clothes. But I guess they limited it to 2 since most are check-in guests who could use their room's own shower. I would also suggest having lockers for walk-in guests.
Before going back to the city, we took souvenir shots of the very beautiful view.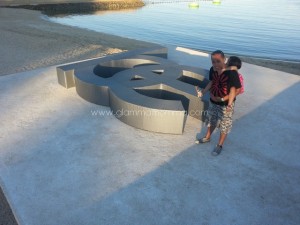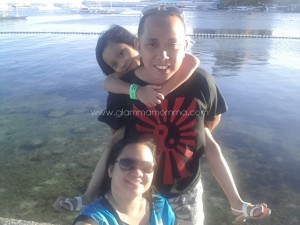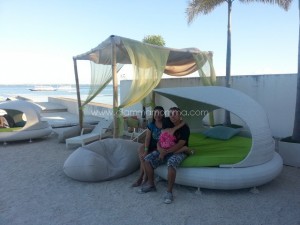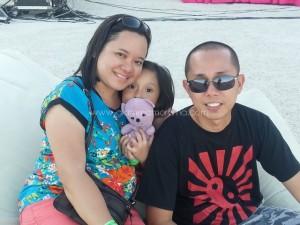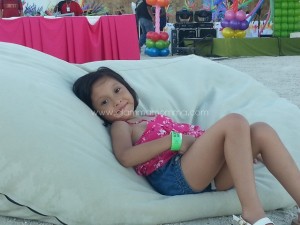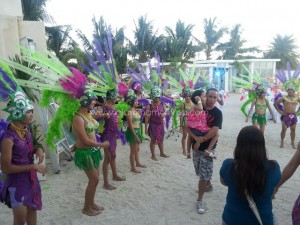 Now, the challenge was how to get a taxi back to the city since there weren't much taxis coming in the resort at that time. While waiting, I took photos of the parking lot to show that there is ample parking space for guests.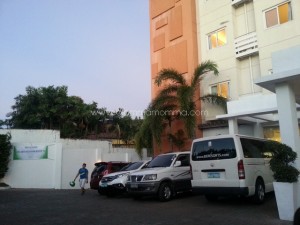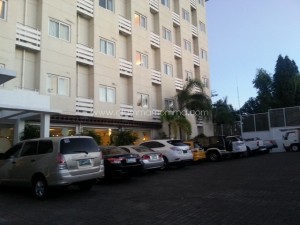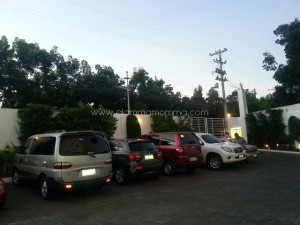 Luckily, in just 15-20 minutes of waiting, the resort's guard was able to hail a taxi for us. I would like to thank the staff of Be Resorts Mactan for being accommodating, courteous and made us feel very welcomed. I highly recommend this resort 🙂
We were all so exhausted when we arrived in the hotel so we decided to get room service instead and just have a light dinner.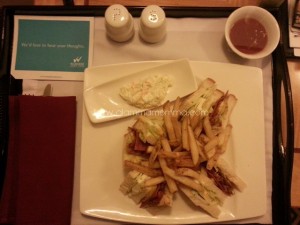 Time to say goodnight and look forward to tomorrow for more Cebu food and pasalubong on our last day of summer getaway.
Cebu Summer 2014 Getaway:
DAY 1 – http://www.glammamomma.com/2014/05/cebu-summer-getaway-2014-day-1/
DAY 3 – http://www.glammamomma.com/2014/05/cebu-summer-getaway-2014-day-3/