Our Cebu trip was totally unexpected. I joined a contest hoping to win one of the consolation prizes and I did and that entry was also chosen as the grand prize winner of a trip for 2 to Cebu inclusive of airfare and accommodations. Yipee! That gave my family a chance to have an out-of-town vacation and see one of the beautiful places in the Philippines.
We had an early morning flight of 6:20am via Cebu Pacific so we went early to NAIA Terminal 3 (T3) and arrived around 4:20am. We usually avail of the overnight parking in T3 every time we fly out since it was very affordable. But on that day, we were suprised that they already increased the fee from Php50/night to Php300 for every 24 hrs and an additional amount (sorry I forgot if it was Php10 or Php20) for every fraction of an hour. There was no time to back-out since we're already there. By the way, Park 'N Fly's rate is Php340+EVAT for a day.
I always make sure that we pack light so we only have one check-in medium luggage that's less than 15kg  and 3 hand-carry bags (one for the each of us). For tips on how to organize your luggage, check how I use our packing cubes here.
Since we came from Cavite, we didn't have time to take our breakfast so we just grabbed a bite from Kopi Roti in the departure area and will just have a decent breakfast in the hotel where my mom is waiting for us. My parents were also in Cebu because my dad attended the yearly PSME Conference.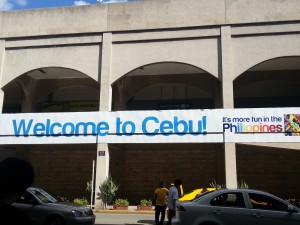 One of the international airports in the Philippines is the Mactan Cebu International Airport located in Lapu-Lapu City in Mactan Island. We arrived at 7:20am which was 20 minutes earlier than the scheduled arrival but we waited for our check-in luggage for 30 minutes.  The airport is around 30 to 40 minutes away from Lahug City where our hotel is located. Nobody's going to fetch us so we took the yellow airport taxi (left side when you exit the airport) which has a flag rate of Php70. Ordinary taxis have a flag rate of Php40. It took us 30 minutes waiting time since there was a long line at the taxi stand. Our fare was Php260 from the airport to Waterfront Cebu City Hotel & Casino. Note: There are two Waterfront hotels in Cebu, one in Mactan and one in Cebu City.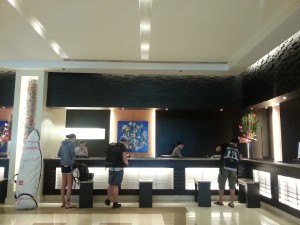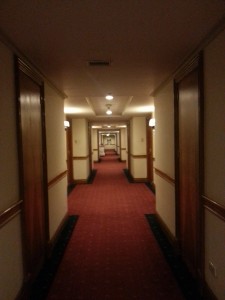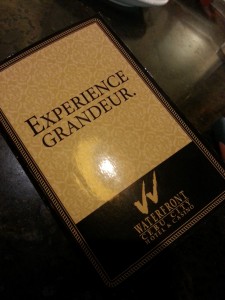 After our early check-in (we were only allowed because my mom's cousin works there), which was just a breeze, we went to our room and settled our luggage. Here's what Waterfront's Deluxe Room looks like: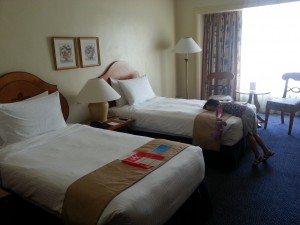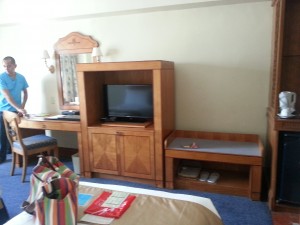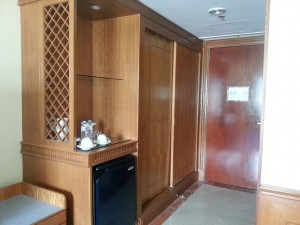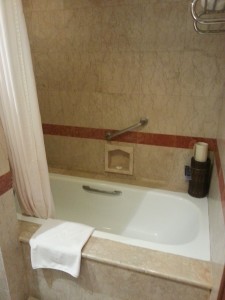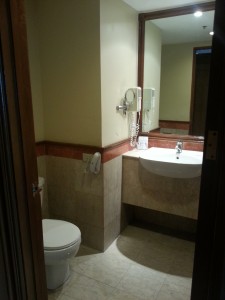 Kelsea got more excited because of the bath tub. We then met with my mom to join her for brunch.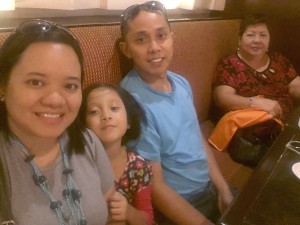 When our tummies were full, we roamed around the hotel to check out the place and took some snapshots.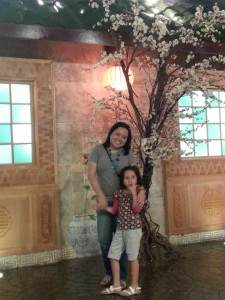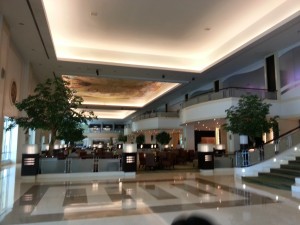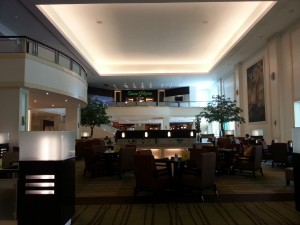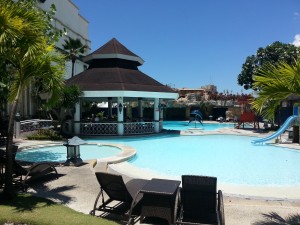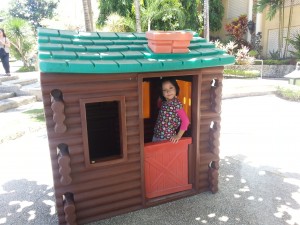 The hotel also offers free shuttle service to Ayala Center Cebu and SM City Cebu.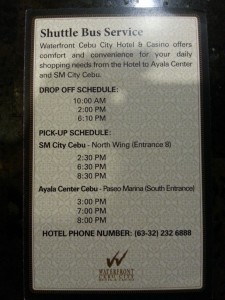 What I planned for our first day was to have a city tour but since it was already close to noon and it's bad for senior citizens to go out under the heat of the sun, we relaxed first in our room to take a short nap since we woke up early and so Kelsea can enjoy the hotel bed which is her favorite in any hotel.
Around 2pm, we started our city adventure. We took a taxi going to Magellan's Cross (taxi fare from hotel Php117). It saddens me that it was affected by the earthquake and there were wooden supports to keep it standing. Locals were selling long candles at Php10 each which you can offer prayers at the cross.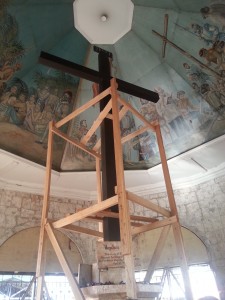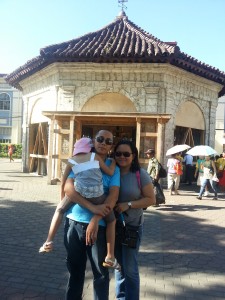 Then we went to a nearby bakeshop with a restaurant called La Fortuna Bakery to have our late lunch/merienda. It is a one-stop shop with a restaurant, bakery and pasalubong items. Viands are only Php50 per order.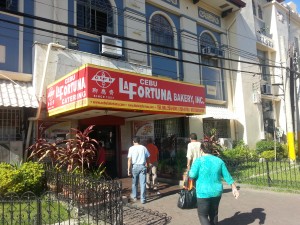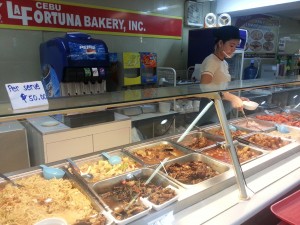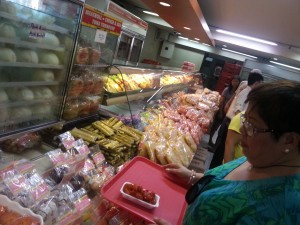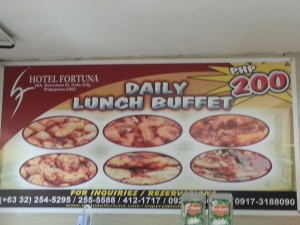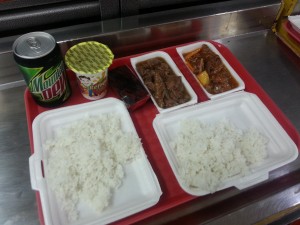 Next, we went to visit the Basilica Minore Del Sto Nino which is just a few steps away. The basilica's bell tower was greatly damaged by the earthquake so it is currently being fixed. It was the first Friday of the month so there were a lot of people waiting for the mass aside from the tourists offering prayers.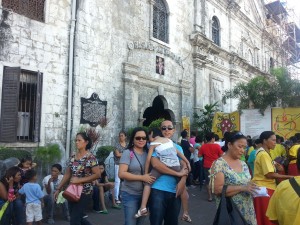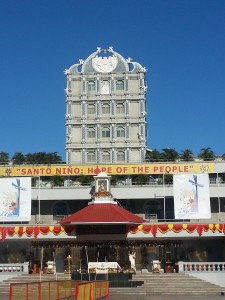 Locals were also selling candles here and they can chant some prayers while dancing.
Vendors were also selling character balloons for Php50 each. And of course, Kelsea wanted to have one 🙂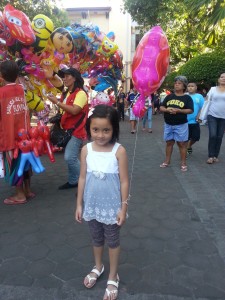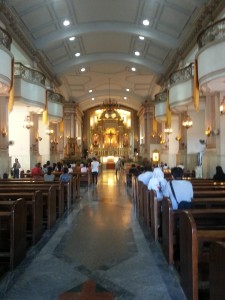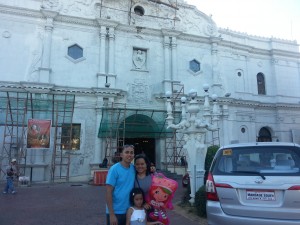 It was already 5pm and we haven't been to
Fort San Pedro
yet. We decided not to got there anymore. My mom needed to go back to the hotel to prepare for the conference's social night. So my family of 3 decided to go to
Crown Regency Hotel & Towers
to check-out their
Sky Exprience Adventure
. Mark and I wanted to try the
Sky Walk Extreme
and
Edge Coaster
but unfortunately, we can't because there was no one to look after Kelsea. At 5yo, she's not yet allowed to try those two. There are other attractions for kids like the 4D theater and Vivo Play Room but we decided to pass on that since she already experienced watching in a 4D theater and there are lots of play place in Manila.
There was a Starbucks coffee shop at the ground floor so Mark got his cappucino while we relaxed after the long walks we just had. Mark's highschool classmate who's assigned in Cebu is working nearby so we met him to join us for dinner. He led us to one of the famous must-try restaurants in Cebu which was just walking distance from Crown Regency.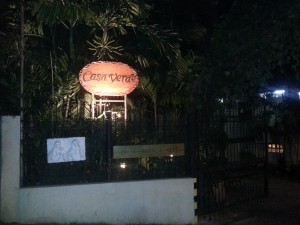 Casa Verde
is a chain of family-owned restaurants in Cebu that is well-known for their best-selling huge ribs, mouth-watering steaks and yummy desserts. The branch we went to was the original branch which was formerly just a small canteen turned into a full restaurant. It was a very cozy one 🙂
Here's what we ordered and shared among us (3 adults and 1 kid):
One of the best sellers is Brian's Ribs (Php 208). It is a baked pork ribs with a sweet, tangy piquet sauce served with rice and corn and carrots.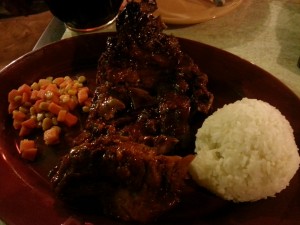 We were supposed to order Peter's Pork Steak but it was not available so we got Raffitas Combo (Php 228) instead. We got the combo of chicken and beef served with warm tortillas , tomatoes, lettuce , cheese and sourcream. If you love shawarma, you will surely love this!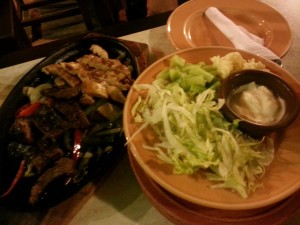 We also ordered a platter of rice and a pitcher of Raspberry iced tea. For dessert, we ordered their irresistable Death by Chocolate (Php 148). It has a rocky road ice cream mixed with chocolate bar bits on a bed of chocolate cookie crust drizzled with chocolate syrup.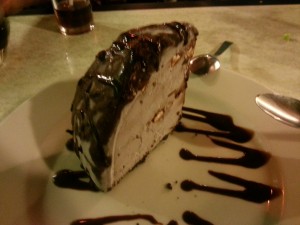 Casa Verde Ramos branch is located at 69 Lim Tian Teng St., Cebu City. You may place reservations thru (032) 410-7427. Their other two branches are at The Terraces in Ayala Center and at The Walk – IT Park in Lahug (just in front of Waterfront). I also heard they already have a branch in Manila (Ayala UP Town Center, Katipunan Ave., Quezon City).
It was a long day and our tummies were full which made us want to lie down and call it a night. So we hailed a taxi again from Crown Regency to Waterfront (taxi fare is Php82). Got to sleep early so we can have an early breakfast the day after and head straight to our first beach this summer 2014 🙂