Hello to my dear readers! I missed blogging so much but here I am again sharing useful info and at the same time documenting our family activities.
If you were a bride or currently preparing for your wedding, you must know Fernbrook Gardens. It is the "South-branch" of Fernwood Gardens (in Quezon City). No, we didn't have our reception here (too expensive for us!). Fernbrook Gardens is located along Daang Reyna Rd. (the road just before the Petron Gas Station along Daang Hari Rd. in somewhat the boundary of Las Pinas and Bacoor, Cavite).
Every time we come from Las Pinas and Alabang to our home in Cavite, we always see the big dome from afar and mesmerized by the bright lights at night. Or admire it more when we go to Muntinlupa/SLEX via San Pedro (Yes, there is a shortcut passing thru Victoria Homes).
We've known for so long that aside from having wedding events, the venue also holds Sunday mass in Fernbrook Gardens at their Notre Dame de Vie Chapel. Sunday mass is at 7:00 AM and 10:30 AM.

We attended the 10:30 AM two Sundays ago. This was a perfect time for us since we wake up late on Sundays. Sunday mass in our village is at 8 AM. It's too early for us. But in Fernbrook, it gave us time to have breakfast at home. We arrived before 10:30 AM but the place was already full of parishioners.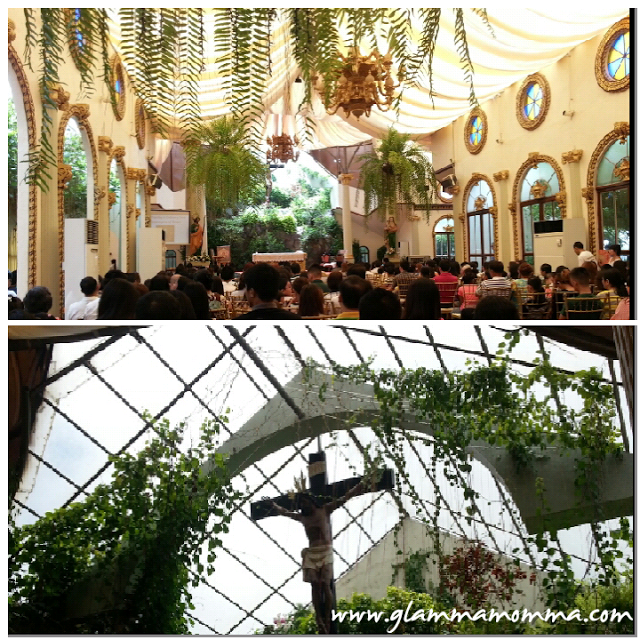 We were already standing at the back. We were warned by our friends that less people go to mass at 7 AM compared to the 10:30 AM mass. Aside from this time not being too early, there is always a baptism at 11:30 AM so the ones to be baptized and their guests might have been attending the mass too.
The place is air-conditioned and seats are Tiffany chairs. Since we were at the back and there were too many people also standing, it is advisable to bring a fan.
Aside from the beautiful place because of the garden that surrounds the chapel, we enjoyed hearing mass here because of the parish priest. He's a young priest known as Rev. Fr. John Paul "Raprap" del Rosario of the Madonna del Divino Amore Quasi-Parish. His homily was not boring at all. Unlike other priests (with due respect) who are monotonous and reads from their cue cards which sometimes makes mass-goers sleepy. But here, all were very attentive.
After mass, if you're a little thirsty or need a quick snack, there's a tent where a merchant called Frost and Tops was selling drinks, pastries, chocolates, etc.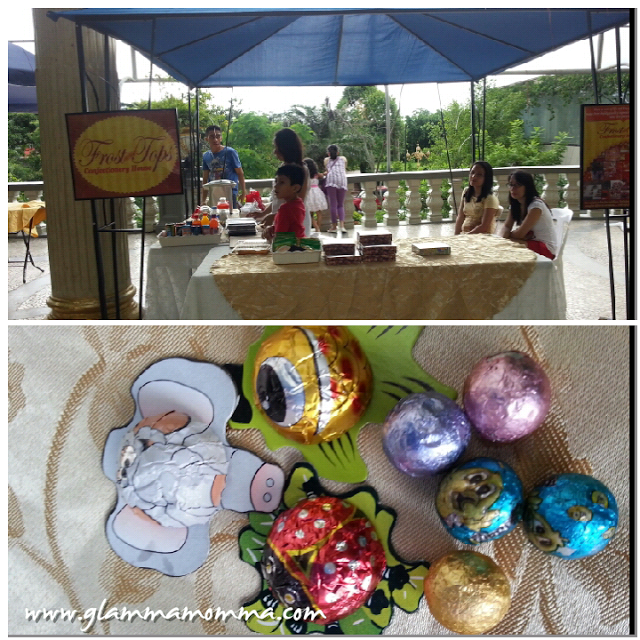 Well, we bought some chocolates for Kelsea. The big ones were Php5 each while the small ones were Php10 for 5.
It was still nice to stay in the area to pose and take some pics but there was a hint of rain pouring soon so I just took a quick shot of Kelsea with her C2 🙂
We'll definitely go back here to attend Sunday mass 🙂