I turned 37 last May and I got a birthday gift from my dear husband which was a staycation in Somerset Alabang Manila, a newly-opened serviced residence/apartment in Filinvest City in Alabang. Even if it was a gift, I was tasked to book for our stay (as usual hehe). So I called their reservations office to inquire if there's an on-going promo. They had a Mother's Day promo that month so we were able to avail of their Studio Premier for only Php5,000nett inclusive of continental buffet breakfast for 2 before the month ends 🙂 Reservation was a breeze. There was no need to deposit a payment. I was just given a confirmation/reservation code to be used upon check-in.
I love surprising our daughter so I didn't tell her that we were going on a staycation. She gets excited everytime we stay in a hotel. I secretly packed her bag 🙂 Well, I have a lot to pack because we are now 4 in the family!!! We were already blessed with our 5-week-old baby boy that time so it was a double celebration – my birthday and the 1st month of our new bundle of joy.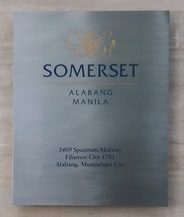 So off we went to Alabang from Cavite. We were very familiar with the area so it was easy for us to find the place.  We arrived around 2pm and was able to park in their basement parking. This how their front desk looks like:
I gave our booking number and presented my ID. By the way, they require an incidental deposit which is refundable upon check-out. While waiting for our room to be ready, we waited in their beautiful lobby.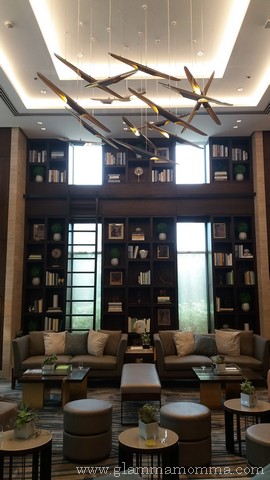 There were snacks (popcorn and some candies) and drinks waiting for the guests.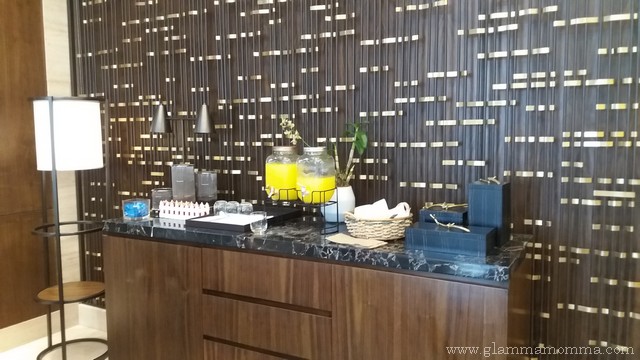 Check-in took about 25 minutes. The staff gave us a warm welcome and guided us to our room.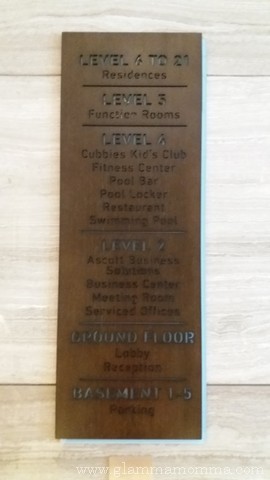 The studio premier room given to us was at the 12th floor. A studio premier room is 43sqm with a living and dining area, a kitchenette and a bathroom. Upon entering the room, we were greeted with complimentary meringue in the dining area. I wasn't able to take a photo of it, sorry.
The first thing that our daughter always do in hotels is go to the bed 🙂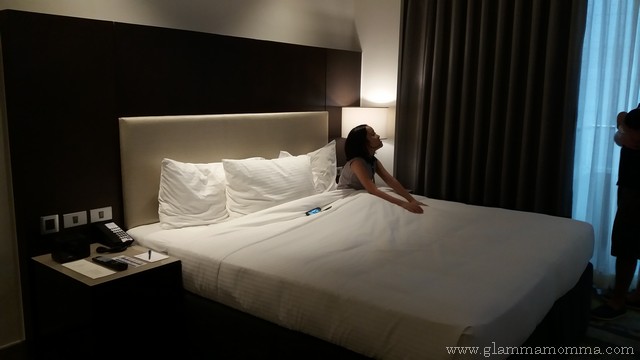 I love that the room is very spacious 🙂 The cabinets are so big!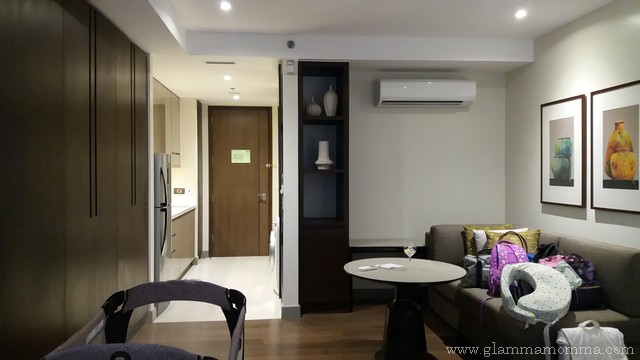 A good friend of mine who recently stayed informed me that they can provide a babycot. So I included that request when we checked-in since it was available. I was thinking of a bassinet so I was surprised to see a playpen 🙂 It looked brand new! That would be great for bigger babies but not for small baby who was going to be co-sleeping with us on the king-sized bed.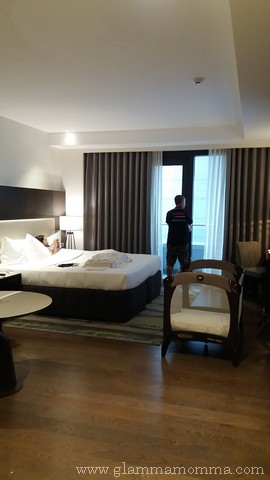 The door where by husband was standing leads to the balcony. While our baby boy was still asleep, I took photos of all the areas in the room.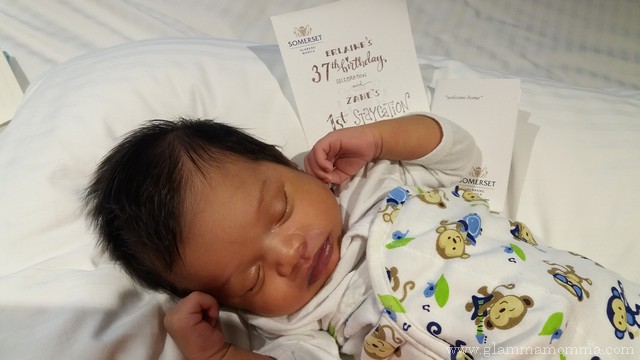 This is the kitchenette. Kitchenware is complete and placed inside the cabinets.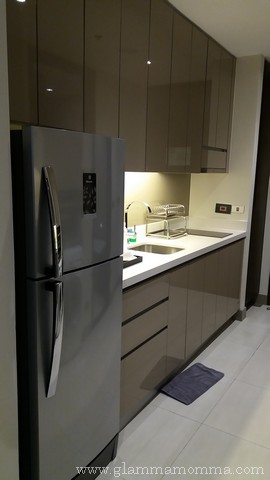 There was also an oven and a front-load washing machine.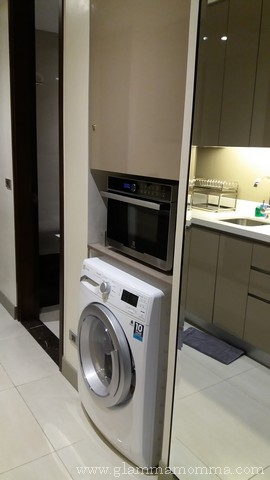 This is the working desk and big TV in front of the bed.
Plus +100 points because it has a bathtub!!!! 🙂 Unfortunately, I accidentally deleted from my cam the toilet area.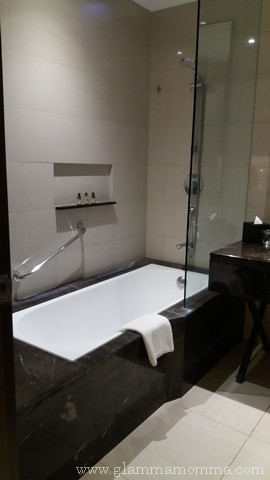 After resting for awhile, we then went to 4th level where the swimming pool was because our daughter was very excited to swim with her dad. My son and I will just be watching them. If I remember it right, the pool is 4 feet deep.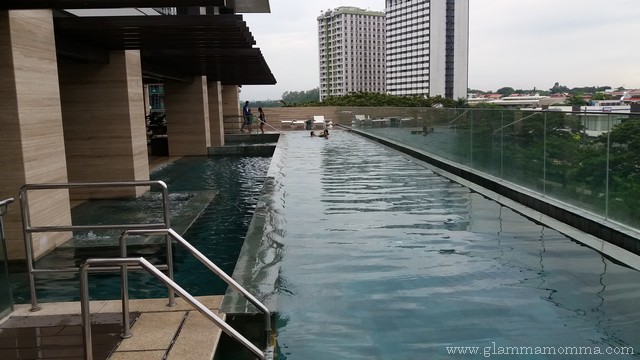 Guests who are not swimming can wait and chill in this area. By the way, we didn't need to bring towels since they provided one at the end of this hall. We were also allowed to bring the towels to our room after swimming.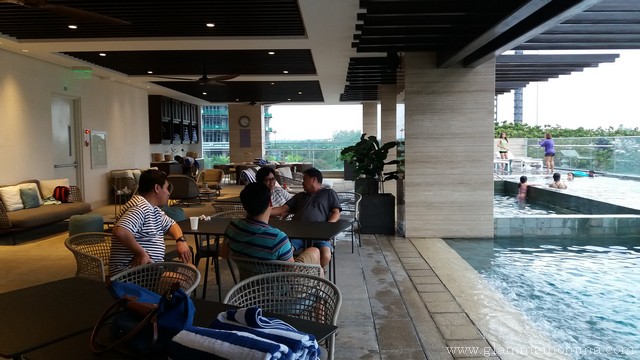 Aside from swimming, guests can also stay in this level to hang-out and eat because it is where Cafe Madrigal & Bar is also located.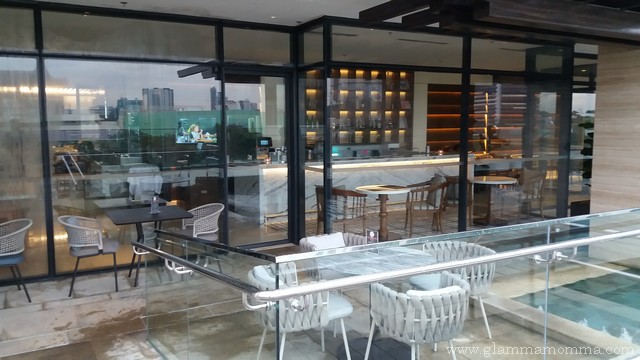 While breastfeeding Zane and looking at the people swimming, I was waiting for the Nacho Plate and Watermelon Cooler that I ordered.
After swimming, Kelsea went straight to our room's tub and extended her "swimming" there 🙂 Since it was not yet an option for us to go out and walk outside going to a restaurant for dinner because of our baby, we called Army Navy for delivery. Our orders were brought straight to our room 🙂
The next morning, we woke up early to have our buffet breakfast in Cafe Madrigal. The restaurant is a bit small compared to the restaurants of nearby hotels and there were only few selections of food. Food was more than okay and service was great.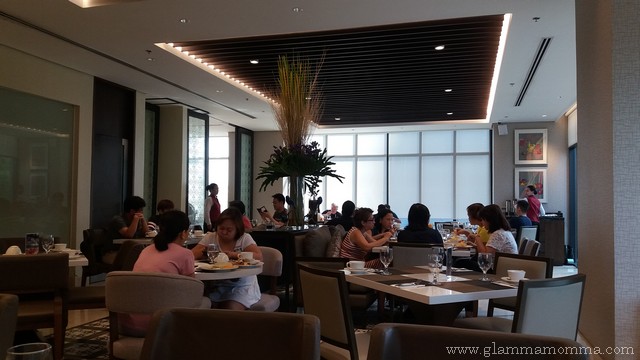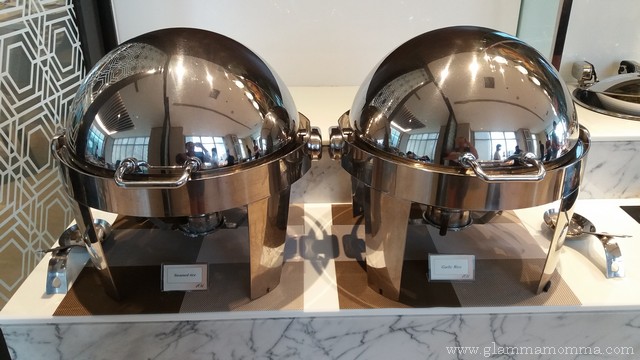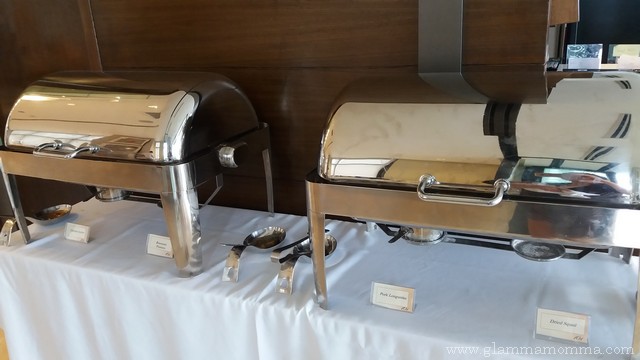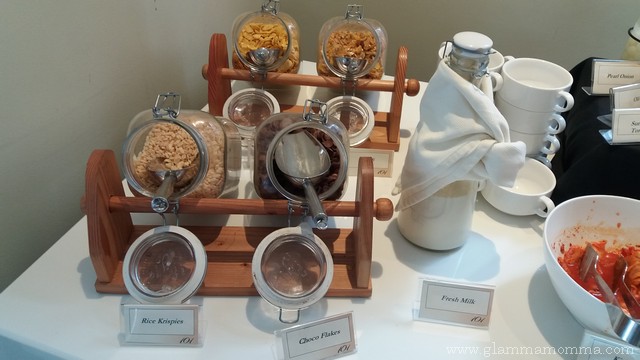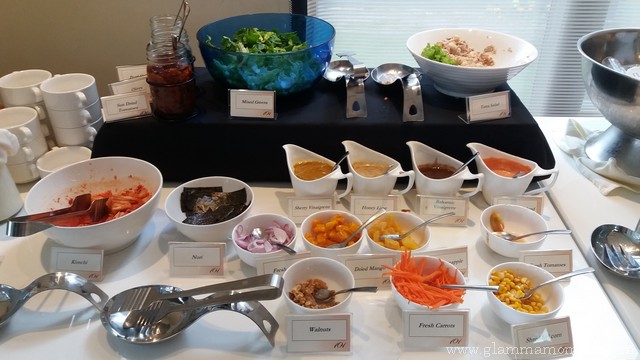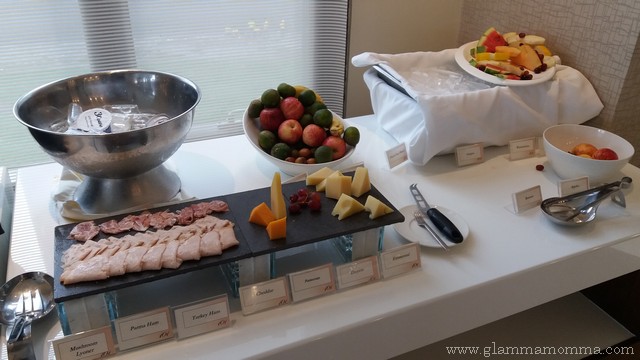 Right after breakfast, the father and daughter went swimming again.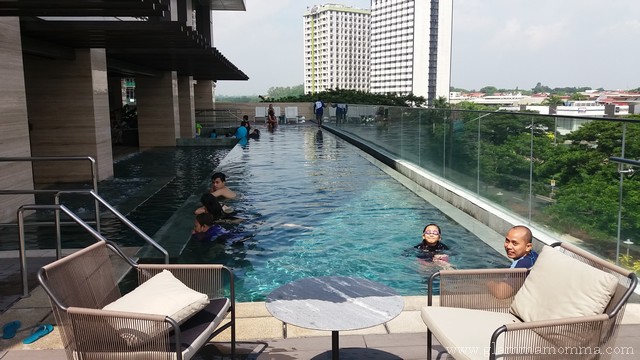 I miss swimming but all I can do for now is watch and carry our cute little boy 🙂
I highly recommend staying in Somerset Alabang because it is very child-friendly. At the same floor, they have a playroom where kids can play and meet new friends.
Thanks to Somerset Alabang Manila for the great service from all the staff who attended to our needs. We highly appreciate it. This is definitely one of our go-to hotels here in the South 🙂 This is recommended for small and big families and friends because aside from the studio premier room where we stayed, they have a studio, 1-bedroom deluxe, 2-bedroom deluxe and 3-bedroom deluxe you can choose from.
Somerset Alabang Manila is located at 3409 Spectrum Midway Filinvest City 1781 Alabang, Muntinlupa City. You can book thru their website or call +63 2 643 0999 for their current offers/promos.