What's your favorite subject in school? If it's Math, then we're in the same boat! I love Math because there's no need to memorize a lot of terms. You just need a little analyzing of numbers here and there and then voila! You'll be able to solve a problem. And that's the reason why I took up Engineering in college.
In grade school, I joined the Math Club. What I remember most about that is when we did an outreach program. We taught younger kids in a public school. I'm not sure if I have the skills to teach. Maybe a little 🙂 Just last year, I tutored a cousin in Math. Good thing her grades improved. My regular tutee is my daughter who also loves Math (and Arts). What I'm teaching her now is the habit of practicing in solving equations and problems because I believe that in order to get used to analyzing, you need to keep on answering and solving 🙂 During exams, my daughter reviews by herself but I make sure that I prepare a mock exam so I'll know if she was really able to study and understand. That serves as a practice test for her too.
Does/do your child/ren love/s Math too? Or would you like them to be better in Math? This summer is the time for that! Make your kids summer count!  Nurture happy and confident Math achievers with Mathemagis' Singapore Math Summer programs.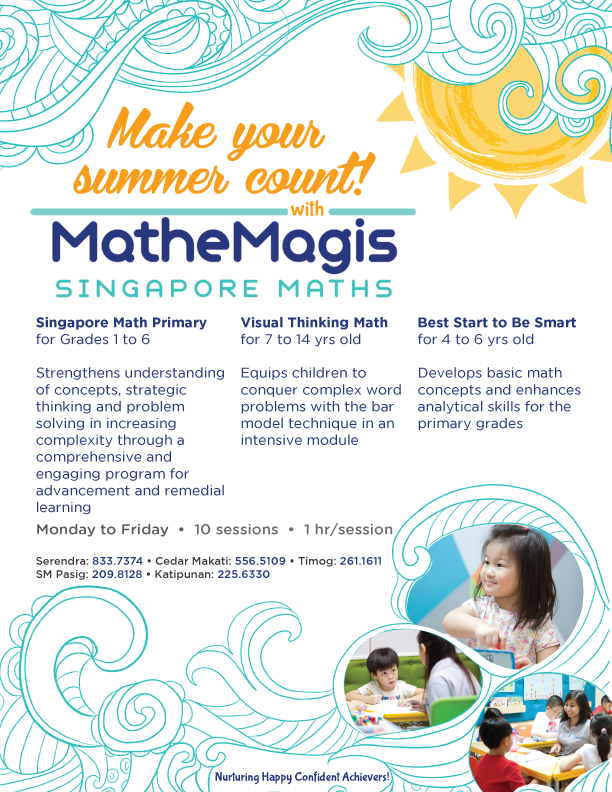 Mathemagis is an after school Maths enrichment  program for kids 4 to 12 years old based on the internationally acclaimed and proven mathematics curriculum of Singapore. The program focuses on developing problem-solving skills thorough conceptual understanding of math principles, visualization using bar models and a well articulated sequence of topics for preschool up to the primary grades.
In their summer program, preschoolers 4 to 6 years old get the "Best Start to be Smart" in Math through the fun hands-on activities.  Young kids develop a love and confidence for math which they will carry with them throughout.
While grade school students struggling with Math word problems will get a boost with "Visual Thinking Math" where kids learn the fun and easy way to solve math word problems using Singapore's proven effective bar model strategy.
Keep your kids one step ahead of everyone through Mathemagis' Singapore Math Program for gradeschoolers.  This program teaches Math concepts and enhances analytical skills for all students.
Their summer program is divided into four (4) batches:
Batch 1 — April 4-15
Batch 2 — April 18-29
Batch 3 — May 1-13
Batch 4 — May 16-27
For more information, visit their website at www.mathemagis.com and FB page at www.facebook.com/mathemagis.singaporemaths or visit any of their branches in Serendra(833.7374), Makati(556.5109), Katipunan(225.6330), Timog Avenue(261.1611) and SM Pasig(209.8128).
You can also register online at http://bit.ly/1VF2nmV for the Mathemagis' Singapore Math Summer Program.
Let us all learn to love Math 🙂