In less than two months, the annual breastfeeding activity, Hakab Na! where mothers come together and simultaneously latch their babies and toddlers, will be on its 3rd year of promoting awareness of the health benefits of breastfeeding. This event is held every August which is the Philippines' National Breastfeeding Awareness Month.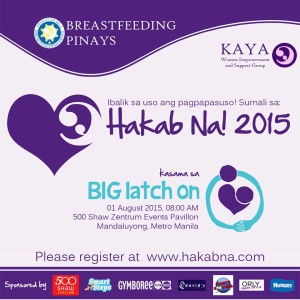 This year's Hakab Na! will be on August 1, 2015. It will be a whole day event and will be part of the Big Latch On. Aside from the different talks from breastfeeding advocates about breastfeeding, there will also be  a Baby and Kid Bazaar featuring the sponsors, mompreneurs and local businesses that will showcase their Philippine-made products.
Here's the PROGRAM OF ACTIVITIES:
Registration
8:30 a.m.
Music by Kolisko Waldorf Ensemble
Prayer & Lupang Hinirang
9:00 a.m.
Kolisko Waldorf Ensemble
Welcome Remarks
9:10 a.m.
Dr. Ryan Capitulo | FPOGS, Specialist in Obstetrics and Gynecology, Expert in Pediatric and Adolescent Gynecology
Instructions and Preparation for Big Latch On
9:30 a.m.
Latch On!
10:30 a.m.
Talk: Supporting Working Mothers
11:15 a.m.
Nanay Innes AV. Fernandez | Executive Director of Arugaan
Talk: Slow or No Weight-Gain Babies
11:35 a.m.
Dr. Anthony Calibo, B.S. Public Health, MD, DPPS | Child Health Specialist, Newborn Care Program Manager, Concurrent Program Manager for IYCF, and IMCI
Lunch
12:00 noon
Talk: You Can Be Gorgeous While Breastfeeding
1:00 p.m.
Ms. Eliza Ypon | Makeup artist, LATCH Peer Counselor, Blogger
Talk: Myths of Breastfeeding
1:30 p.m.
Atty. Abie Co-Floreza | President, Breastfeeding Pinays, Inc.
BFP Live! An Open Forum
1:50 p.m.
Presided by Atty. Abie Co-Floreza
Closing Remarks
3:00 p.m.
Dr. Ting Valdepeñas-Patriarca | Founding Admin, Breastfeeding Pinays
So, what are you waiting for? Mark your calendars now and SIGN-UP HERE with your family and friends on this fun and memorable event!
Registration fees are as follows:
Php 150.00 for every mom-baby pair
Php 50.00 for guests 13 years old and above
Free for guests 12 years old and below
Are you not in Metro Manila? Don't worry! You can join the Big Latch On on other locations such as Alabang, Aklan, Bacolod, Benguet, Bulacan, Cagayan de Oro, Cebu, Davao, Iloilo, Laguna, Nueva Ecija, Pampanga and Zambales. You can check here for more details on how to join in these other locations.
If your location is not yet on the list, you can host one with your breastfeeding friends. For more info,  visit Host a Hakab Na!
For more info about the event, visit http://hakabna.com. You can also check out Hakab Na! 2015 FB Event Page for more updates.