Mahilig ka ba mag food trip? 🙂 Tara sa Binondo!
My N@W friends Faye, Rache, Maqui and I set our Binondo food trip adventure two or three months in advance. That's how hectic our schedules were. So last November 15, we were excited on our mommy's day out 🙂
Faye and I came all the way from Dasmarinas, Cavite. Good thing it was only a 2-ride 2-hr travel from home on a rainy Saturday morning. We rode the UV Express (Php60 fare each) that came from Paliparan around 6:30am, alighted in Lawton, rode the jeepney (Php8 fare each) and arrived in Binondo Church around 8:30am.
We wanted to hit two birds with one stone so our itinerary for that day was half day in Divisoria and half day in Binondo. I was able to buy a few Christmas gifts for Kelsea's classmates, an Elsa doll for her, a Lego base plate and materials for gift wrapping. I love Divisoria! Sana neighbors lang kami lol!
After walking in muddy puddles and bumping into lots of people, our tummies were ready to be filled 🙂
We started our food walk by having our groupie pic first in Plaza San Lorenzo along Juan Luna St. with the Binondo Church as our beautiful background.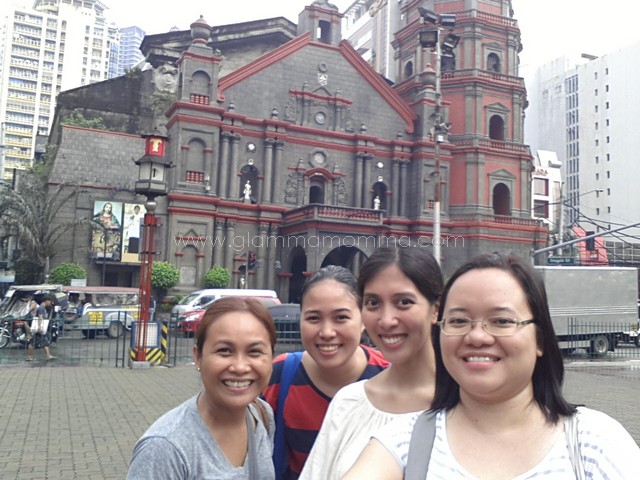 By the way, since we'll be walking all-throughout Chinatown, I searched in the Internet what our route will be. Thanks to Kamusta Magazine for being our guide 🙂 Here's my printed copy with added notes. You can download a clean copy here –> Binondo Food Trip.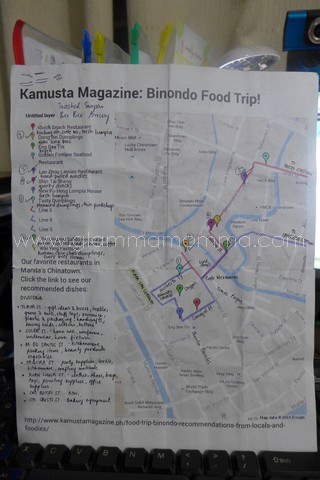 From Binondo Church, our first stop was TASTY DUMPLINGS in Norberto Sy St (Formerly Condessa St.). Our plan was to share meals so we would not be too full at once and leave space in our tummies for the other food.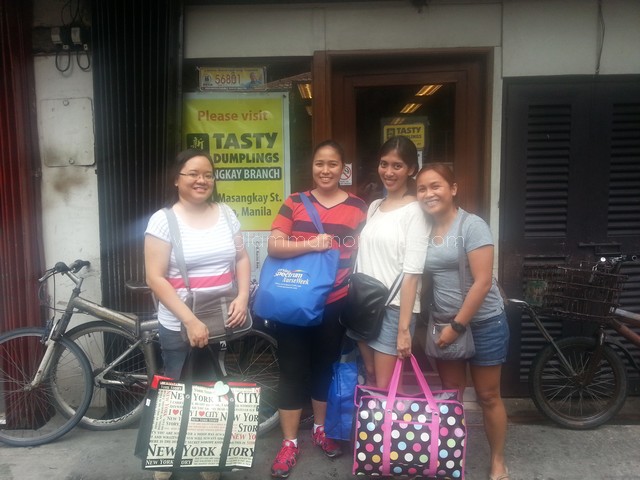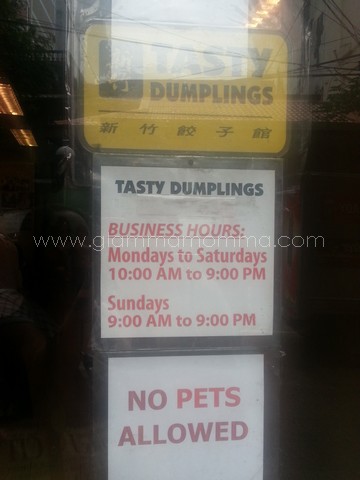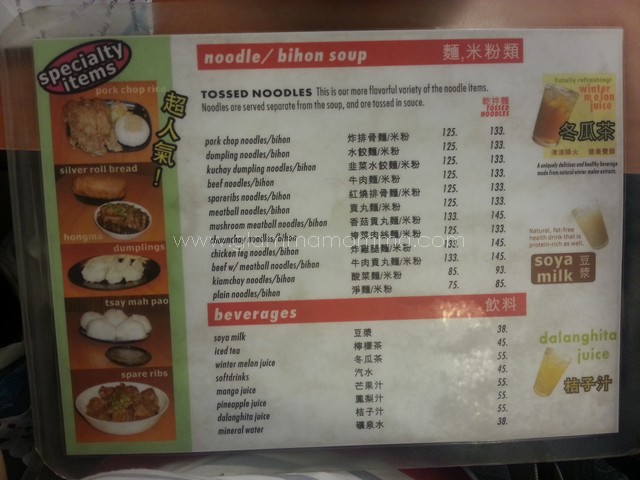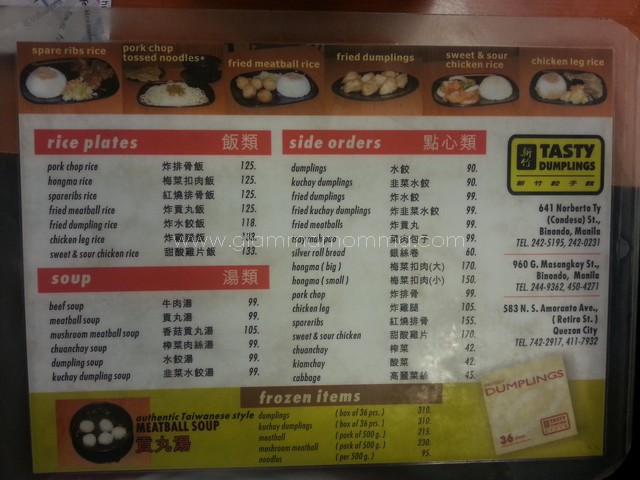 Tasty Dumplings is known for their Pork Chop. Almost everyone were eating that thin crispy and tasty porkchop with hot noodles/rice. We also added steamed dumplings and each had dalanghita juice.
Pork Chop Noodles – Php 125
Dumplings – Php 90
Dalanghita Juice – Php 55 x 4 = Php 220
TOTAL – Php 435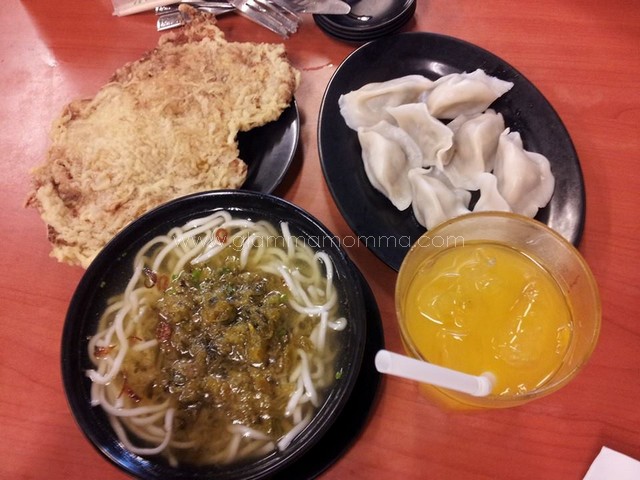 From Tasty Dumpling, we walked to Yuchengco St. and turned left to go to our next stop which is DONG BEI DUMPLING.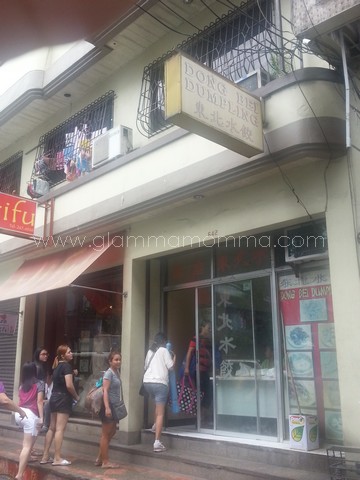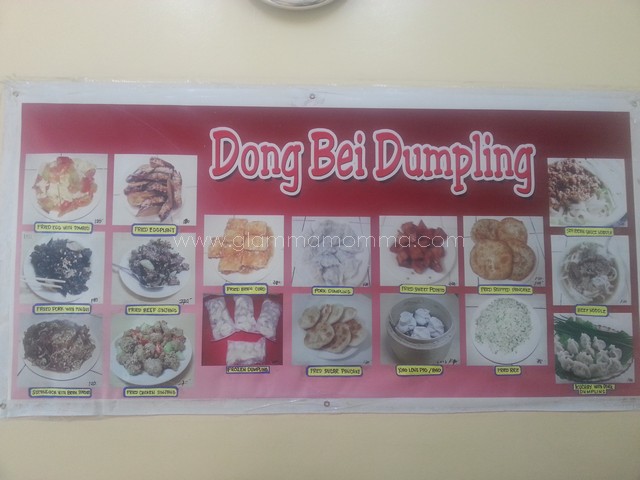 Here's how the dumplings are were done.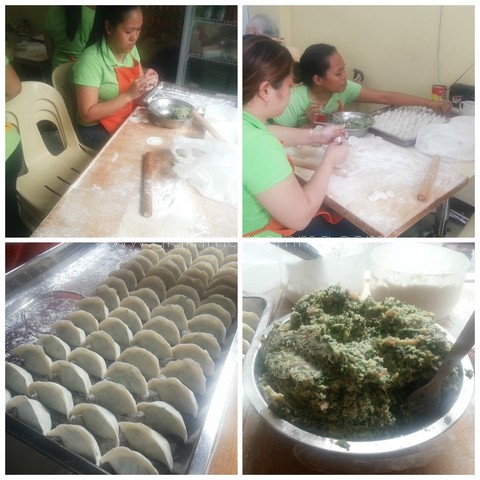 We two orders of Xiao Long Bao (6pcs each order) and shared a cold herbal tea. Xiao long bao is a like a steamed siomai that has soup inside. For this meal, our bill was Php 280.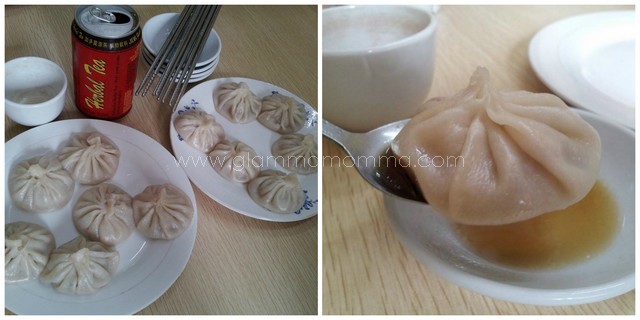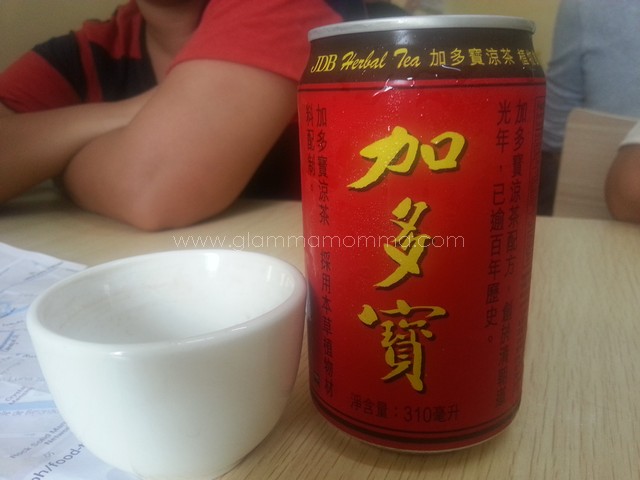 Next on our list was THE ORIGINAL SA LIDO RESTAURANT along Ongpin St. So from Yuchengco St., we turned left toOngpin St. We saw Cafe Mezzanine at the intersection of these two streets but we opt to pass dining there. After passing Salazar St., we also saw Salazar Bakery but we didn't stop anymore since this bakery is already found in some SM malls. But according to the securiy guard, goods are cheaper there in the main branch.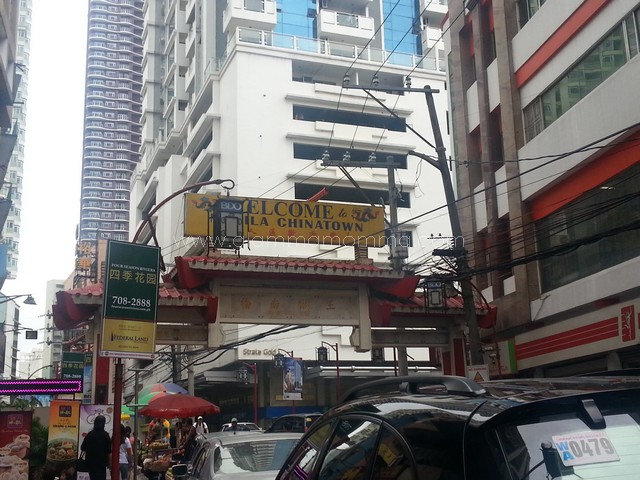 Sa Lido is located in a second floor of a building. This restaurant is well-known for their Pugon Roasted Asado and drip coffee. So those were what we had and congee too. Our total bill here was Php 520.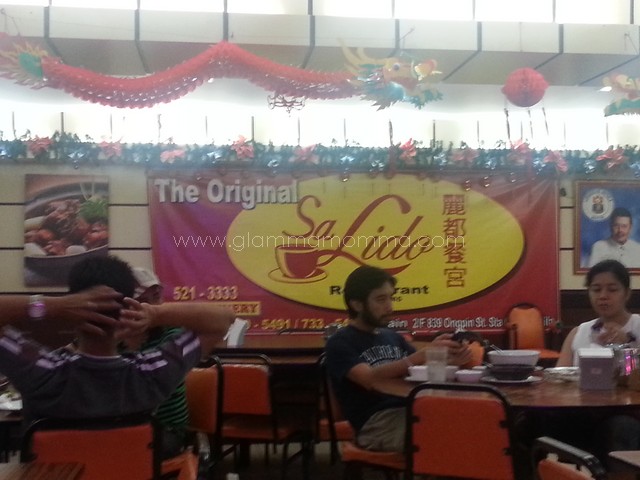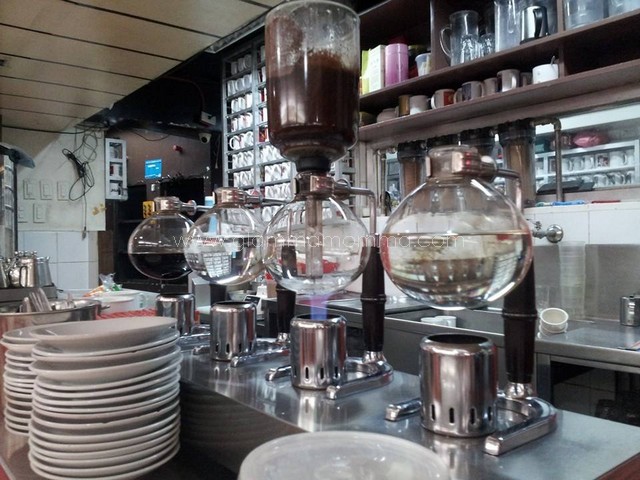 Right outside Sa Lido and a little across the street is the SHANGHAI FRIED SIOPAO. The siopao was fried at the bottom but still soft on top. We only bought 2 pcs to have half of the fried siopao each giving us only Php 36 (Php 18 each) to spend.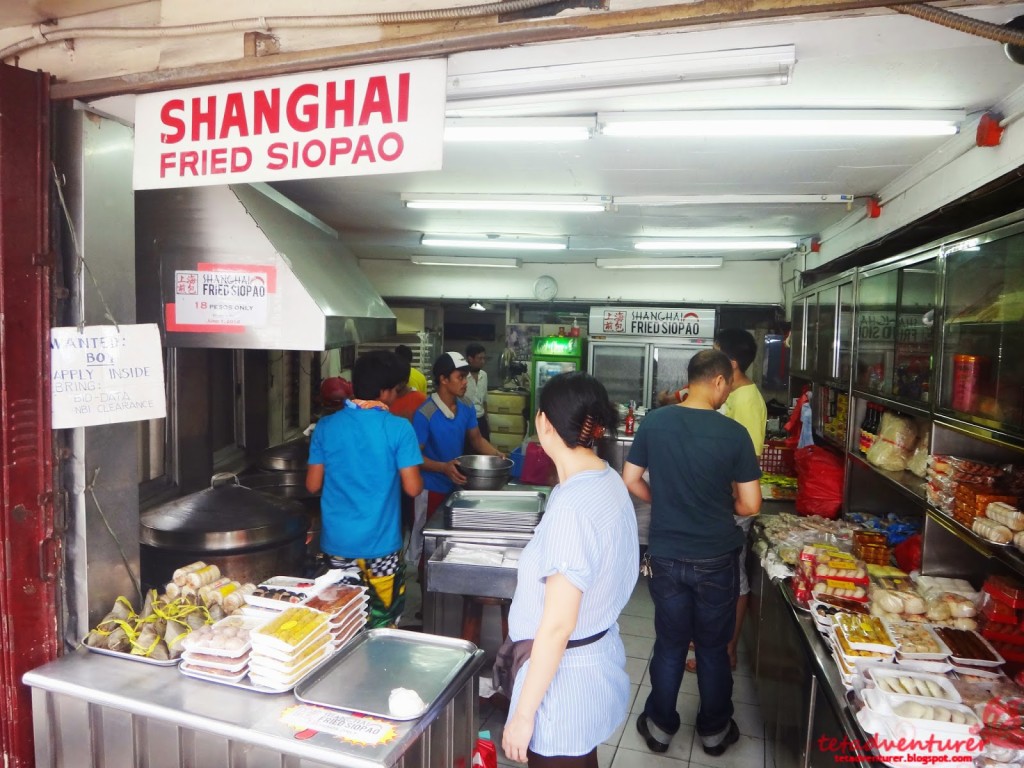 From Ongpin St., we walked back to Salazar St and visited the SHIN TAI SHANG Food Shop. It is small grocery of various food and also sells fresh food items. What we bought here were 2 pcs of mochi cakes (the middle pic below) for Php 90 (Php45 each).
Our last food trip destination was in LAN ZHOU LAMIEN RESTAURANT along Buenavidez St. The restaurant is known for their hand-pulled noodles so that's what we had and fried dumplings all for only Php 300. Sorry I wasn't able to take a photo of the cooked noodles.
Here's the breakdown of our food expenses good for 4 pax (we brought our own water):
Tasty Dumpling – Php 435
Dong Bei Dumpling – Php 280
The Original Sa Lido Restaurant – Php 520
Shanghai Fried Siopao – Php 36
Shin Tai Shang Food Shop – Php 90
Lan Zhou La Mien Restaurant – Php 300
GRAND TOTAL: Php 1,661
That's only  Php 415.25 each! Not bad, huh? 🙂
Before calling it a day, we went to BEE BEE TIN GROCERY to buy some pasalubong. I was particularly looking for the Yongchun Aged Vinegar (Php 55) in the picture below. This aged vinegar is perfect for the frozen xiao long bao i bought in Dong Bei. Other stuff I bought here were: China Green Tea (Php 30/box), Sweetened Tamarind (Php 50 for 250g), Red Kiamoy (Php 38 for 200g) and Haw Flakes Mini 10's (Php18/pack).
Other restaurant/food shops we missed were Quick Snack Restaurant, New Po Heng Lumpia House, Cafe Mezzanine and Wai Ying. We can come back again for those next time 🙂
After the wonderful meals we just had, it was time to visit Binondo Church and thank God for the food and the safe trip we had. This was the photo taken at sunset before going home.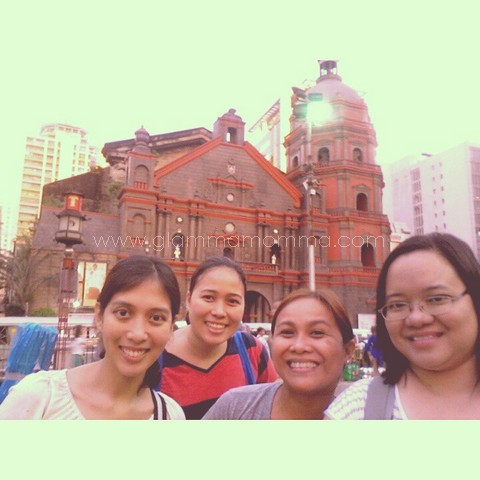 Thanks girls! I surely had fun! 'Til our next next food trip! 🙂