How are you? Sorry for posting a little too long. I've been very busy (as usual) with work and a lot of stuff on the side. But I do hope you'll love this new post I'm about to share 🙂
Do you have family rules? I bet you do! Who doesn't? 🙂
It would be nice to be reminded of these rules in our own homes. So when I learned from a fellow n@wie sis Diobs of their new biz, Family Rules PH, I was eager to have a copy of this "family rules" home decor on our wall!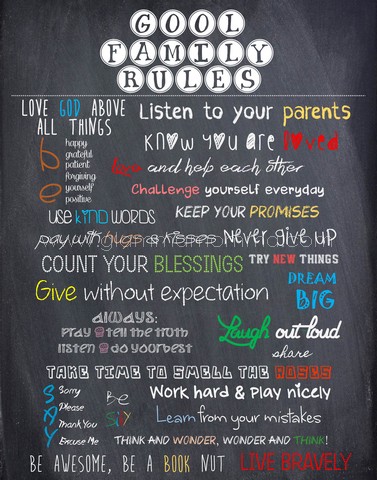 Here's a background on how their humble biz started….
The Family Rules was originally made for Mommy Diobs and her hubby Anton's as gifts to friends. It was eventually shared to the members of our online mommy support group N@W (Yihee! I super love my N@W family!!!). Due to the group's very warm reception, they decided to make Mommy Diobs' hobby as one of the venue in raising regular funds for their favorite charity – Alay ng Puso.
What started as a home decor became a family project involving their kids in the cause. All proceeds will go to Alay ng Puso (Missionaries of Charity) in Binondo.
Would you like to have your own Family Rules photo wall decor? Currently, they have 3 designs to choose from. Priced at P300 per digital file (with a unique family surname), the file that will be given is a high resolution file suited for a 11in. x 14in. frame.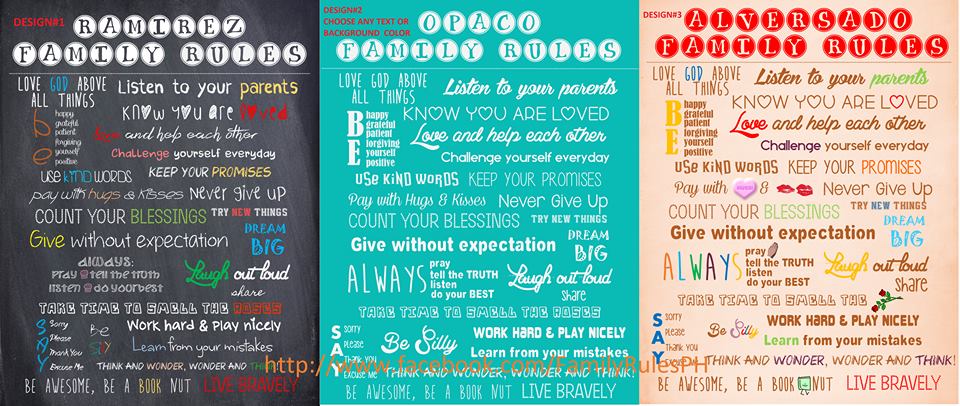 Photo taken from their Facebook page
Here are the steps on how to order:
1) Choose from the 3 designs (see pic for the design number). Note that design #2 can have any background color of your choice.
2) Send them a PM in their Family Rules PH Facebook page with your chosen design number, surname to be used, and your email address where the file will be sent.
3) Deposit payment in their BDO bank account and send the picture of your deposit slip.
4) Your personalized Family Rules will then be sent in your email.
I have yet to have ours framed. I've been thinking of having it printed on canvas 🙂