Do you have a piece of jewelry that you love to wear? I have a favorite one now and it was in this box 🙂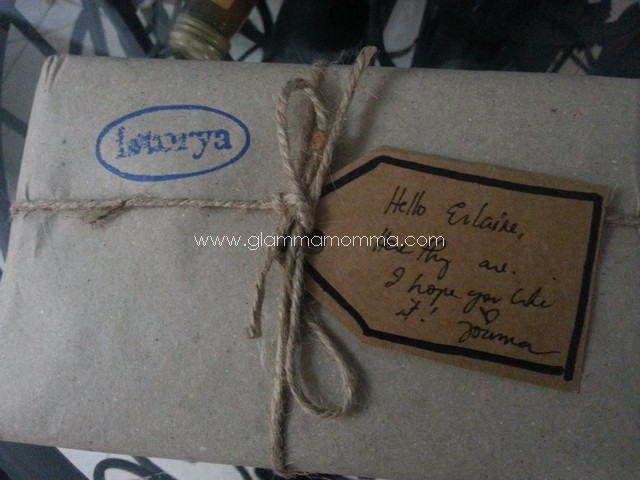 Joanna Gutierrez of Istorya makes personalized handmade jewelry. She started making hand-stamped jewelry for personal use and decided to start selling her personal creations. Istorya is the first ever store that sells custom-made, hand-stamped jewelries in the Philippines. 
Taken from her FB page, "Each piece of my creation is handcrafted from start to finish. The metals are cut,wrought, hammered, sanded and filed by hand thus giving each piece a raw and organic feel. Each jewelry is stamped by hand also, I do not use a machine making every truly one of a kind. Due to the nature of the process in making this jewelry some letters may be offset but that just adds to the charm and uniqueness to every creation."
I've seen her creations from friends FB posts and I became really curious and wanted one for myself. I sent her an email that I wanted to order two of her necklaces. Her response was quick and sent me Istorya's online catalog. Our conversation continued thru text messages for faster transaction because I needed the items ASAP.
I ordered a locket necklace for my mother-in-law as our birthday gift last July. Hubby and I put a photo of her two grand daughters. Sorry I wasn't able to take a picture of it. But this is how it looks like, except for the message. Instead of "Be the Change", I had her and her apos names written on it.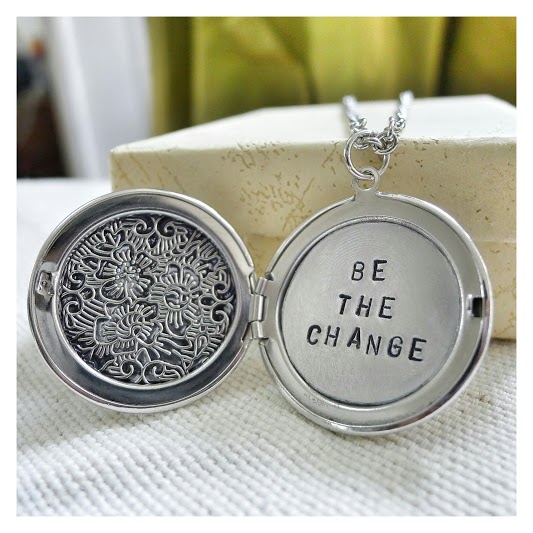 Photo taken from Istorya's catalog
What caught my eye on her creations was the Amore necklace wherein I can have mine, my hubby and daughter's names handstamped on the metal plates. Here's the packaging of the product and what it looks like: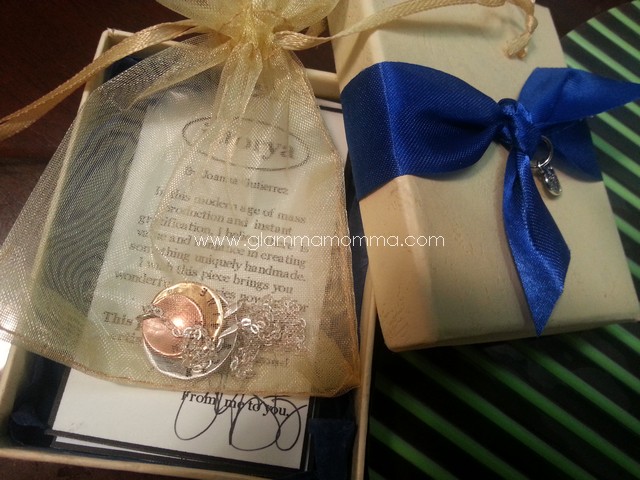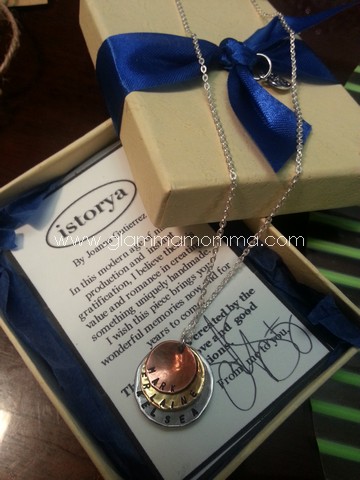 Isn't it pretty? The Amore necklace is priced at Php 400 for 2 discs. But since I wanted 3 discs, it was priced at Php 450. Every additional disc (4th onwards) costs Php 120 each. The original length of the regular plated chain is 18″ (Princess length). Since I wanted this to last for years, I had the chain upgrade to sterling silver for an additional Php 350 and added 2 more inches to make it 20″ in (Matinee length) with additional Php 20 per inch.
Photo taken from Istorya's catalog
The total cost for this is particular Amore necklace is:
Amore necklace (3 discs) = Php 450
Chain (upgrade to sterling silver) = Php 350
Additional 2in length (Php20/in) = Php 40
Shipping fee (Metro Manila) = Php 60
Total is Php 900
Price depends on your customization. Here's how to customize your Istorya necklace taken from their FB site:
1.Choose chain length (all necklaces comes with 18 inches regular plated chain, customizing chain length will incur additional fee starting at P20)
2.Choose metal: Copper (reddish gold), Brass (gold) or Aluminum (silver) or mixed metal
3. Upgrade your chain (18 inches):
Silver choices: stainless steel P100, Sterling silver P350
Gold choices: High quality gold plated chain P100
Gold filled chain: P800
3. You may also opt to have the size of your pendants changed to the size you want, make it smaller or larger
4. Add charms, birthstone or crystals. Each charms will have corresponding price.
5. Add extra tags, disc tags, heart tags, rectangular or even star shaped tags! 
6. Backstamping option available on most tags except the lockets. Additional fee of P50 for back to back stamping :). Backstamping is only available for hammered design 🙂
It's as easy as 1-2-3! Thanks Joanna for a very fast and smooth transaction 🙂 'Til my next orders!
You can order your own customized jewelry here:
Email: istorya.creations@gmail.com
Website: http://istoryacreations.tumblr.com/
FB: https://www.facebook.com/istorya.creations
IG: http://instagram.com/istorya
Viber/SMS: 0917 5432341