When we were kids, we were always asked what we wanted to be when we grow up. And now that we are parents, we ask our children what they want to be when they grow up. My daughter is only 5 years old and when asked of her ambition, she would say she wants to be a doctor because of Doc McStuffins 🙂 Well, that's what almost all kids want to be.  But that changes as time passes by.
Children slowly realize what their interests are as they experience different kinds of activities. Our responsibility as parents is to expose them to different environments so they can try and feel what interests them most.
I wanted to be a doctor too when I was a kid but I (and hubby) graduated as an Electronics and Communications Engineer (now called Electronics Engineer) and passed the board exams. Unfortunately, I'm not practicing my profession anymore (this is a long story). At the back of my mind, I was thinking if Kelsea will like Engineering.
When one of the mommy bloggers of Mommy Blogger Philippines invited us to let our kids join a trial class of Engineering for Kids, the word "Engineering" rang a bell so I immediately signed up our daughter. Who knows, she might like it!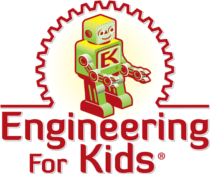 So one Saturday morning in July, Kelsea and I, together with my blogger friend Faye and her daughter Maia, travelled from Cavite to Bonifacio Global City (BGC) for our kids to participate in the 9am trial class. That particular class was held in a function room at the 5/F of Forbeswood Parklane Condominium in Rizal Drive, BGC, The Fort, Taguig City. Luckily, we arrived on time despite leaving our dear homes a little late. Parking is available in a public paid parking in front of the building.
We were greeted at once by Lallie (I hope I spelled it correctly but if not, I'm sorry) who was at the reception desk. Our two girls were then led to the room to join the other kids. Yes, they were the only girls in the class. I was not surprised since I remember back in my college days when girls are outnumbered by boys in Engineering.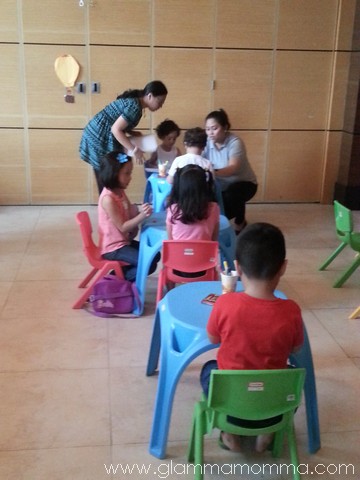 While the kids were getting warmed up, Lallie introduced the program for us to better understand the concept of this after-school enrichment class.
Engineering for Kids brings Science, Technology, Engineering, and Mathematics (STEM) Education to ages 4-14 in a fun and challenging way through classes, camps, clubs and parties. The teaching here is thru hands-on learning which aims to develop children's problem solving skills, to encourage creativity and innovation, to motivate kids to learn Math and Science thru real-world engineering problems and to increase the kid's desire to make engineering a career in the future.
Here are the programs they offer whole year-round:
Aerospace Engineering
Civil Engineering
Electrical Engineering
Chemical Engineering
Mechanical Engineering
Environmental Engineering
Marine Engineering
Industrial Engineering
Electronic Game Design
Robotics
The students are grouped in three Levels of Curriculum based on age range:
Junior Engineers (ages 4-6)
Apprentice Engineers (ages 7-11)
Master Engineers (ages 12-14)
Since our daughters are only five-year-olds, they belong to the Junior class. The theme program for July was Aerospace Engineering which introduced the fundamental concepts of aircraft and spacecraft design. Here you will see the materials they need were being prepared: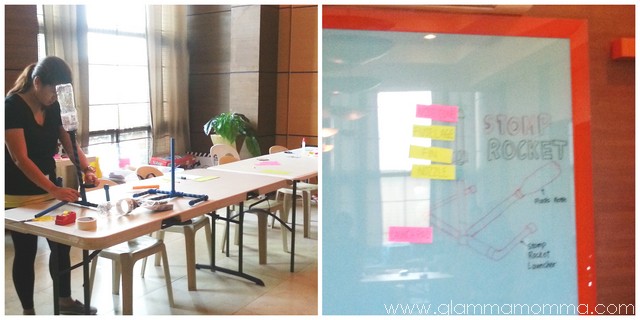 They were to make Stomp Rockets where students create their own stomp rocket and stomp rocket launcher (this was already done by the teachers).
Before anything else, the kids needed some warm-up and a short discussion on "How To Make A Stomp Rocket".  Here's a fellow n@wie and work-at-home mom Em Alcantara as the guest teacher who taught the kids the concept behind a stomp rocket.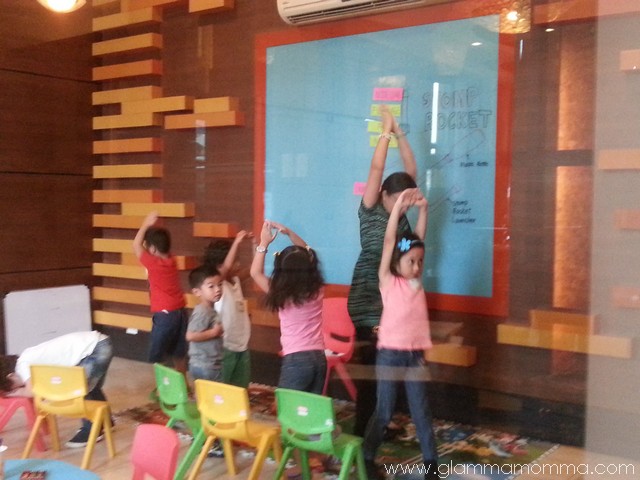 This includes what it is made of and how it can launch up the air. The stomp rocket for this activity was only made of paper cut-outs and can be shaped into a rocket when stick together.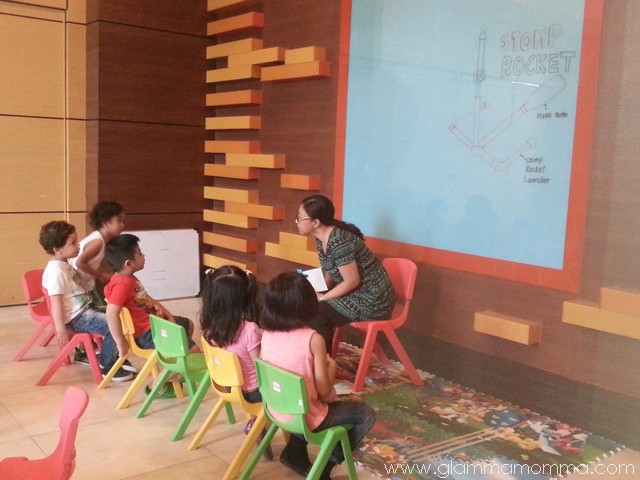 The parts of the stomp rocket from top to bottom are: nose cone (the tip), fuselage, fin and the nozzle. The stomp rocket launcher was made of PVC tubes and plastic bottle.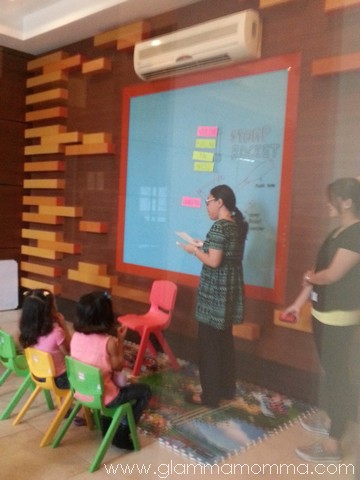 The kids then went back to their tables and started making their own stomp rocket.

The boys finished theirs quickly and started launching their stomp rockets.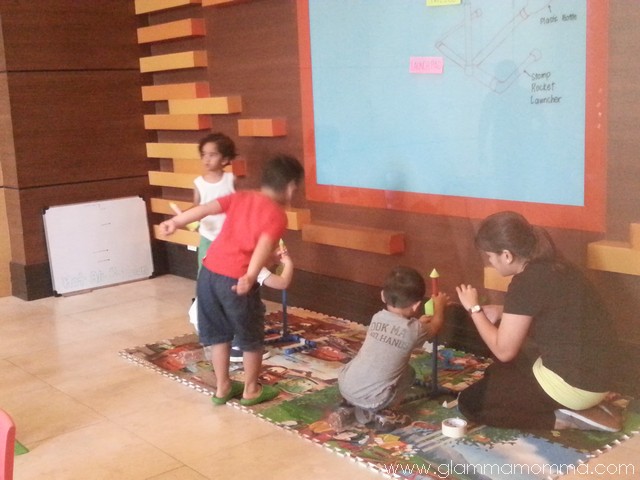 Can you guess why the girls were left behind and took them a few more minutes to finish theirs?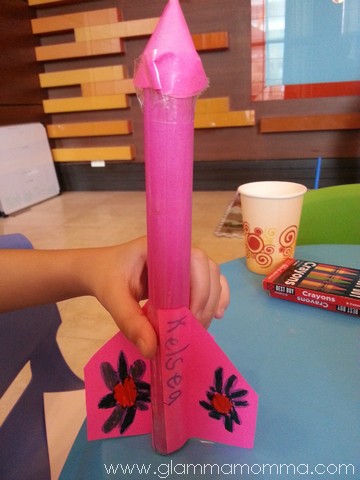 They added some art on their rockets 🙂 Trivia: Both Kelsea and Maia loves art so much!
The kids, especially the boys, had fun stepping on the plastic bottle of the launcher making their stomp rockets fly so high. Kelsea wasn't able to launch hers because she was still busy making her rocket beautiful. When the class was finished she and Maia just played with their stomp rocket using their hands 🙂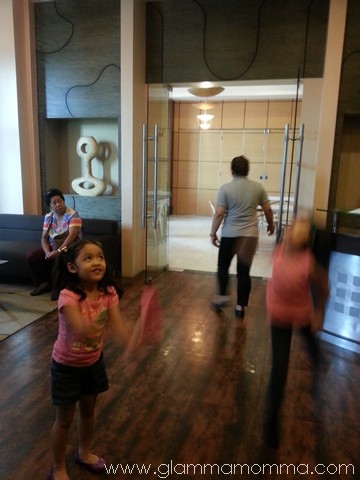 If only the venue is near our place, I would love to enroll Kelsea in one of their programs. I highly recommend this most especially for those with children who are boys. They will surely love doing the experiments! Not only they will have fun but also learn something new about Science and Technology. But I hope they do more warm-up activities before the actual class.
Engineering for Kids is currently accepting enrollees for their August after-school program of Mechanical Toys Engineering for Juniors and Electrical Engineering for Apprentice. If you'll enroll your child before August 8, 2014, you will get a 10% early bird rate of Php 4,050 for 4 sessions. Their regular weekend rate is Php 4,500 (4 sessions/month) while the weekday rate is Php6,600 (6 sessions/month).
For the meantime, we'll just continue our experiments at home. I hope they'll have a branch in South in the future 🙂
For more info:
ENGINEERING FOR KIDS
FB: https://www.facebook.com/efkph
T: (0917) 5518705 / (0917) 5040536
E: philippines@engineeringforkids.net