Last July 19, I was one of the lucky bloggers to be invited to American Standard's Luxe & Style Blogger Engagement held in Buona Vita, an Italian restaurant in Molito Complex, Alabang. I've tried dining in Buona Vita before with my hubby's family so the thought of experiencing their food once again made the event more interesting for me. Will be blogging about this resto soon!
One of my mommy blogger friends Peachy was also there so warming up with fellow bloggers before the event was a breeze. Out of 7 bloggers, 4 of us are from Cavite 🙂 We all had a short chit chat with Ms. Fe Cajumban, the Marketing Communications Manager of Lixil Corporation.
I wondered what's in store for us bloggers and for our readers as well although we already got a hint from their invitation 🙂 They will be launching an American Standard Luxe & Style Promo which you'll surely love to win (hint: elegance is timeless)! So read on and be more excited 🙂
Before anything else, have you heard of American Standard? Who doesn't? Ask your parents and they'll surely answer you YES! My parents had theirs for more than 20 years as far as I can remember. When I recently asked my mom to describe their experience with this brand over the years, one powerful word came out…"MATIBAY!"
I first got a glimpse of American Standard when I was in high school. Our school bus used to pass by BF Homes, Paranaque where their former factory/office was located. I wasn't much interested about it during those days but now that I have my own family and have our own house, all I could think about is for our home improvement. I love clean and good-smelling bathrooms. They say that the home owner's personality can be seen in this private room where we do our thing. I even spend some of my "me time" here reading a magazine or browsing my social media accounts lol! Alright, too much info from me! Let's proceed 🙂
All of us only want the best for our homes and one of the most important things to consider for our hard-earned investment, which is our home, is to know more about the company behind this famous brand.
Ms. Fe Cajumban and Ms. Liza Cancino gave us an overview on American Standard's Luxe and Style Collection.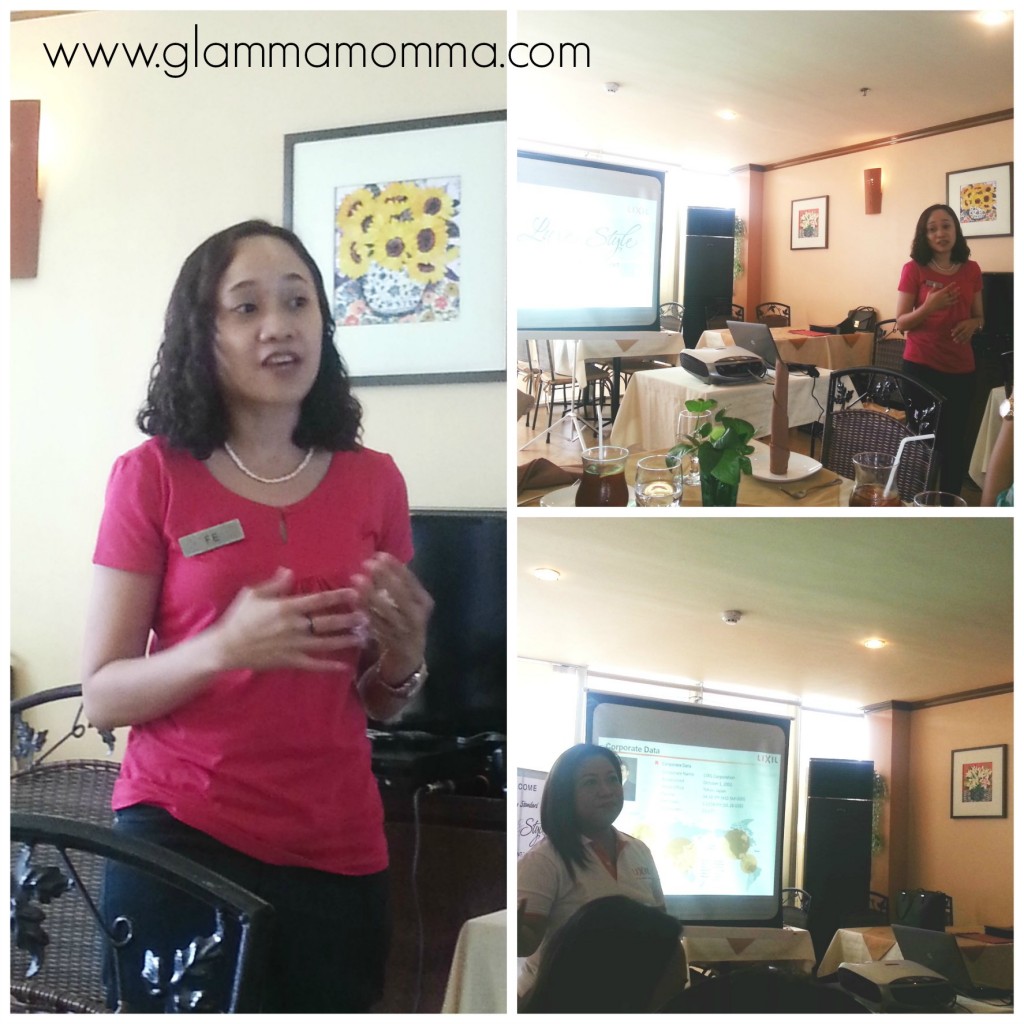 WHO OWNS AMERICAN STANDARD?

American Standard is one of the top brands owned by LIXIL Corporation. LIXIL came from the combined words "living" and "life".
LIXIL Corporation is a leading global manufacturer and supplier of building materials and housing equipment solutions operating in over 30 countries for nearly a century.  With its headquarters in Japan, the company boasts of an innovative product line-up ranging from bathroom systems to exterior wall materials and beyond, offering customers all-encompassing solutions for housing-related needs. In the Philippines, LIXIL Corporation is represented by LIXIL Philippines Ltd. Co.
The company's goal is to create a sustainable lifestyle which is in harmony with the earth and with a mission to build "bonds" that lead to a good life. In summary, they want to "Link to the Earth" and "Link to Good Living".
As a comprehensive living and housing solutions company, LIXIL aims to fulfill its commitment to realizing each individual's desire for "Good Living" with its three vision –
(1)  Create complete housing solutions – Now that most Filipinos are investing in condo units all over the Metro, one of the challenges is the limited space to put all the basic needs of a home. And with this, they want to earn consumers' trust with our full range of products and services to become their most preferred housing solutions provider by offering comprehensive space services for their homes.
(2)  Provide value for life – Establish lifelong partnerships that grow the value of each customer's home and transform itself to accommodate the changes in customers' lifestyles. They have special products made for the elderly and disabled.
(3)  Enable customers to live in harmony with nature – Offer homes that enable lifestyles that are in harmony with nature with a view to enhancing comfort and minimizing environmental impact. We all have to do our part in preserving Mother Nature so we must also be concerned in saving water and energy.
WHY CHOOSE AMERICAN STANDARD?
American Standard, the leader in bathroom fixtures and fittings, makes it possible for homeowners to create the sanctuary of their dreams with its extensive line of luxury collections. With its mission of helping to build better and more personalized homes, American Standard consistently carries over this value to homeowners, and business owners. Whatever your vision is, American Standard offers infinite possibilities for personal expression.
These are what American Standard is proud of:
One of the world's preferred brands in bathroom fixtures
Partners with the best designers in the world
Produces award winning designs and technology
AMERICAN STANDARD'S "YOUR STYLE, YOUR WAY"
In developing its products, American Standard introduced the "Your Style, Your Way" concept that focuses on the design philosophy of stylish innovation, comfort of body and mind, and "green" technology. All these considerations, together with the contribution of world-renowned designers made American Standard the choice in countless leading projects worldwide.
Ideal Design Solutions (IDS) Collection
This collection is designed by Tomas Feigl and Achim Pohl, from Europe's renowned design house Artefakt. Their suite includes ceramic washbasins with smooth and soft lines, gleaming showers and faucets and a whirlpool bathtub perfect for creating an indoor paradise.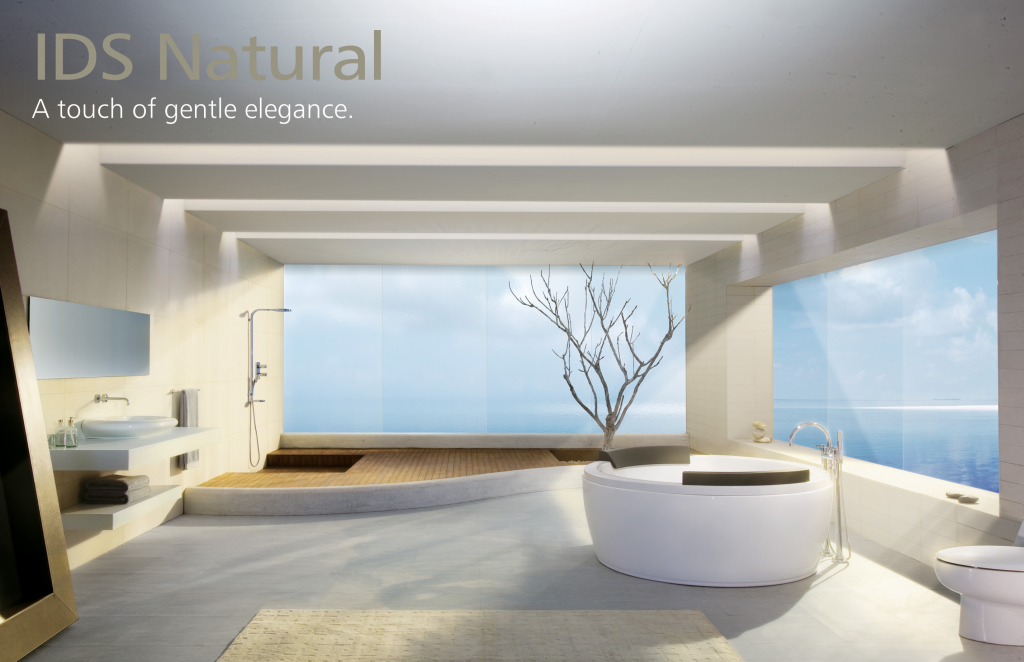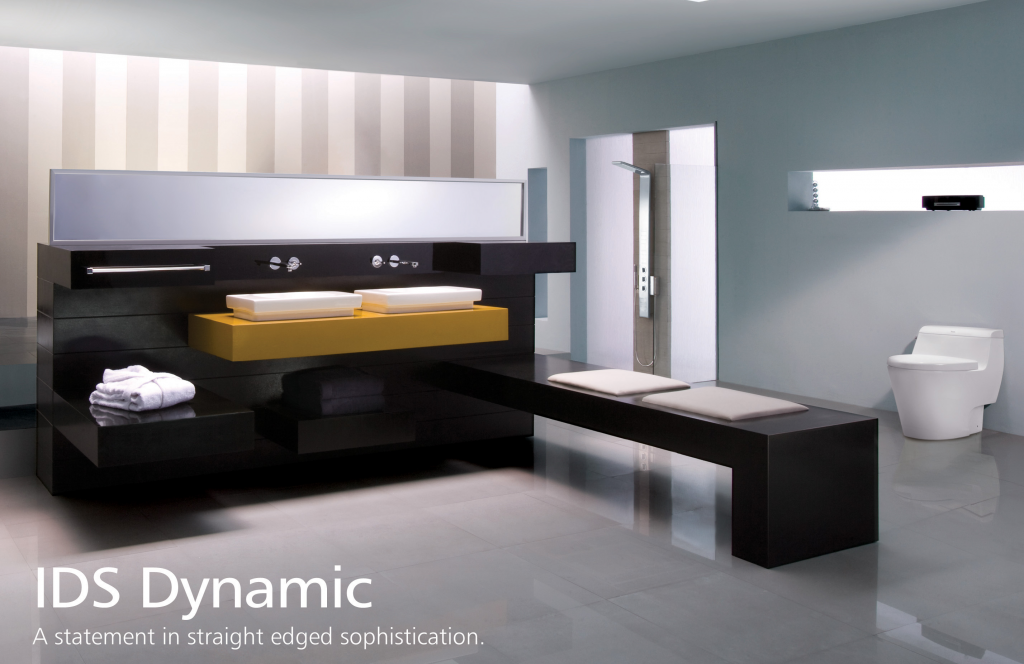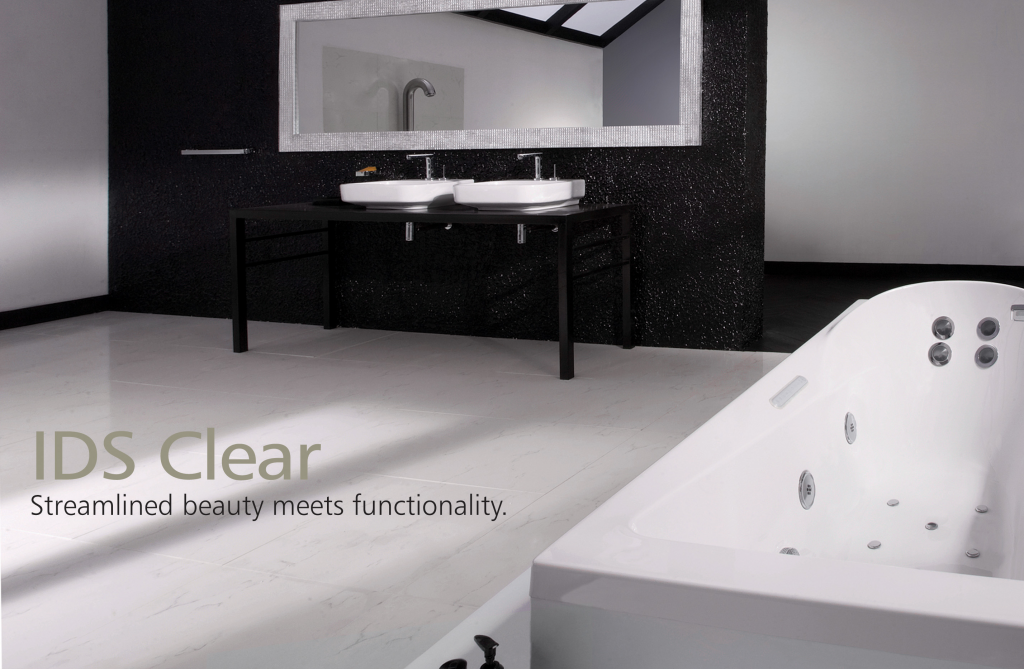 Activa Collection
The Activa Collection, also created by Feigl and Pohl, possesses subtle combinations of curves, soft squares and ovals, and provides a sense of harmony and balance in the bathroom. The Activa Close Coupled toilet features a "top-fixed" and "quick release" that offer an innovative and hassle-free way to replace the seat cover. You can be assured that selections from the Activa Collection perfectly adapt to the chic and cosmopolitan lifestyle.
Italian designer Ronen Joseph designed the La Vita Collection, especially for nature lovers. They replicated Mother Nature's curves and shapes so homeowners can create a sanctuary inside their own bathrooms.
Ventuno Collection 
The Ventuno Collection was designed by award-winning Italian designer Franco Bertoli with the sensibilities of the cosmopolitan homeowner in mind. His stunning interpretation is ideal for one who enjoys international cultures.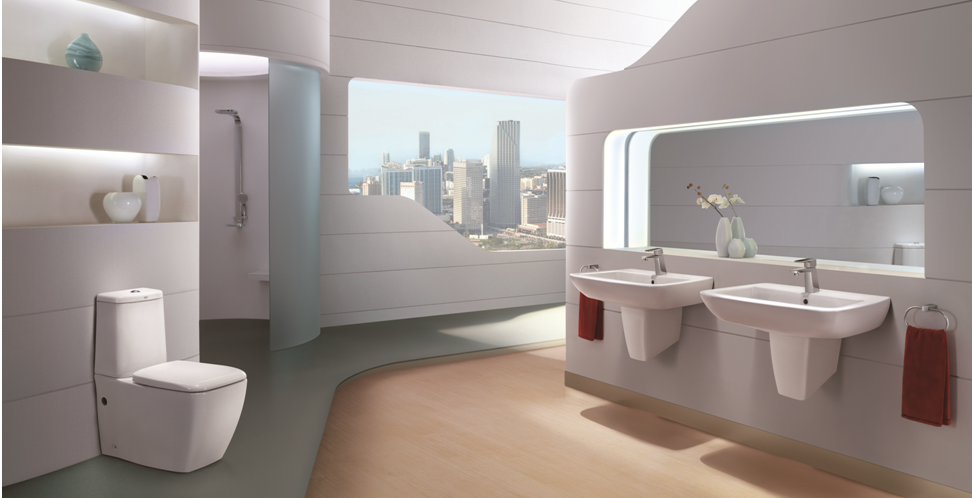 Did you know that American Standard has 17 prestigious recognitions? This includes the Red Dot award, the Design Plus award and the IF Product Design award.
To give life to the values that serve as the foundations of its environmental campaign, American Standard products combine water-saving technology and high-tech aesthetics: "click" technology for faucets, sensor technology, class-leading 3 and 4.5 liter water-saving toilets, 1 liter urinal flush valves and recycled materials. All of these demonstrate the mission of the American Standard brand to environmental protection.
Were you able to choose your dream bathroom? I personally love to have the La Vita Collection 🙂
Are you ready for the promo? Wait, wait, wait! We have to see for ourselves what these luxury and stylish collection looks like in person. So with happy tummies, we went to Wilcon Depot, the largest home depot in the Philippines.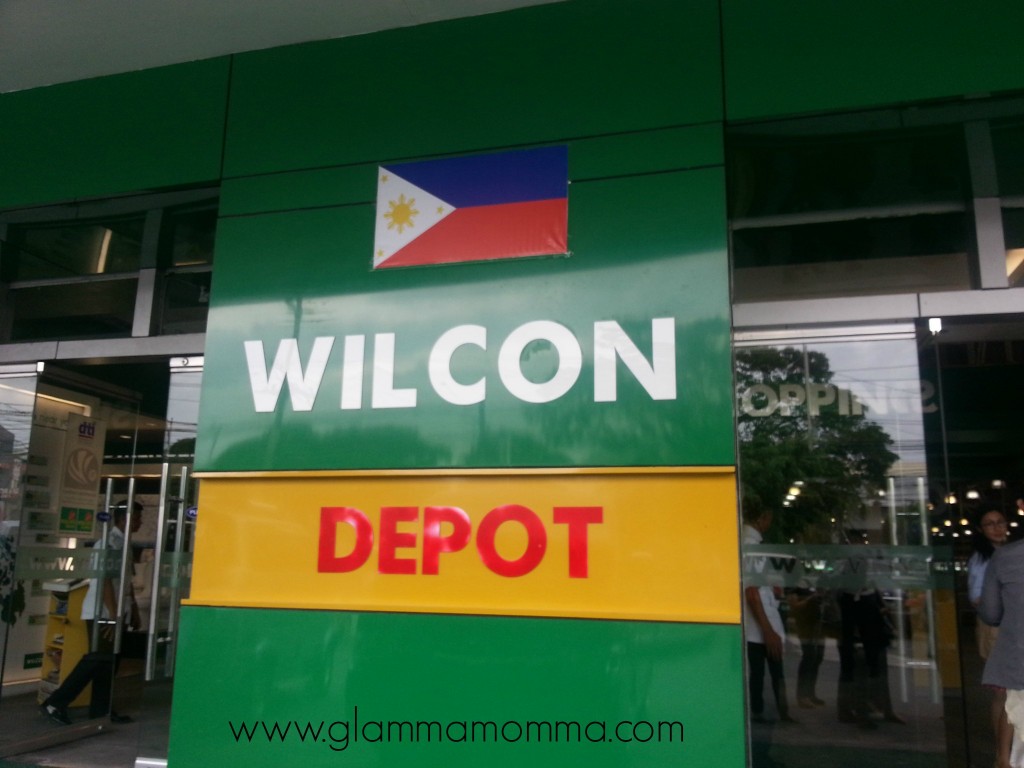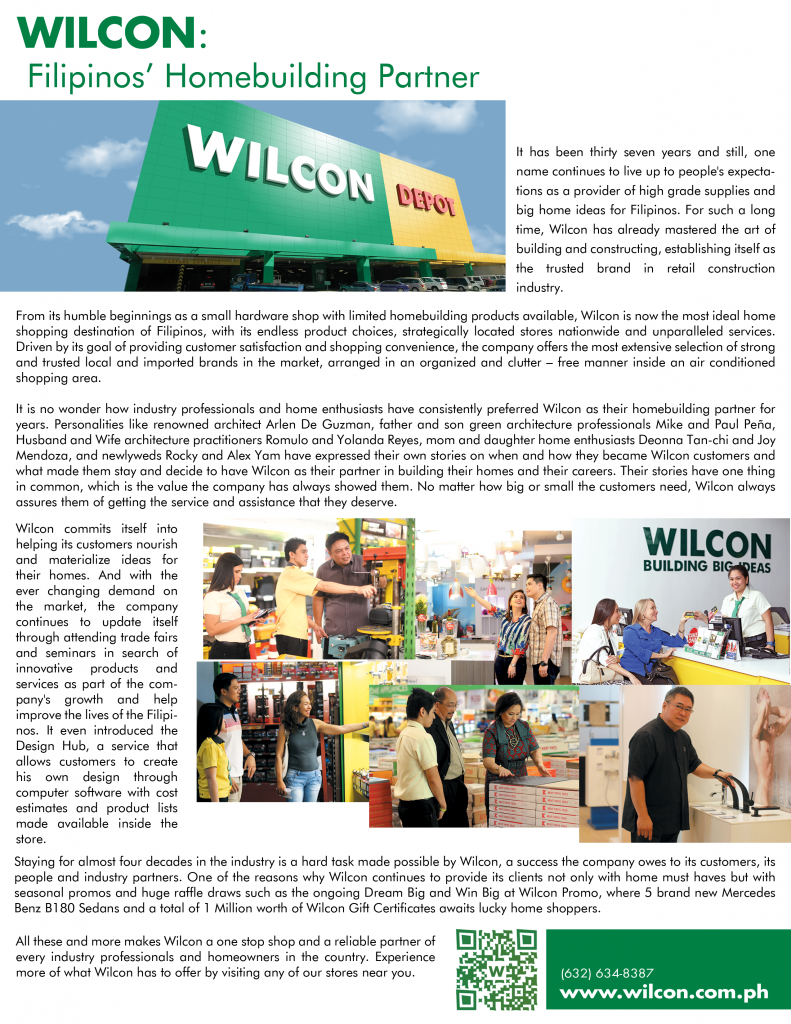 My family is a "suki" of Wilcon when we were putting up our house a few years ago. The staff is always very accommodating to whatever our needs are at the moment.
We were then led to the showroom of American Standard.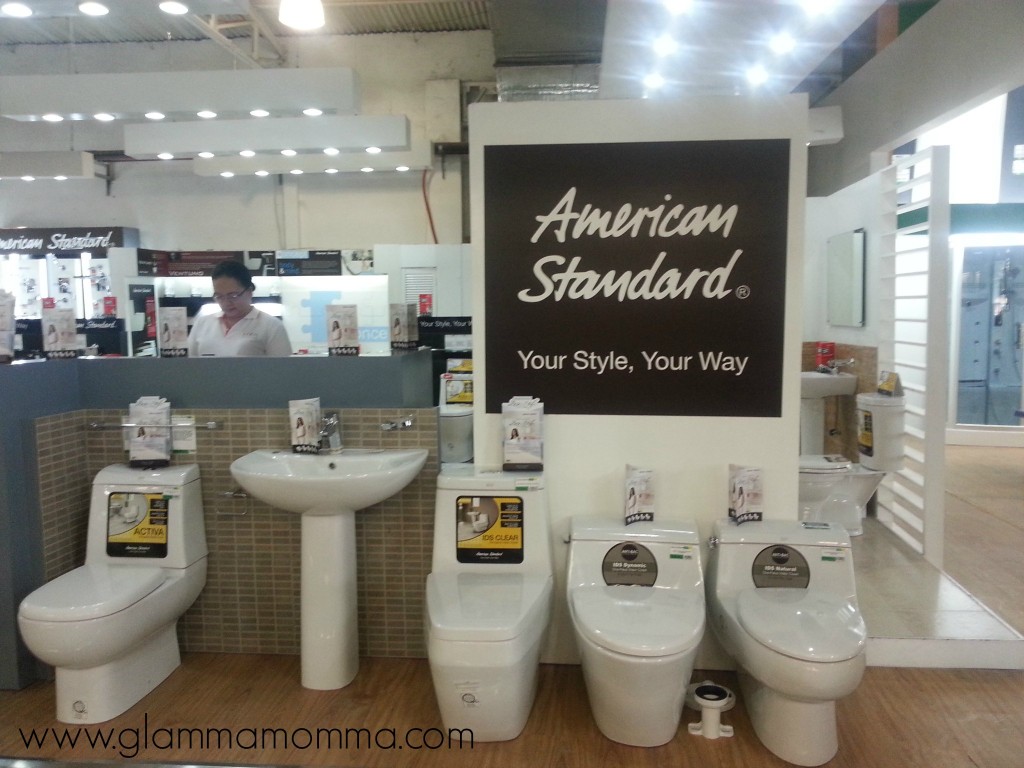 If you own a home or dreaming of having one, you'll understand the feeling of wanting to have all the best fixtures that give comfort and style.
You can either purchase by piece or get a package for more savings. The American Standard staff will be able to guide you through on which of their products better suit your needs.
And of course, shopping for bathroom fixtures means trying them out too. Here I am with fellow bloggers Camille and Leah sitting on our thrones 🙂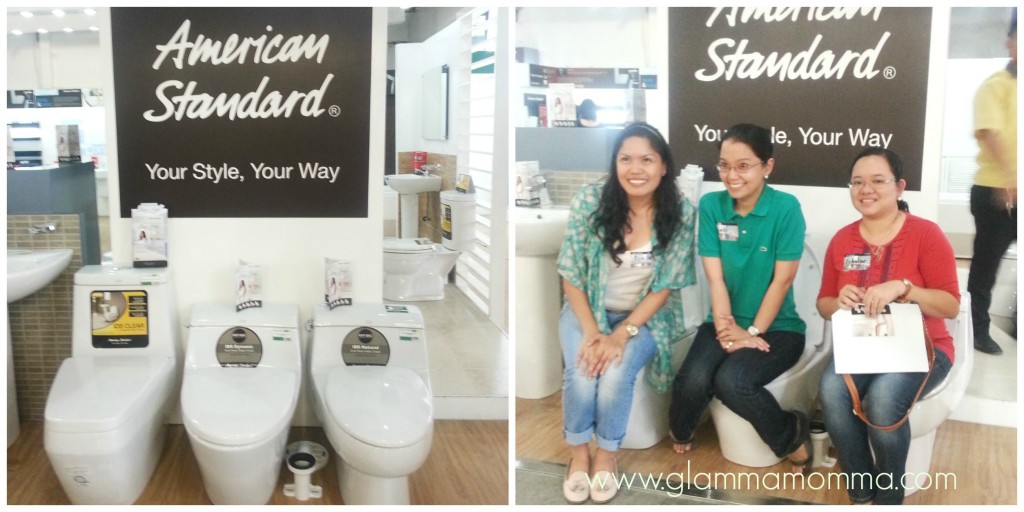 Here are other American Standard bathroom fixtures that I would also like to have especially the one on the lower right of the photo.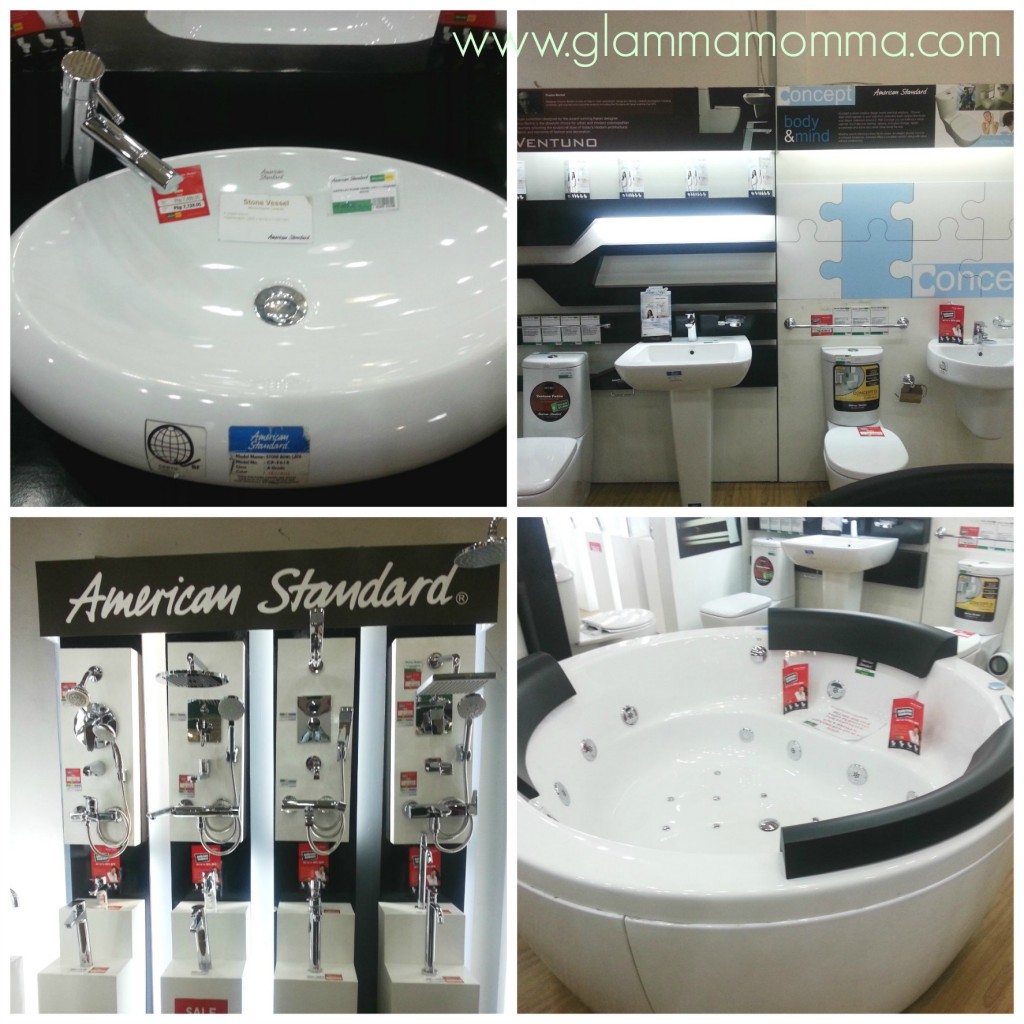 These are all perfect for a very comfortable experience in a home's private place 🙂
Would you like to feel luxurious and live in style? Here's the promo that you're all been waiting for….
ELEGANCE IS TIMELESSS WITH THE AMERICAN STANDARD LUXE AND STYLE PROMO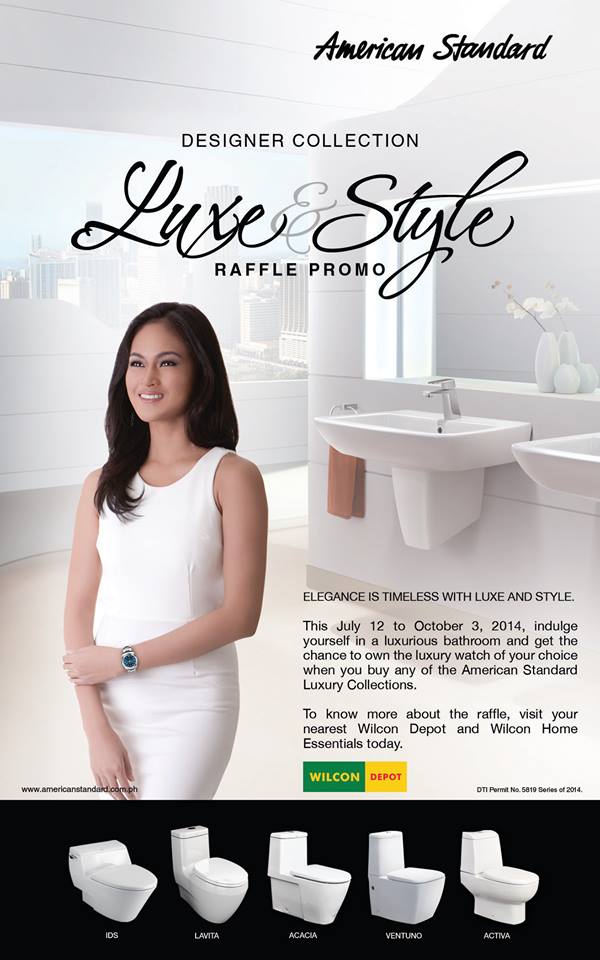 American Standard bathroom products bring to you timeless sophistication with its Luxe and Style promo. Being the paragon of personal style and luxury when it comes to your bathroom needs, American Standard bathroom collection elevates elegance with its wide variety of world-class and luxurious pieces that comes with a special surprise.
A minimum purchase worth Php 30,000 of the participating collections entitles the buyer to a raffle stub, giving them a chance to be one of the winners of a Lucerne Gift Certificate worth P200,000 each. Each gift certificate may be used to buy the luxury watch of their choice from Lucerne Glorietta 4, Lucerne Shangri-La Plaza Mall or Lucerne Ayala Center Cebu.
Included in the promo are wash closets and fittings from Ventuno, Acacia, IDS and La Vita, all of which are part of the American Standard Luxury Collection. Each collection has a distinctive style, all of which are world-class in terms of aesthetic and function.
To summarize the functions of the luxe and style collection of American Standard:
The Ventuno Collection is both modern and classic, designed by award-winning designer Franco Bertoli and made for the cosmopolitan homeowner. The pieces are defined by strong and sharp lines, balanced by soft curves for a minimalistic look. The boxy shapes compliment any style or aesthetic that a homeowner is looking for in their bathroom.
If simple and tranquil is more of your preference, the Acacia Collection is the one to buy. Designed by Khumtong Jansuwan, the leader in "new style", this collection evokes a contemporary look reminiscent of North European designs.
The IDS Collection is perfect for those that like a consistent and sensual feel to their bathroom fittings. Each piece is crafted with simplicity, sensuality and consistency in mind; evoking the sophistication of today's modern lifestyle. A collaboration with designers Achim Pohl and Tomas Feigl of Europe's world-renowned design house, Artefakt; the IDS Bathroom Collection promises to fulfill the bathroom experience everyone dreams of.
The La Vita Collection on the other hand evokes a more natural feel with inspiration drawing from Mother Nature. Renowned Italian lifestyle designer Ronen Joseph designed La Vita to enable nature lovers to create a natural-looking paradise inside their own bathrooms.
The Luxe and Style promotion is available in all branches of Wilcon Depot and Wilcon Home Essential stores nationwide and will run from July 12 to October 3, 2014.  To personally view and experience American Standard products, customers can visit showrooms located at leading depots and hardware stores nationwide.
For more information, visit www.americanstardard.com.ph or like the Facebook fan page at www.facebook.com/AmericanStandard.PHI
What are you waiting for? Join now for a chance to win a luxury watch! Trust American Standard for elegance and timeless pieces you can pass on to your children 🙂
Thanks to American Standard for this wonderful opportunity to know your latest collection.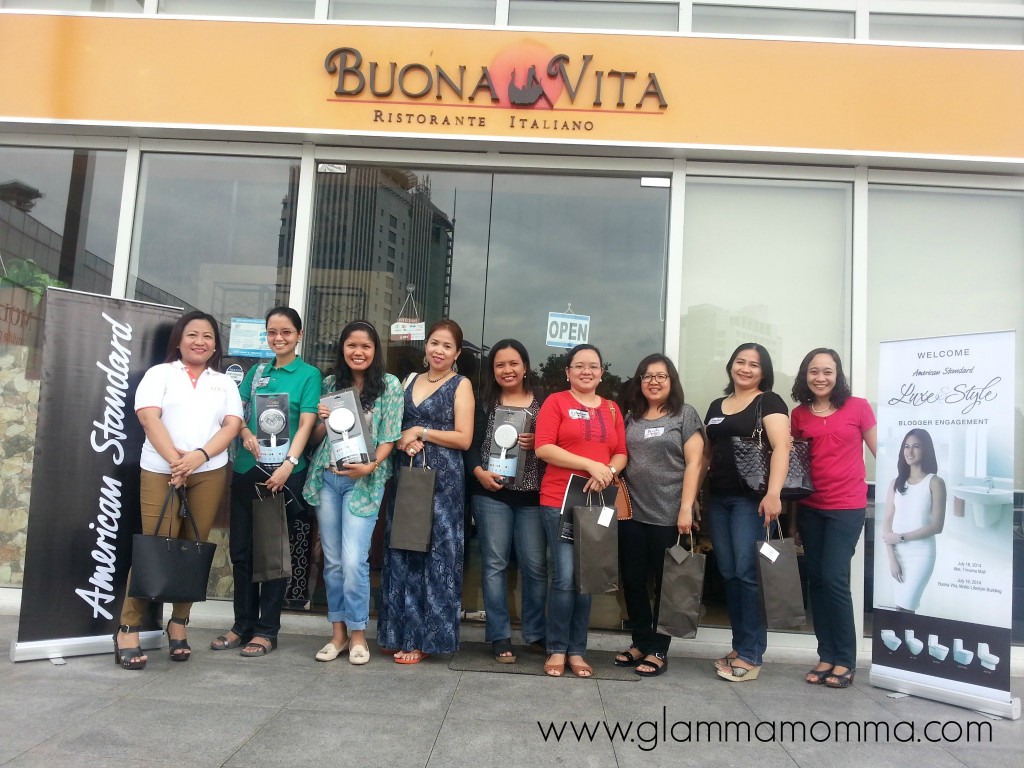 For queries and additional information about LIXIL Philippines Ltd. Co., and American Standard products, you may call:
LIZA RACHEL B. CANCINO
Marketing Manager
LIXIL Philippines Ltd. Co.
Tel: +632 8933113 Fax: +632 8936065
Mobile: +63917 8537857
www.americanstandard.com.ph
http://global.lixil.co.jp
www.facebook.com/AmericanStandard.PHI