Last May 2014, I signed-up Kelsea and her cousin Charles in Alabang Town Center (ATC) Summer Camp 2014 . The mall offered different workshops for the month of April and May like sewing, ballet, arts & crafts and sports like gymnastics, badminton, futsal and taekwondo. Kelsea chose arts & crafts with no second thoughts 🙂
The requirements were the following:
Photocopy of child's school ID or Birth Certificate
A 1×1 ID picture
Receipt worth Php1,000 from participating shops in ATC dated on the week of registration (one week before class started)
Filled-up application form and waiver
The Arts & Crafts Summer Camp had 4 sessions (Tuesdays and Thursday for 2 consecutive weeks) from 2-5pm and started last May 13. It was held at the Activity Center of ATC and was sponsored by The Learning Child School (TLC), National Bookstore and A.T.A. Martial Arts Studio.
The two kids were so excited so after Kelsea's art class in Global Art, we headed straight to the venue. There were already a lot of kids and parents lined up at the registration table. They were playing kiddie music like Hi-5 and Barney songs while waiting for other participants. Kids were also given name tags.
The big kids (7-12yo) were separated from the younger ones (2-6yo). They set up a number of tables and chairs and the materials needed were already in each tables and ready to be used.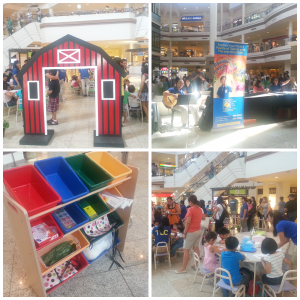 While waiting for the main workshop to start, the kids were given print-outs of animal pictures and crayons to keep them busy.

When almost all seats were occupied, one of the TLC teachers started telling the story on how a butterfly came to be alive and told the kids that they will be making caterpillars using play dough. What made the kids more excited was they made their own play doughs!
Each of them had the chance to put on the ingredients together like pouring the flour and salt, mixing them with water, putting green food coloring, mixing again and kneading the dough. They were given a leaf to put on their masterpiece, wiggley eyes and some mini twigs for the caterpillar's legs.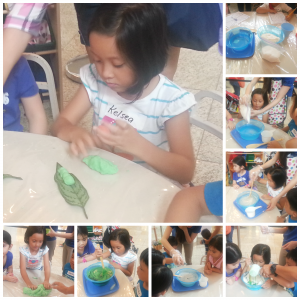 After they molded a few play dough's into rounds balls, here's the finished products:
The kids were very proud of their work. They also got to take home their creations. I was happy that they had fun 🙂 Kelsea loves playdough and that was the first time she made one from scratch. We better do this at home and make our bonding time more fun. Not only is it easy to do but also a money-saver since the materials are not costly and most important of all is that it's non-toxic and safe for younger kids.
Here is DIY homemade no-cook playdough recipe from The Learning Child School:
Homemade No-Cook Play Dough
Ingredients:
1 cup plain flour
1/2 cup salt
2 tbsp cream of tartar
1 drop of vegetable oil
1 cup water
food coloring
Procedure:
1. Mix the flour and cream of tartar together in a bowl.
2. Mix the water, food colouring and 1 drop of vegetable oil.
3. Slowly pour the mixture into the bowl of flour and cream of tartar.
4. Mix and knead until it is softer and smoother.
*If consistency is too wet, add a little flour. If too dry, add a little water.
There is also a recipe for this that needs cooking but I think the no-cook recipe is more kid-friendly since kids can be more involved without the need to boil water which is dangerous, and it's quicker and easier.
Have fun with your kids and start enhancing their creativity and make their imaginations work 🙂