I've been a full-time work-at-home mom (WAHM) for 3 years now and I'm happy I chose this path despite the many challenges I encounter every week just to meet my 40-hr per week work load. I've been sometimes thinking what it feels like to have a stay-in househelp to do the cleaning, cooking and other things I need a hand on. But hubby and I have our reasons not to get one (for now) as long as we can still manage the house.
A number of my friends are working moms who also want to be a WAHM at the back of their minds but still have hesitations. Switching from office working mom to WAHM is honestly a big leap and risk especially if husband and wife both need to earn income for the family. There will always be a challenging transition but taking one step at a time is better than not having one.
So now, I'm sharing with you one of the workshops I attended while already a work-at-home mom. I wanted to know more and meet other moms who have been working from home for years and build a network.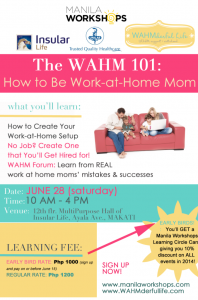 This workshop inspired me to thrive more and stick to my goal of being a hands-on mom, being there to witness my daughter's milestones and at the same time earning from home. I highly recommed wanna-be WAHMs to attend this to know that yes…it is possible to work from home and be with your kid/s.
Take a step further. Make a move. Register at http://wahmderfullife.com/2014/05/21/wahm-101/.
Photo credit: WAHMderful Life