What do you call a dessert that combines s'mores and brownies? S'mores Brownies!
My jar of all-purpose flour (APF) is already empty but i still got a lot of cake flour. So I searched the internet for recipes that use cake flour and came across Leite's Culinaria's S'mores Brownies. I still got stocks of all the ingredients so I decided to bake one yesterday and prepare it for my in-laws.
I tweaked the recipe a little to adjust to my on-hand supplies. Here's the recipe with a few comments on what I particularly used:
S'MORES BROWNIES RECIPE
Ingredients:
2

 

sticks (8 ounces)

 

unsalted butter

, plus more for the baking dish – used Baker's Best

10

 

ounces

 

bittersweet chocolate

, finely chopped – used Shopwise's Sure Buy Premium Dark Chocolate Bar

1

 

cup (8 ounces)

 

granulated sugar

3/4

 

cup (6 ounces)

 firmly packed light brown sugar – used Coco Sugar

4

 

large

 

eggs

2

 

teaspoons

 vanilla extract – used Ferna clear vanilla

1

 

teaspoon

 kosher salt – used iodized salt

1 1/2

 

cups (5 1/2 ounces)

 cake flour – used cake flour I bought from All About Baking

3

 

tablespoons

 natural cocoa powder – used Favorich cocoa powder

About 6

 

graham crackers

, roughly crushed with your hands – used M.Y. San Graham Crackers

About 12

 jumbo marshmallows – used the brand Mello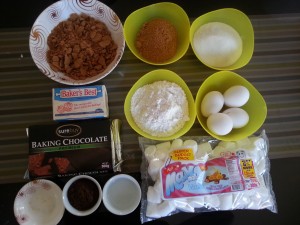 Directions:
1. Position an oven rack in the center of the oven and preheat the oven to 350°F (176°C). Generously butter a 9-by-13-inch baking dish. Instead of butter, I used Crisco shortening.
2. In a saucepan over low heat, combine the butter and chocolate (I only used half of the chocolate bar), stirring often, until the ingredients melt, about 4 minutes.
3. Remove the pan from the heat and whisk in the granulated and brown sugars. Then whisk in the eggs, one at a time, whisking well after each addition. Whisk in the vanilla and salt. Sift the flour and cocoa over the chocolate mixture and, using a rubber spatula, stir just until blended. Stir in the crumbled graham crackers.
I only used a whisk instead of my mixer so that there are less tools to wash afterwards lol!
4. Scrape the batter into the prepared baking dish and spread it evenly. Top with the marshmallows, plopping them an even distance apart from one another.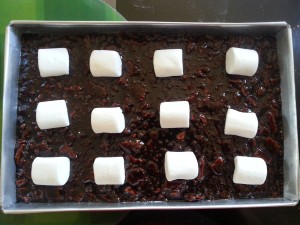 I initially used 12 jumbo marshmallows as you can see above but decided to add 3 more to spread out the melted mallows.
5. Bake the brownies until a toothpick inserted in the center comes out almost but not quite completely clean, 35 to 45 minutes. The brownies should be fudgy, but not liquidy. Let the brownies cool in the dish on a wire rack. (This cooling part is paramount, as it allows the brownies, which will be on the verge of gooey, to set. Otherwise you may very well find yourself cutting into a big puddle of warm goo. If you can withstand temptation, allow the brownies to rest overnight.) Cut the brownies into big squares, allowing one big blob of marshmallow per brownie. (To make it easier to cut through the marshmallowy goodness, fill a tall glass with very hot water and have a paper towel handy. Dip your knife in the water and wipe it off before each cut.)
Here's the finished product: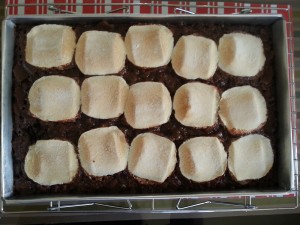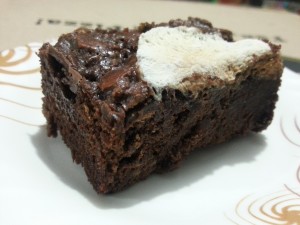 Thanks to my little assistant Kelsea for helping me. I think Kelsea's cousin J'aime loved it too 🙂 I think it will taste better if bittersweet chocolate will be used.  This is perfect with a cup of coffee 🙂 'Til my next baking creation!