Do you love to bake? I do! One of my dreams is to have a pastry shop serving cakes, pastries and coffee. I only had an oven toaster when we moved to our house 4 yrs ago and it was only last year that we were able to buy a gas range with an oven. I was so excited to start not just being a homemaker but also a homebaker 🙂
To have more confidence, I attended the Basic Baking and Cake Decorating Workshop of  Majesto Cake Studio last January. Diane Joy Labayen of Majesto is not new to me. My family is a "suki" of their catering services. In fact, Majesto Catering was the one who catered during Kelsea's 1st birthday last 2009. I love their baked mac!!! And now that they already have their own restaurant/cafe, we can easily just go there and enjoy their specialties.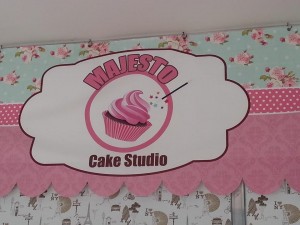 The 2-day hands-on workshop from 8am to 5pm (or earlier) costs Php 5,000. There was a short discussion about baking and some tips. Hand-outs were also handed to participants. We also got to choose our lunch from their menu.
On the first day, we baked choco cupcakes, made buttercream frosting and human figures made of marshmallow fondant (MMF). Here are my cupcake creations:
On the second day, we made a small 3-tier choco fondant cake. Now I know why fondant cake is so expensive. It really takes a lot of time and skills to make one. I had fun decorating! Here's my first fondant cake: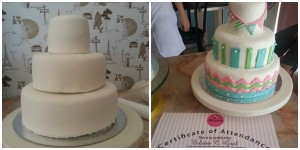 It was a great experience for me having a sense of achievement for finally being able to make and decorate a cake and cupcakes. We were also able to take home the cake and cupcakes which I proudly presented to my family.
After the workshop, I started taking orders from family and close friends to practice more and gain experience. Here are my creations so far: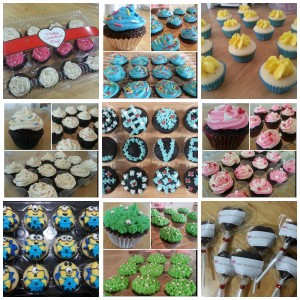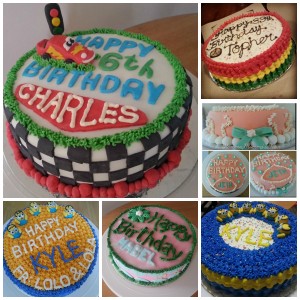 I still have a long way to go when it comes to fondant decorating and need to learn more techniques. I'm now eyeing on attending Majesto's Advanced Cake Decorating Workshop in the future. It costs Php 10,000 for 5 days. Not bad! I just need to find some time to get off from work for 5 days (yikes!) and of course prepare for that budget.
Care to share your baking creations? 🙂
MAJESTO CAKE STUDIO
Unit c Commercial 3, PDC Commercial Center, Rose Ave. Pilar Village, 1750 Las Piñas City
(02) 475 6486
https://www.facebook.com/MajestoCakeStudio
https://www.facebook.com/pages/Majestos-Homespun-Cakes/343783819351