It was our last day in Hong Kong. We got an afternoon flight going back to Manila so we decided to go to Tsim Sha Tsui (TST) to go look at the shops (and do a little shopping). Upon exiting the TST MTR station, we walked along the famous Nathan Road.
There were so many kinds of shops in this road and also hostels like the also famous notorious Chungking Mansions.
One of the shops we frequent to in Hong Kong is Giordano since it's way cheaper there than in Manila.
My mom, dad and Charles were already tired from walking so they just stayed in one place and waited for us. One of my favorite side streets here was Granville Road where there's a branch of Cotton On 🙂 I shopped a little there (kid's stuff only) and window-shopped in other stores.
We surely didn't miss these egg balls snack.
We bought the taro and chocolate flavored egg balls.
After a few looks at more stores, it was time to go back to the apartment, prepare our stuff and head to the airport. We'll surely miss the apartment where we stayed.
We were deciding whether to take a taxi or the bus going to the airport. The bus stop is just near the apartment do we rode the double deck bus for the last time and enjoyed the feeling of being in Hong Kong. Just a reminder when taking the bus…keep an eye on your belongings and know your luggage. My dad accidentally picked up a wrong luggage bag when we got down the bus which made someone so mad (oops!).
At the airport, before going to the check-in counter, Mark got all our Octopus cards and brought them to the Customer Service desk to get our deposit and the remaining funds. Since we still got a few HKDs, we bought goodies from Okashi Land.
It was a very long walk from the check-in area to the terminal gates. Hong Kong International Airport is one of the biggest airports I've been. While waiting for our turn to board the plane, we enjoyed this Wife Cake (yummy hopia) bought there in the airport.
Here's the story why it was called Wife Cake 🙂
We really had fun during this trip. It was a great bonding time with family. We will surely come back after a few years since we didn't get to see the other tourist attractions in Hong Kong like the Ocean Park, Ngong Pin Village, Sky 100, Avenue of Stars, Symphony of Lights and a lot more.
During this trip, I learned that it is a bit of a challenge to go on a trip with a large group (with kids and senior citizens). Time must be flexible and you need to understand your companion's needs. We experienced embarassing moments in the MTR, heated discussions on where to go first and where to eat. But despite all of those challenges and mishaps, most important of all was that we, especially the kids, had FUN with FAMILY.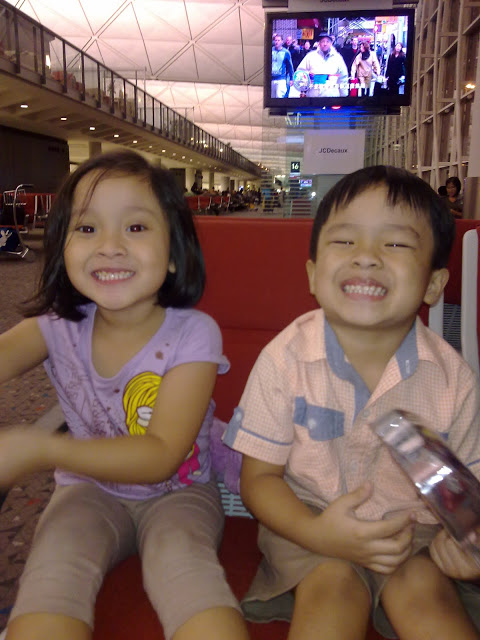 Happy kiddos!
The pictures say it all! We'll be back Hong Kong! 🙂