Our third day in Hong Kong was Kelsea's 4th Birthday 🙂 This trip was our birthday gift for her. During our Disneyland trip part 1 and part 2 on our second day, I bought Disney souvenirs before we left the park as additional birthday gifts. But it was a secret so she would be surprised.
So when she woke up on her special day, I gave her the goodies from Disney.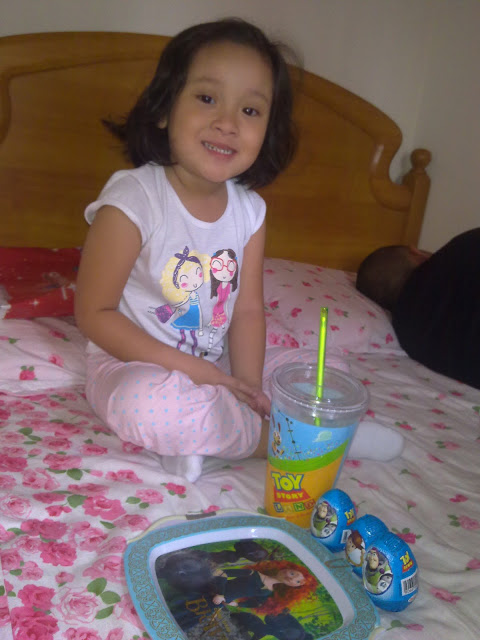 Happy 4th Birthday Kelsea!
Toy Story and Brave are her favorite movies. So I bought a Toy Story tumbler with straw and a Brave plate featuring Merida. But a child's birthday is not complete if she doesn't have a toy gift. Since she loves chocolates, I bought the three egg-shaped Toy Story stuff you can see in the picture. I bet you're wondering what they are 🙂 I call them surprise eggs. After opening its wrapper, you'll be holding an egg made of chocolate. What's the surprise then? Crack the egg and you'll get a surprise toy from the movie! Chocolate + toy = happy birthday celebrant!
This is one of the miniature toy inside the chocolate eggs….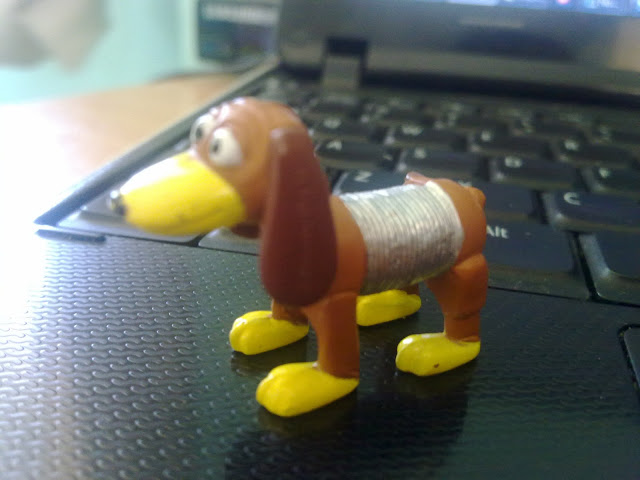 Slinky
Hubby and I were happy she loved our gifts even if they're not that expensive. It's easy to please a child. You just really have to know what they love 🙂
Our itinerary for that day was to meet Charles' grandpa for lunch and then visit The Peak. But what's for breakfast first? My mom, aunt and I opt to go out the apartment and walk in Nathan Rd and look for something to eat. Kelsea joined us in her pajamas 😉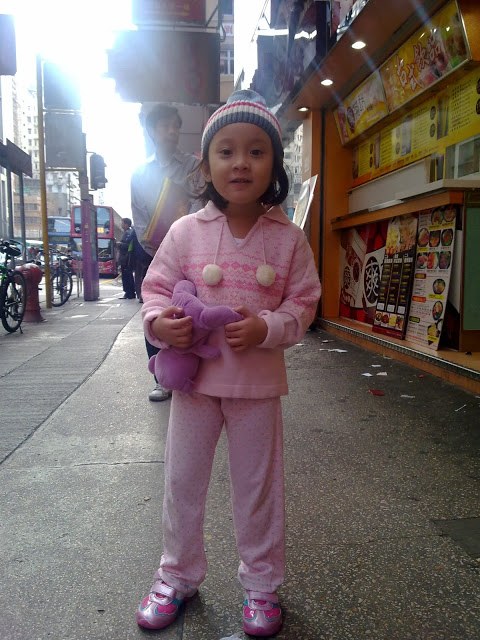 Pretty in Pink
We passed by a 7-11 store and decided to buy food there. Most 7-11 stores in Hong Kong do not have glass doors. The cashier or staff only knows when someone enters when they hear a sound like a doorbell. Of course, they also have CCTVs for security.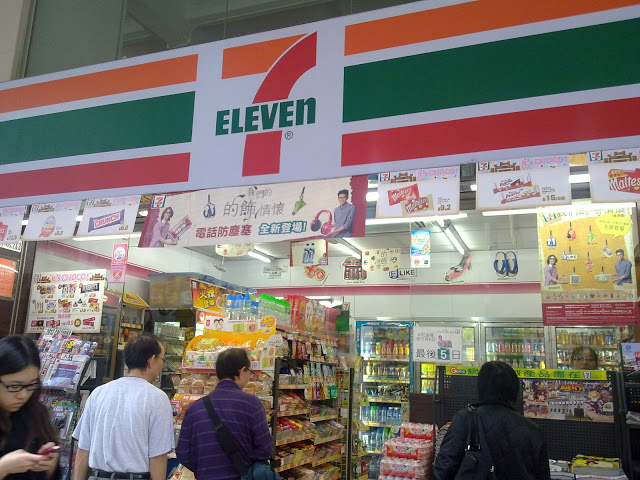 7-11
I read somewhere that it's cheaper to buy stuff in Wellcome stores then in 7-11 stores. But the nearest Wellcome branch is a little farther from our place so we settled for 7-11.
By the way, I saw these dried mangoes being sold in 7-11 for 25.50HKD. That's about Php140.25. It's double the price!
These were what we had for breakfast which we heated in 7-11 before bring them back to the apartment.
Did you notice the spoon? They only give that utensil since HK locals eat mostly in bowls using chopsticks or that spoon.
TAO HEUNG RESTAURANT
After breakfast, we rested for a while and prepared for another day of walking. We rode a taxi in 2 groups to go to a mall in Tai Kok Tsui to meet Charles' grandpa, uncle and auntie.
They invited us for lunch at Tao Heung Restaurant. It is one of the well-known Chinese restaurants in Hong Kong.
I noticed that people from Hong Kong don't use plates to eat. They enjoy their food using a bowl. They gave us small plates though so we Filipinos can enjoy more their good food. Tea was also served.
I highly recommend this restaurant. Don't leave Hong Kong without eating in any of their branches. And most of all, don't forget to order their dimsum. Theirs is the most delicious siomai I've ever tasted. It was perfect!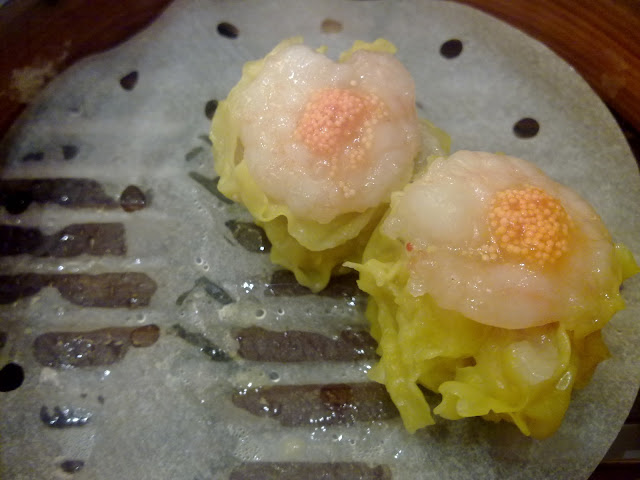 Picture pa lang masarap na noh?
Lunch was so good and catching up with my sister's in-laws were great too (even if she and her hubby are separated). Charles' grandpa was so happy be with his apo even for a few hours only. My dad and his kumpare are good friends.
STAR FERRY
Next, we're off to The Peak, one of the tourist destinations in Hong Kong. It was located in Central which is located in Hong Kong Island. We can easily take the MTR but we decided to hail a taxi to take us to the Star Ferry terminal.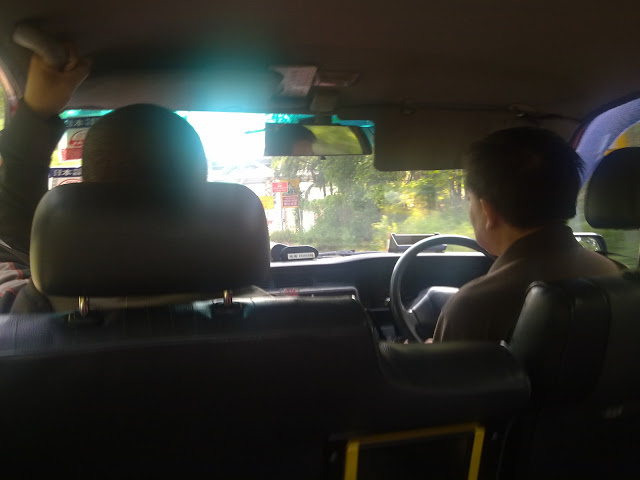 Right-hand driving in Hong Kong
Fare from Tsim Sha Tsui to Central via the Star Ferry is so affordable. It was a 9-minute ride so you get to view the view of the tall skycrapers in Hong Kong Island side. The ferry becomes crowded though during rush hour.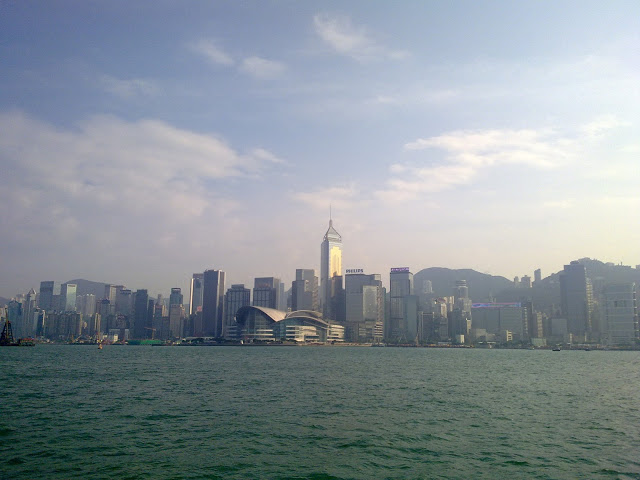 Our view from the ferry boat
THE PEAK
After riding the Star Ferry, we had a long walk thru a walkway going to the a bus terminal where we rode on Bus 15 to take us to The Peak.
But the best way to The Peak is by the Peak Tram taken at Peak Tram Lower Terminus (which we didn't bother to find). From the brochure, the Lower Terminus can be reached:
– On foot. Exit from MTR Central Station J2, or walk across the Hong Kong Park from Admiralty (approx. 10-minute walk)
– By bus 15C in Central near Star Ferry Pier 8 (we should have taken this)
– By taxi
It was a long ride going up the mountains and see The Peak.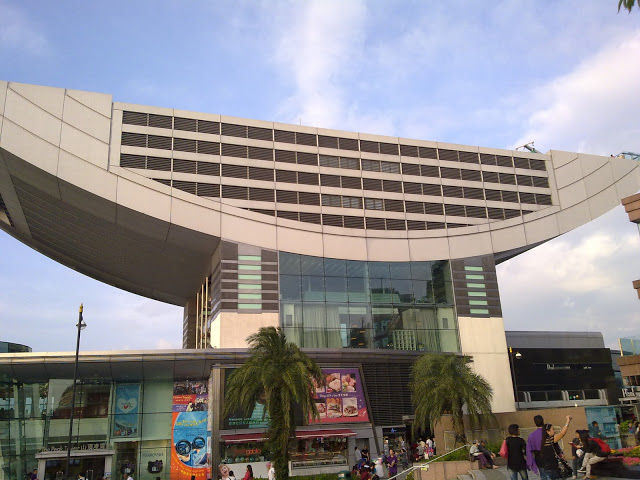 The Peak
The Peak Tower is considered to be the most stylish architectural icon and landmark in Hong Kong since it is 396 meters above sea level. Imagine how cold it is there. There are numerous restaurants, shops and entertainment venues inside the tower.
In front of this structure is a mall called The Peak Galleria.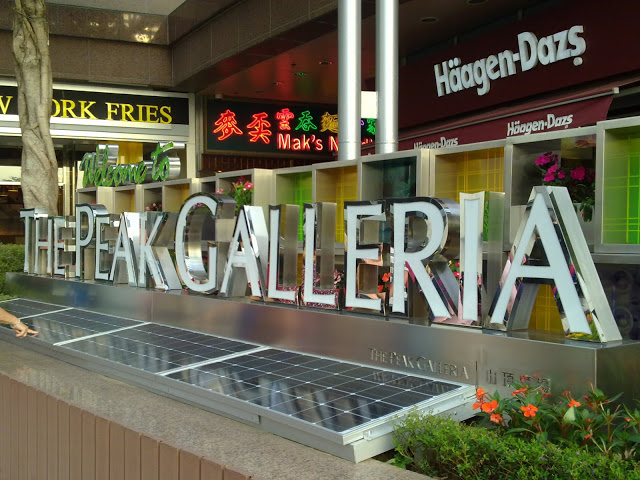 More shops at the Peak Galleria
We also saw at the right of The Peak is the long line going to the Peak Tram.
A sample of a peak tram.
You can buy tickets to ride the tram or simple use your Octopus card.
It was getting very cold so we decided to go inside. There are a lot of shops and you don't need to worry on where to buy Hong Kong items good for pasalubong to family and friends back home because you can buy them at the Peak Market.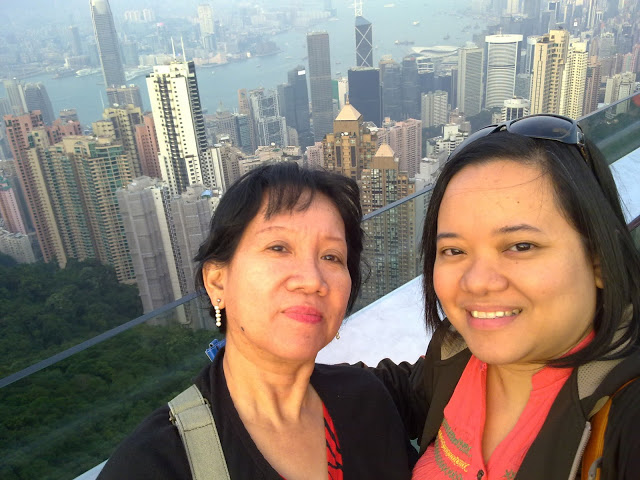 Tita and I
Bring your own cameras or if you don't have one, there's an official photographer there where you can have your pictures taken with the Hong Kong skycrapers as your backdrop. It's a bit costly though.
Up there was also a "Say I Love You at The Peak" wishing corner where you can express your love on a heart-shaped wishing card hanging on a giant heart.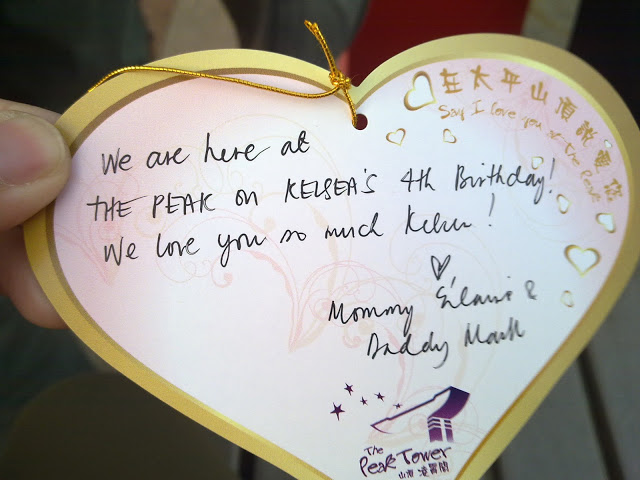 Our love message to Kelsea.
The Sky Terrace is open from 10 am to 11 pm from Mon to Fri while 8 am to 11 pm on Sat, Sun and public holidays. The best time to go here is during sunset 🙂
We decided not go go inside anymore but just take our pictures (for free) with a few wax figures at the entrance like Bruce Lee and this lady who I don't know (sorry!).
Madame Tussauds operating hours are 10 am to 10 pm daily.
The original plan was to ride the Peak Tram going back to Central but since it's too cold for the kids and the seniors, we decided to take the Bus C again instead. It was a long waiting time to ride this bus since almost all are also on their way back to Central.
We took the MTR from Central to Yau Ma Tei where we were renting an apartment. The kids were already tired and fell asleep when we arrived. My parents, my aunt and I went to Temple Street to have dinner and just bought take-out food for Mark.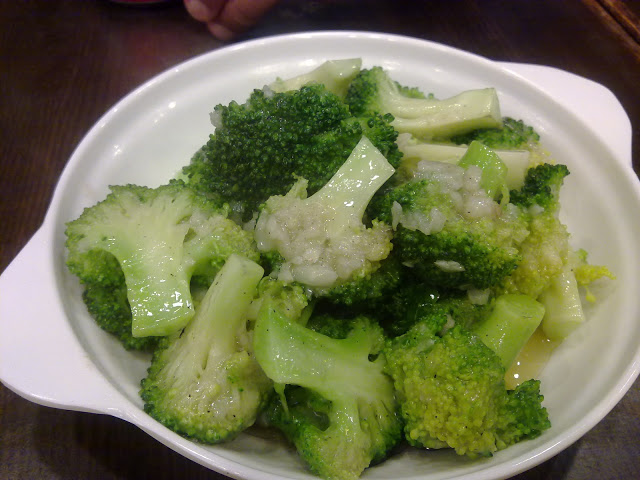 Yum! We had 2 orders of these.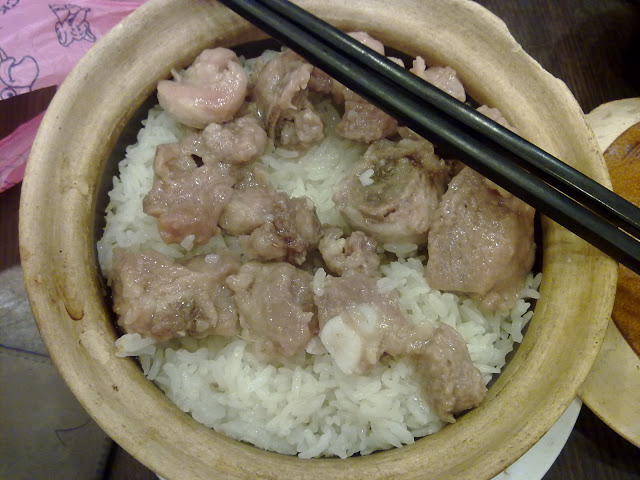 Their special sauce makes this more tasty.
After a late dinner, we headed back and called it a night. But before I slept, I started packing already our luggage for our afternoon departure the next day.