This is the continuation of our Disneyland adventure. Check out my previous post here about the first attractions we saw in the park.
TOMORROWLAND
After strolling around Grizzly Gulch area, we went to the spacious area just in front of Sleeping Beauty's castle to have our pics taken.
The King is taking the pic of the queen and princess 🙂
Tomorrowland is the future. In this area, you'll see the Space Mountain, Stitch Encounter, Orbitron, UFO Zone, Autopia and Buzz Lightyear Astro Blasters.
To complete Kelsea's day, she wanted to have her picture taken with Buzz since Toy Story is one of her favorite movies.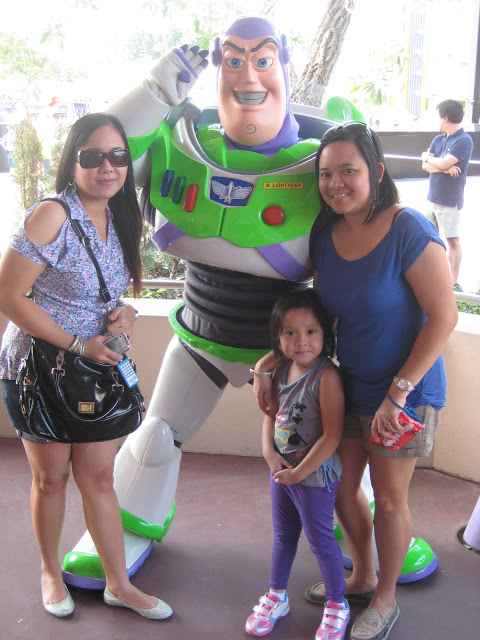 My sister, Buzz, Kelsea and I to infinity and beyond!
We're so hungry so we headed to the Starliner Diner. It is an American restaurant serving burgers, fried chicken (kids' all-time fave), salads and sundaes.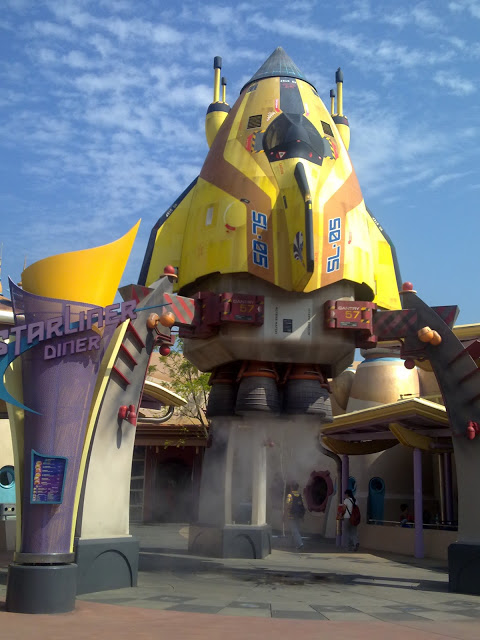 Starliner Diner
A complete meal here costs HK$70 which includes 2-pc chicken, rice and drinks.
My mom bought a Mickey Mouse-shaped pancake from one of the stalls outside. Too bad I wasn't able to take a picture of it.
After our sumptuous lunch, we looked for a spot near Fantasyland to watch the Flights of Fantasy Parade at 3:30pm. Here are the pictures of Disney characters which gave big smiles to children and kids-at-heart (like me!) and excitement. This is a dream come true for moi!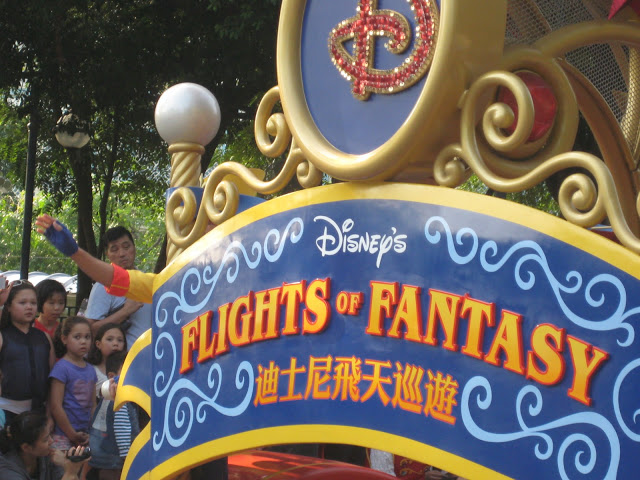 Flights of Fantasy Float
Lilo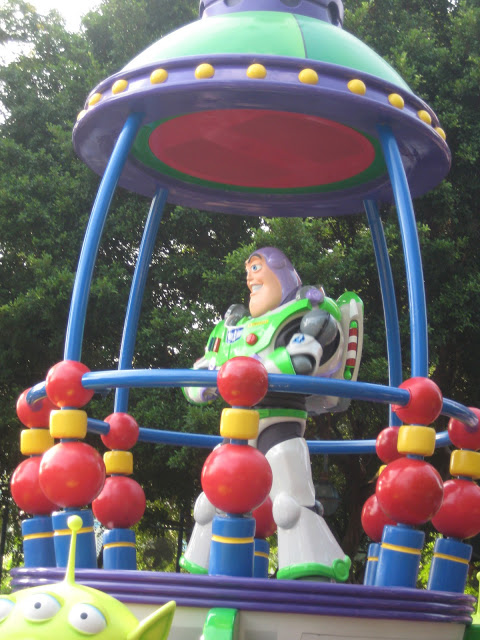 Buzz Lightyear
Jessie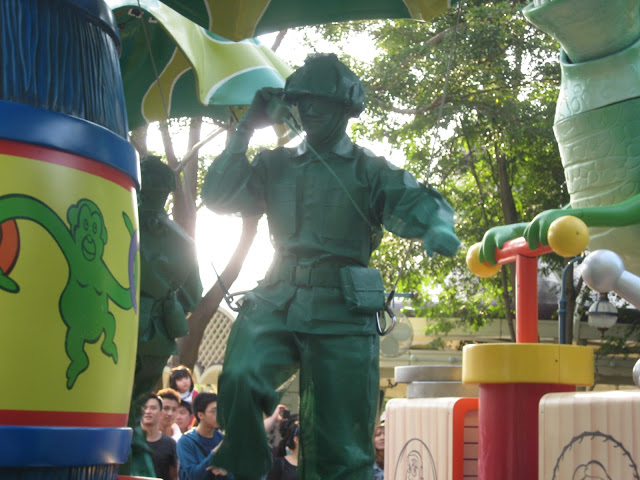 G.I. Joe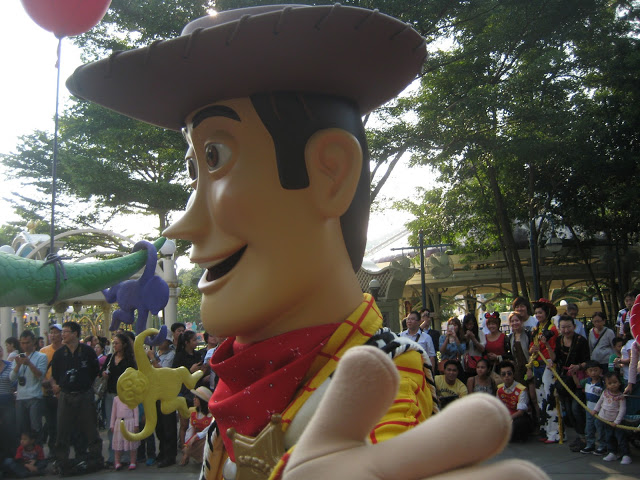 Woody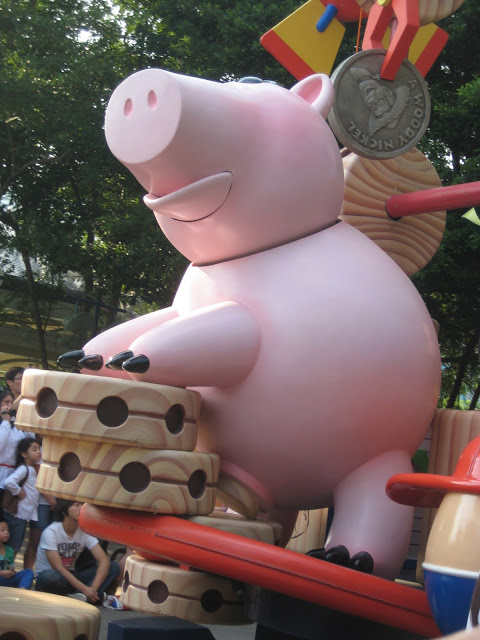 Piggy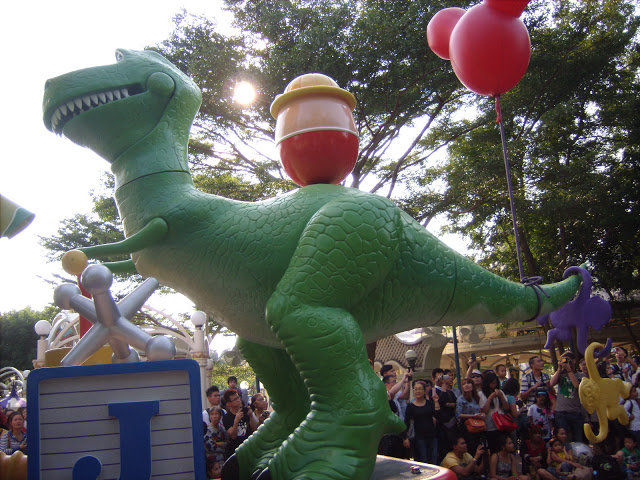 Rex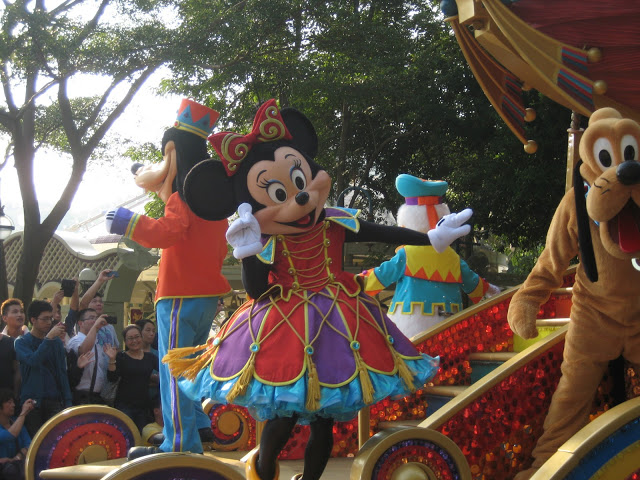 Goofy, Minnie and Pluto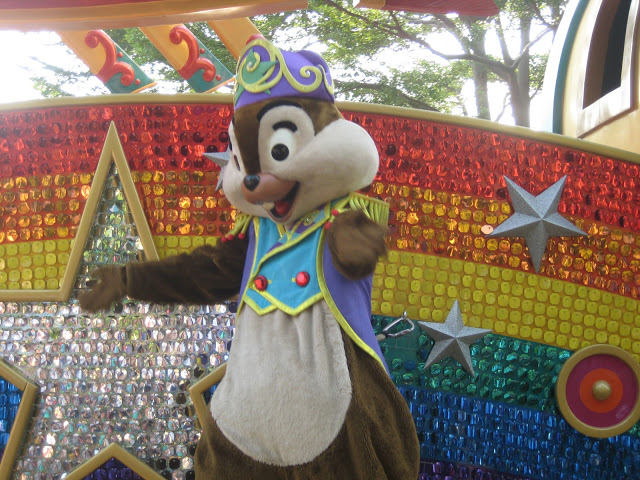 Chip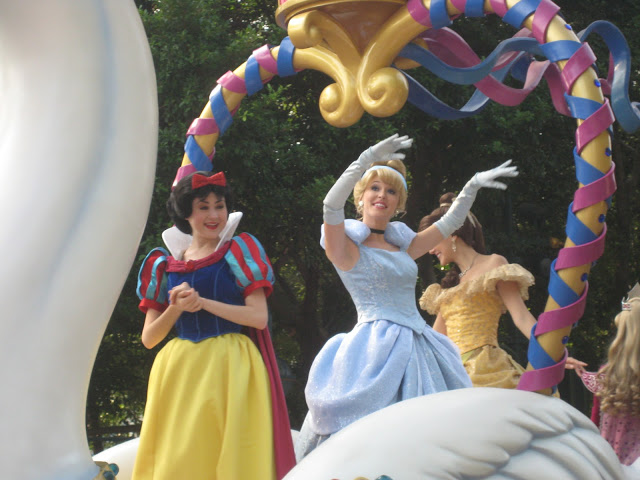 Disney Princesses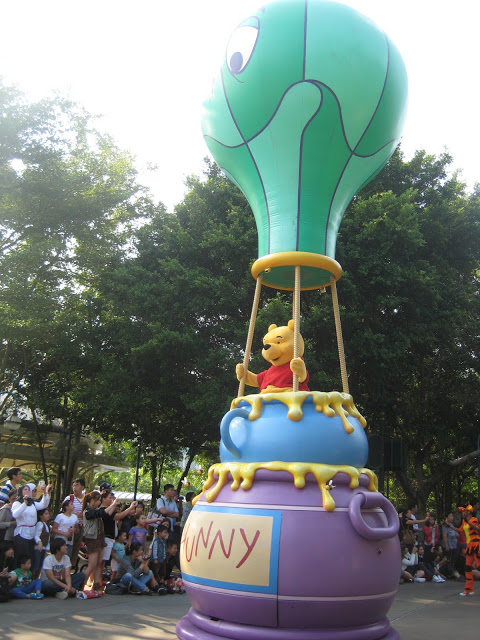 Winnie the Pooh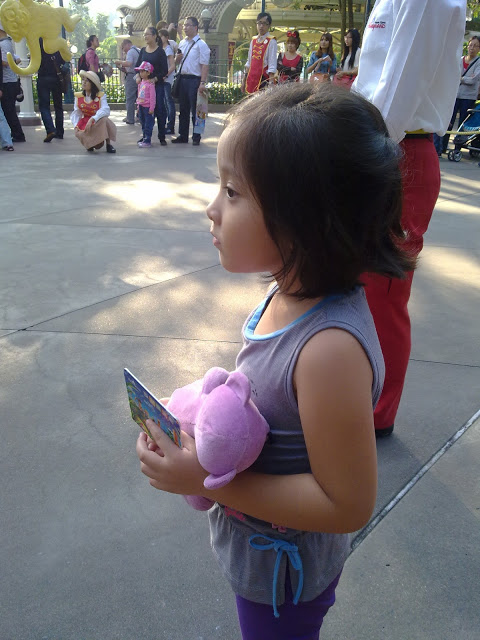 Kelsea (with Violet) seriously watching the parade.
FANTASYLAND
After the parade, we walked to the Storybook Theater in Fantasyland to watch the 30-minute show, The Golden Mickeys. It is a musical celebration of Disney films and characters. On that day, this show can be watched at 12:45pm, 1:45pm, 4:00pm, 5:00pm or 6:15pm.  
Tip: Arrive at least 30 minutes prior to show time. Also, check for the show times in your preferred language (Cantonese / Putonghua / English) at the attraction entrance. We didn't check so the main language during the 4:00pm show we watched was in Cantonese. There's a sub-title in English though 🙂
Picture taking or video recording with flash is prohibited inside the theater. So I took photos without flash 🙂
Next stop was at "It's A Small World". Here, we rode on a small boat as children of the world sing and dance to the tune of "It's A Small World (After All)" in all languages.
After the ride, more photo ops of the grandmas together with their grandchildren.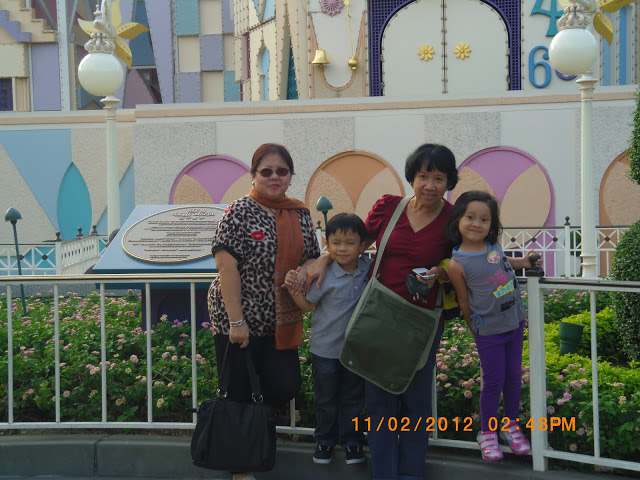 My mom, nephew, aunt and Kelsea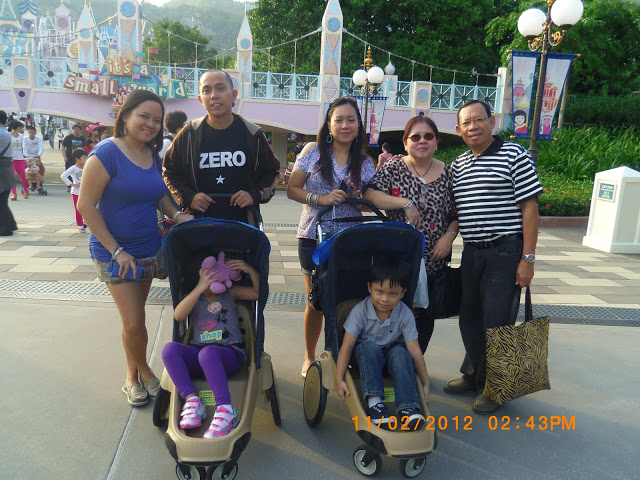 Our Family
OTHER SHOWS
It was already late in the afternoon. My parents, sister and Charles were already tired so they opt to find a place to sit and rest (and eat again!) while waiting for the fireworks display. But Mark, Kelsea, Tita and I were not. So we made the most out of our time by going to Adventureland to watch the "Festival of the Lion King". It was a 30-minute show in the Theater in the Wild. Good thing we were able to catch the 6:00pm show. We were walking so fast because doors close 10 minutes prior to the show time.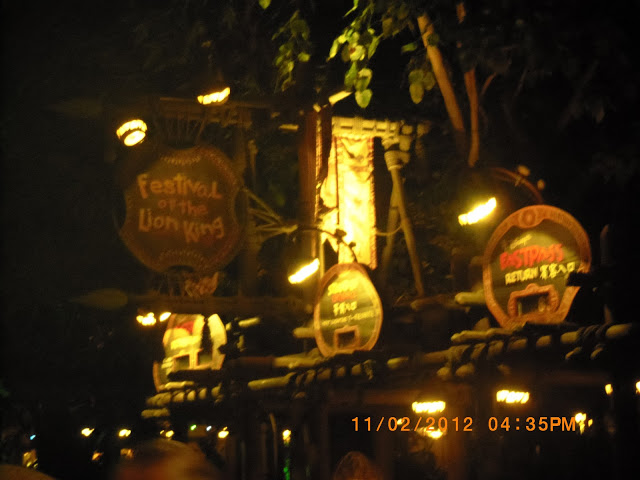 Did you notice that my dad's camera was not set properly? Lol! It was a day in advance.
Entering the venue felt like going to watch a noon-time show. It was set-up like an arena. There was no stage but the the show will be performed in the middle.
I was too engrossed with the show that I forgot to take more pictures. Kelsea enjoyed it 🙂 It was her first time to know about Simba. The performers had great voices and performed very well.
After the show, we spent time taking more pics. One shot we shouldn't miss was a family picture in front of the castle.
Kelsea's visit to Disneyland wouldn't be complete without riding the carousel. So here she was – all smiles!
We still had time to spare before the fireworks so we decided to go back to Fantasyland to watch Mickey's PhilharMagic, a magical 3-D adventure.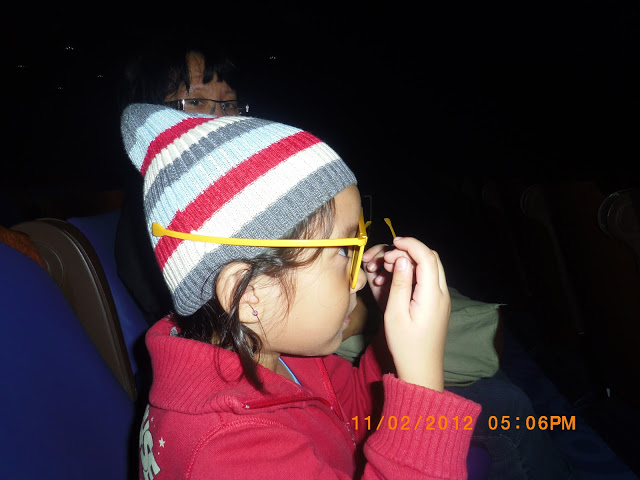 Kelsea wearing her 3D glasses. Got dizzy cutie pie?
At first she was wearing the 3D glasses, but after a few minutes, she removed them. It was her first time to watch a 3D movie. She got surprised by the sudden wind and water sprinkled towards her face 🙂
After the show, it was only 30 minutes before the 8:00pm fireworks display. We headed to the open space in front of the castle and looked for our own spot and sat down waiting for the grand finale. All were eager to watch the display.
A few minutes before 8:00pm, the castle was lit up and the crowd even grew more excited. When it started, I started having goose bumps. Haha! Feeling bata! I felt like I was getting carried away by the Disney theme songs 🙂 I planned on uploading the video of the fireworks display but decided not to do so anymore so I won't spoil the fun to those who haven't watched it yet.