Warning: This post is photo-heavy but kid-friendly 🙂
Since I was a kid, I've always dreamed of going to Disneyland. When my mom, sister and I went to the US last 2006, we didn't have the chance to go to Disneyland. Now I know the reason why. God planned for me to go to there with my daughter and hubby and the rest of the our Hong Kong trip entourage 🙂
The main reason for visiting the home of Mickey and Minnie Mouse is to celebrate Kelsea's 4th birthday. I wanted it to be memorable for her. I told her that only big girls are ready to see Disneyland. And when we'll go back home, she must prove to us that she's a big girl already. That means no drinking milk in the bottle anymore. It worked! That was hitting 2 birds with one stone 🙂
We were able to buy discounted Disney tickets thru the CTS booth in HK International Airport. Prices of 1-day regular park tickets are:
General Admission Ticket (12-64yo) – HK$399
Child Ticket (3-11yo)                        – HK$285
Senior Ticket (65yo & above)            – HK$100
Park hours were:
Mon-Tue, Thu-Sat 10:30am – 8:00pm
Sun, Wed               10:30am – 11:00pm
HOW TO GO TO HONG KONG DISNEYLAND
Since we were staying in Yau Ma Tei and there's an MTR exit just below the apartment where we stayed, we took the MTR going to Disneyland.
Kelsea's first MTR ride.
Our route was: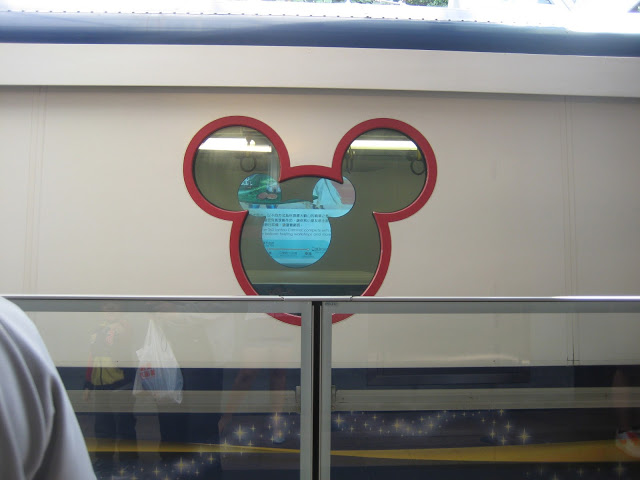 Find the hidden Mickey.
ARRIVAL IN DISNEYLAND
It was a long walk from the MTR Disneyland Resort Station to the entrance gates. We made sure that we wore comfy shoes. To save some money, we ate the snacks we brought before entering the park. I also prepared water bottles to keep us hydrated. Food and beverage inside the park are a little bit expensive (meals are around HK$50-70) What we planned was to have lunch and afternoon snacks inside the park.
Disneyland tickets featuring Toy Story characters
A visit in Disneyland ain't complete without having a picture taken right in front of this Mickey Mouse garden.
Family pic with Mickey
MAIN STREET, USA

Main Street, USA is what we saw first when we entered the park. It is like a 20th century American town where we had the chance to meet and greet Mickey Mouse and Minnie Mouse. Unfortunately, the two kids were not that eager to have their photos taken. They still have the fear of mascots 🙁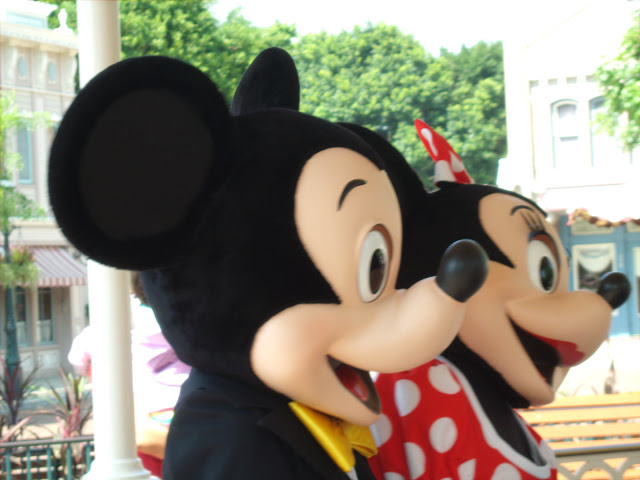 Mickey and Minnie Mouse
Also in this area is the City Hall in Town Square where we rented a stroller. We didn't bring a stroller because we thought it would be a hassle for us bringing it while commuting in HK. So, we chose to rent one in Disneyland because we knew that after the long hours of walking, Kelsea will surely wanted to be carried. I forgot the exact amount of rental but if my memory serves me right, it is HK$90. I'm not sure if the refundable deposited was already included in that amount.
Stroller name plate.
While walking in Main Street, we saw the shops full of Disney items. To avoid spending early, we avoided those shops and told ourselves that we'll go back before going home.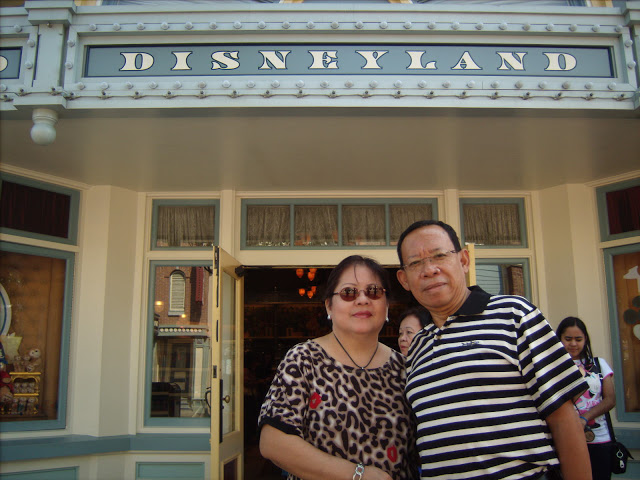 Mom and Dad – NOT newcomers in Disneyland.
ADVENTURELAND
My parents, sister, nephew and aunt decided to stop over at a restaurant to grab a bite while Mark, Kelsea and I roamed around. We went to Adventureland and rode on a jungle boat to see the jungle. We were warned that kids might get scared on some parts of the ride.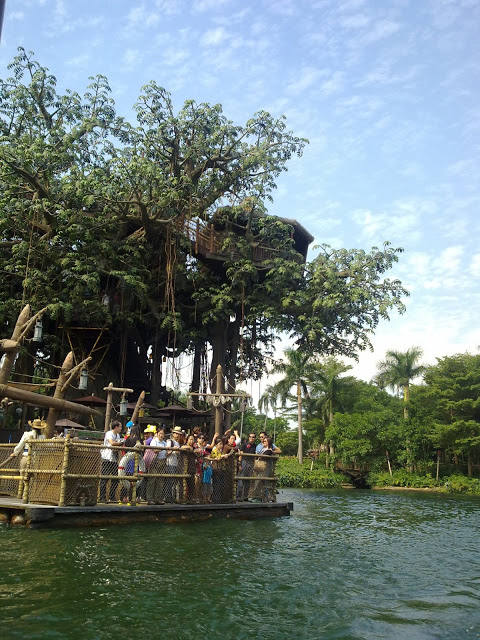 Tarzan's treehouse
The part of the boat ride where Kelsea got scared was when we passed by a cave that emitted fire.
Are you wondering where Kelsea's stroller is? On every attraction where strollers can't be brought inside, there's a parking lot for them 🙂
Woody with the father & daughter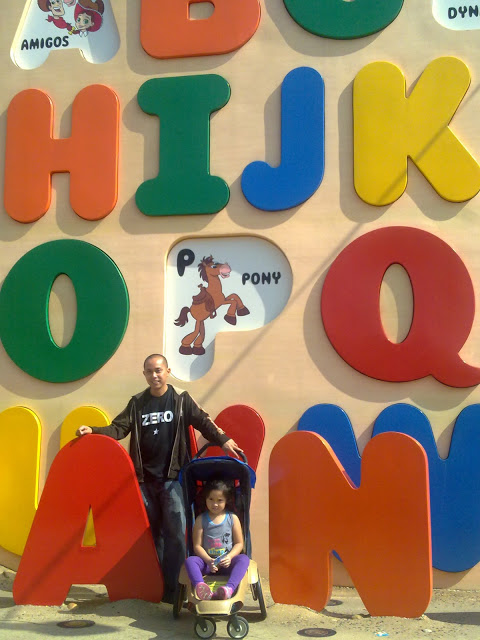 Giant letters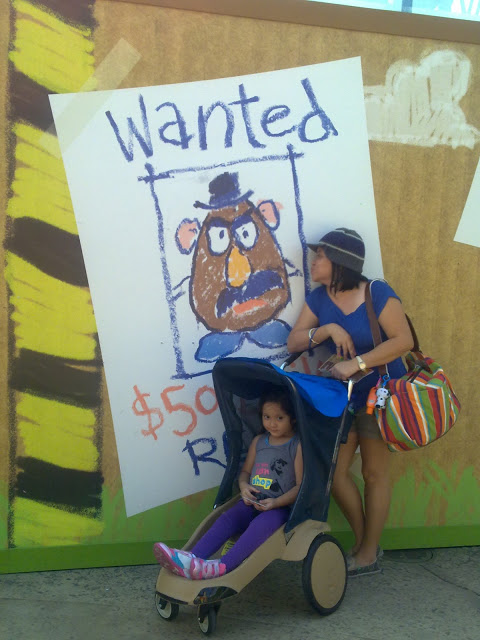 Hi there, Mr. Potato!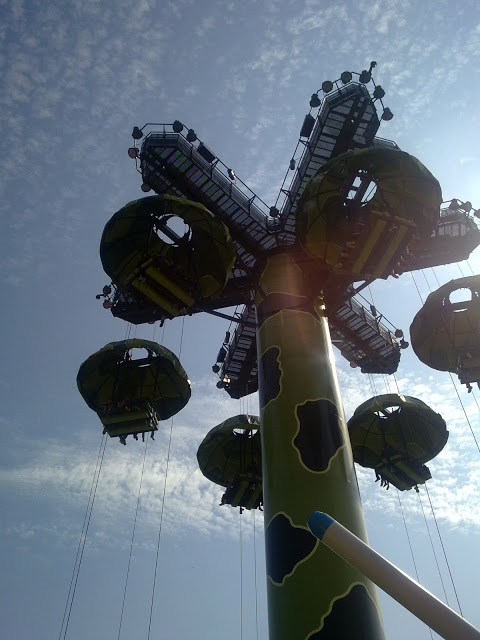 Toy Soldiers Parachute Drop
Hi, Slinky!
GRIZZLY GULCH
Our next destination was the Grizzly Gulch. It was a runaway adventure in the home of cowboys. Too bad we weren't able to try the wildest ride in the West.
Time for a break. We got hungry after this. It was chow time! 🙂
Next is the Part 2 of our Disneyland adventure