The flight from Manila to Hong Kong (HK) took about 2 hours. We were supposed to arrive in HK around 7:30am but our Cebu Pacific flight was delayed for 2 hours so we landed in HKIA around 9:30am. Kelsea was well-behaved all throughout the flight. I prepared reading and activity materials for her to keep her busy.
ARRIVAL AT THE HONG KONG INTERNATIONAL AIRPORT (HKIA)
 
It was Mark and Kelsea's first time in HK while it's my second after 8 years.
Not-so-great family picture in HK (LOL!)
It was a long process and long walk from going out the airplane, getting our luggage to going thru Immigration and Customs. We even saw their version of our Duty Free.
HK's Free Duty
Here were the exchange rates that day (October 31, 2012) in Travelex.
We bought US Dollars in BPI and BDO (you have to be an account holder) a few days before we left Manila. Then we exchanged some of our US Dollars to HK Dollars in the airport so we can buy at once the Octopus Card and tickets to Disneyland in the airport. Don't forget to get free maps!
With all our luggage already complete, we passed by the Customs at this time already….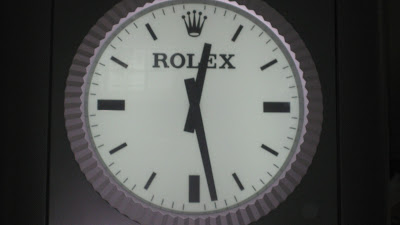 There were so many Rolex in HK.
We were starving so we ate in….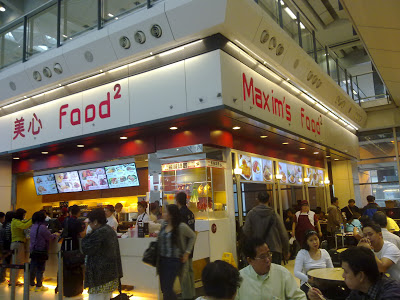 Mark and I had these yummy Chinese meals to share with Kelsea…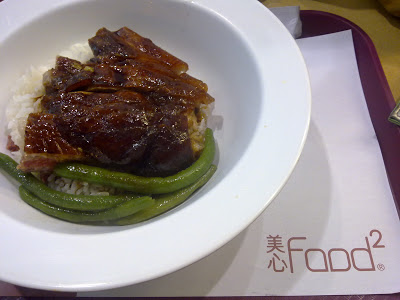 Maxim's Roast Goose HK$36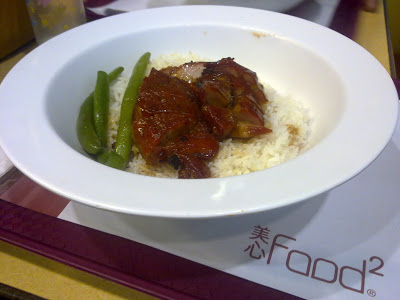 Honey Glazed BBQ Pork HK$31
When all our tummies were full, I looked for the stall/booth of the China Travel Service (CTS) to buy the discounted Disneyland tickets.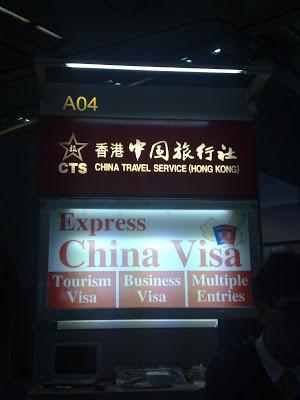 CTS at A04
You can compare their ticket prices from the HK attraction's websites.
CTS' Disneyland tickets:
HK$370 (adult)
HK$270 (child)
HK$100 voucher (senior citizen)
Disneyland park tickets:
HK$399 (adult)
HK$285 (child)
HK$100 (senior citizen)
Discounted tickets in CTS
Not only the tickets here are cheaper, you also don't have to experience the long lines in the park's ticket booth.
Next to buy were the Octopus Cards at the Customer Service Counter. The Octopus Card will be used to pay for our MTR, bus rides, HK Island tram, Star Ferry and other channels here. The main transportation when going around HK is riding the MTR or bus because riding a taxi is a little expensive.
Standard Octopus Cards cost (inclusive of HK$50 deposit):
HK$70 (child age 3-11)
HK$150 (adult)
HK$70 (elder/senior citizen age 65 and above)
It comes with a refundable HK$50 deposit which covers HK$30 card cost and ensures uninterrupted Octopus service in case of negative value. So keep your Octopus Card and surrender at the airport before you leave HK.
Note: Do not let anybody use your Octopus Card in the same entry or exit point. You'll have problems going out. My dad experienced this (LOL!) This was a very funny lesson.
HOW TO GO TO YOUR HOTEL
You have 3 choices:
1. Airport Express
    This train stops at HK Island MTR Station, Tsing Yi and Kowloon. Then you can ride their FREE shuttle service to selected hotels.
     To HK Station (23 mins) – HK$100/person
     To Kowloon Station (20 mins) – HK$90/person
2. Cityflyer Bus
    You can take the A21 bus if you're going to Kowloon or the A11 bus if you're headed to HK Island. This takes about 40-45 minutes.
     To HK Island (A11) – HK$40 (adult) / HK$20 (child)
     To Kowloon (A12) – HK$33 (adult) / HK$16.5 (child)
3. Taxi
    You can ride the RED ones if you're going to Downtown HK or the BLUE ones if going to Disneyland from the airport. Flag down rate is HK$20-30. From the airport, it will cost around HK$250-350 for a maximum of 5 passengers. An additional charge of HK$5 for every baggage in the compartment plus toll fee.
We all chose to ride the…..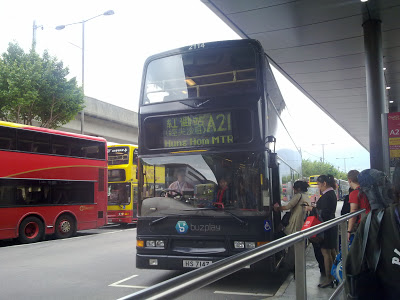 A21 Cityflyer Bus
 We all enjoyed the scenery while riding the bus. Upon entering the bus, you have to tap your Octopus card on the machine near the driver to pay the fare. Then, you can put your big bags in the luggage area before choosing a seat. My parents seated on the 1st level while the rest of us seated on the 2nd level. No need to worry about your luggage. There's a video cam on the 2nd level to see them.
Inside the bus, it will show the next bus stop so that you won't miss it. Since we stayed in Yau Ma Tei, we alighted the bus at Bus Stop #9. To know your bus stop, check your route
here
.
 When we were already in our rented apartment, we relaxed for a little while especially the two kids.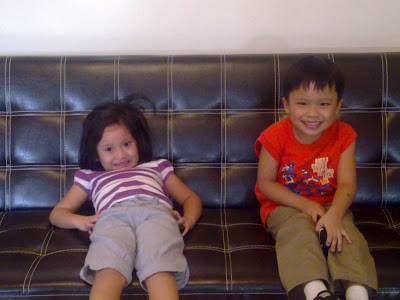 Feeling at home
And then waited for my nephew's grandpa who's living in Hong Kong 🙂 It was their first time to meet.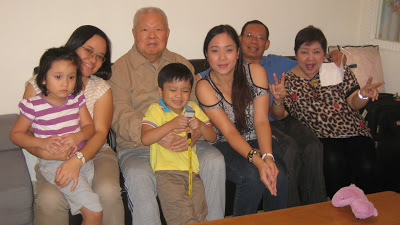 Look! Violet's also in HK! LOL!
TEMPLE STREET and MONGKOK NIGHT MARKET
Our apartment was only walking distance from Temple Street and the night markets in Mongkok. So, Mark, my sister Mabes, my aunt Julie and I went out for a walk to check them out while the grandparents stayed with the kids.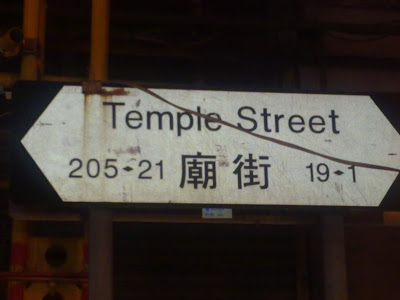 Temple Street is just like a mini Divisoria, Baclaran or Quaipo tiangges when compared here in Manila. There were not much good finds but there were authentic Chinese restaurants on the side streets.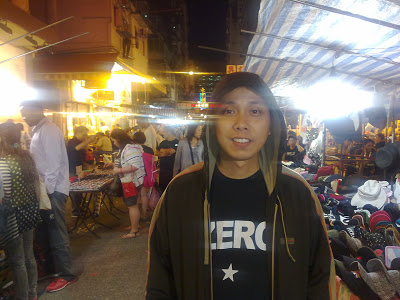 Walang mabili LOL!
 Then we went to Mongkok to check out the Ladies' Market, Electronics Market, etc. We didn't shop that night though. We didn't want to spend too much on our first day.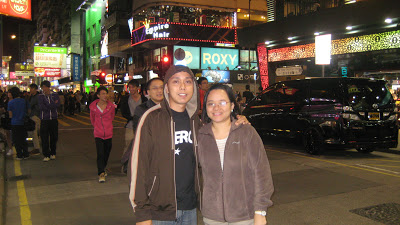 Feeling in honeymoon
 We passed by Soy Street and saw some must-try-their-product establishments.
Hui Lau Shan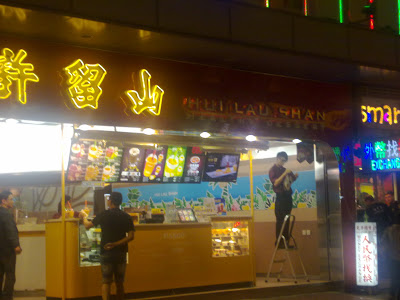 They sell yummy mango desserts here. Too bad we weren't able to buy.
Come Buy!
Come Buy was more inviting so I bought one of their best seller drinks. It tasted okay. Nothing to rave about.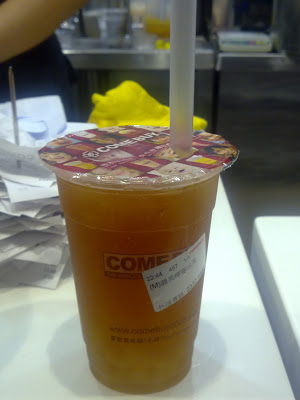 Iced Lemon Apple Tea
We got tired from walking so we went back to the apartment. The night was young though in Hong Kong at 11pm but we chose to call it a night since next day is DISNEYLAND day 🙂