Does your back hurt and want to have a massage but in a tight budget? Then, worry no more! For only 10 pesos, you can be massaged for 3 minutes.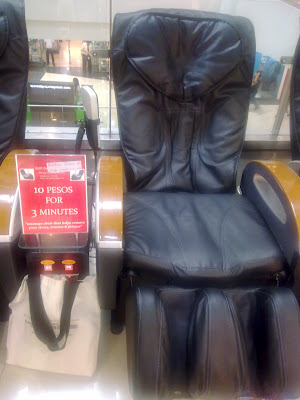 Massage chair
Three (3) minutes is so bitin so I paid 20 each for me, my dad and my mom for a 6-minute quick relaxation. I saw those kinds of massage chairs in other malls but these particular ones in Robinson's Place Ermita look more comfy and new. I love how it squeezes the legs 🙂
So if you want to spend time doing something but feeling relaxed while waiting for somebody in a mall, get your butts on that massage chair! Remember to keep your personal belongings with you 'coz you might fall asleep.