We do our grocery on a weeknight when there are no long lines on the lanes of Shopwise in Festival Mall, Alabang. Getting out from the office between 7pm to 8pm is a regular time for us that's why it's very ideal for us to get our pantry and cooking stuff in this grocery because Shopwise closes at 11pm. Not to mention the good service and the wide range of items that you can choose from.
Can you guess where Mark and Kelsea go while I do the grocery? In here….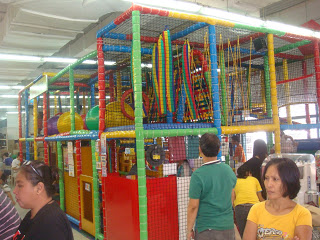 Shopwise play area
So as not to keep Kelsea impatient ('coz I do our major grocery around 1 to 2 hours), she and daddy go to the 2nd level of Shopwise to play here. Weeknight is a good time since there aren't so many kids playing compared to weekends when too many kids are inside. Play time costs Php150.00/hour so as much as possible, I finish my thing in a hour. You get to have 1 hour of free play after 6 consecutive ones. Kids and one parent/guardian must wear socks. Don't worry if you don't have one 'coz they're selling a pair for only Php10.00 🙂
Check out the pics of the play area with Kelsea having fun….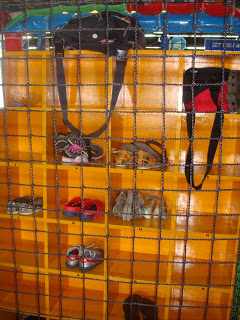 shoe and bag rack
All-time favorite in a playground…..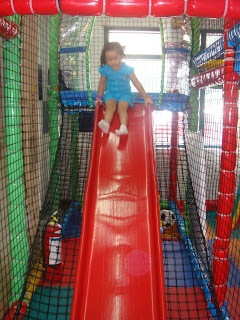 The slide: Kelsea's favorite area here
Balls! Balls! And more balls! Keep on jumping Kelsea!
Where is Kelsea?
She went through those huge colorful balls
 Next stop is the somewhat of a hanging bridge but you need to crawl hehe 
Swimming in a pool of balls (I wanna play there too 🙂 )
Going thru the tubes
Tired kids can also relax for awhile and watch Sponge Bob or Dora the Explorer
After an hour or two, the result: complete groceries of a mom who just another "me" time, a tired but happy to be young-at-heart daddy and a happy and contented toddler 🙂
If you want to do your grocery shopping in Shopwise Alabang, bring your own reusable bags. Muntinlupa does not allow using plastic bags anymore. Or if you don't have those reusable ones, you can always buy there or request to put the items in a box. Don't forget to bring your Wise Card of apply for one to earn points. Free parking also for purchases with a minimum of Php 1,500.