If you woke up late and need to fix breakfast in a jiffy, what would you prepare? PANCAKES!!!! Well, I once woke up late because of my VA (short for
Virtual Assistant
) gig. I only had 3 hrs of sleep and I still need to cook breakfast for Mark and Kelsea. Worry no more, I'm glad I bought a box of pancake mix 🙂 
I used Pillsbury pancake mix and checked the pantry for some add-ons. Now, here is Kelsea's pancake made by mommy with a smile on my face:
Fruit Loops eyes and nose + Hershey's choco syrup for the bright smile

My pancakes on the other hand are these: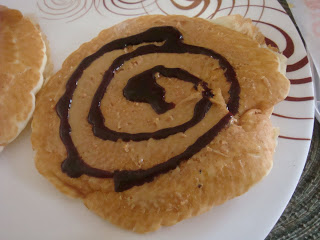 Peanut butter and Hershey's choco syrup
Butter and Maple syrup
These two filled-up my tummy at once. Daddy Mark's pancakes are with peanut butter and maple syrup but I wasn't able to take pics anymore because he finished it so fast.
Note:
I should have posted this in my kitchen
blog
hehe.