Who is Edwin Samot? Edwin Samot is well-known in the province of Cavite for his hair rebonding centers. I first encountered his salon in Dasmarinas, Cavite where I first had my hair relax. His numerous salons are very attractive to clients because of the affordable services. As far as I can remember a few years ago, a hair relax, haircut and hot oil package costs less than Php1,000. And I can't forget them using vinegar and water to rinse my hair. The smell was so strong but it helps smoothen and gives shine to our hair.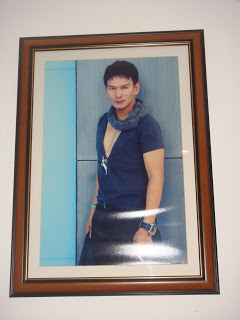 The Edwin Samot
Having a  natural wavy hair runs in the family except for my mom. After that first hair relax, I wasn't able to go
back to that salon because it's very far from Las Pinas where I used to live with my parents. Come motherhood, I searched again for a salon that could straighten my hair and give me new look. Good thing last 2008 before Kelsea's baptism, I was surprised to see a salon named
Hair Designs by Edwin Samot
 in Alabang (near Pacific Village and McDonald's)
. It was a franchise and was made for the high-end market but I decided to try it and had my first hair rebonding. It took around 8 hours  for the hair rebonding and cellophane treatment. That was so long! I wasn't ready so I became bored and sleepy. My semi-hair rebond, haircut and treatment package that time cost around Php2,000. I liked the results so I would definitely come back when my hair needs a rebond again. Unfortunately, this branch closed. I think because of the low foot traffic and few ads.
In 2009, my second hair rebonding experience was done by an acquaintance who did a home service on me. Her main forte is haircutting which she took in TESDA. She then looked for ways to learn how to apply hair rebonding. I think I was her 3rd or 4th hair rebonding client. Home service is always so comfy. You can stop for a while to eat, go to the bathroom or chit-chat a little since there's no pressure in needing to go home because she also lives in the same village in Las Pinas. That treatment (hair rebonding only) costs Php1,700 (which I haggled from Php2,000). I also liked the output so I think I'll get her services again next time. Unfortunately again, we lost communication.
Last 2010, I need to get a hair rebond again. I'm very hesitant to go to the mall because I know they're very expensive. I was again looking for another salon or home service that is affordable but gives good results. Luckily, when I was having my mani/pedi in
My Tralala Haven
(a nail and massage spa in Pilar Village in Las Pinas)
, the owner informed us that they already have new services. Aside from hair coloring, they also have hair rebonding. What luck! I had my 3rd hair rebonding there. The result was a little stiff at first but eventually became smoother after a few days. I just had a hair trim to get rid of the ends that contributed to the stiffness. That costs around Php2,500 for a little over shoulder-length hair. I'm not 100% satisfied but "pwede" na. Still, if I can find a better salon with better output, that would be great. 
End of November 2010, we moved to Bacoor, Cavite in our home sweet home. After 8 months, my hair became unmanageable again. I needed another hair rebond again because Mark kept on teasing me. But I don't know where to go so I asked for n@wies' help and recommendations. I was about to call one of the sister's recommendations when while we are on our way to BIR Bacoor, I surprisingly saw an Edwin Samot signage. It was right outside Park Place Village where the Casa Real Montessori is located. On our way back, I inquired and learned that they just opened last October 2010. It was a salon (Hair Designs) and spa that is not a franchise but owned and fully-operated by Edwin Samot himself.
From the outside, you can easily say that Edwin Samot is a nature-lover because of the trees and plants that welcome clients. I thought the salon was small but when I entered, I was lead to a different area where they allot a special area for rebonding and hair coloring. It was separated from the hair cutting area. Another area is for the day spa. It looks very relaxing and the interior was well-designed to put you in the mood. The second floor is also alloted for spa massages. 
We started around 1pm (they open 12pm during Sundays). Jovi, the Senior Stylist, asked me if it's my first time. I said no and informed him that a few days ago, one of the staff estimated that my hair rebond would cost Php2,000. Not bad!. Then he asked what hair rebonding product was previously used on me. I can't remember if it was
Matrix
or
Xtenso
. He said that if Xtenso was used on me previously, we can't downgrade to Matrix (a cheaper Korean brand) because it will have a bad effect on my hair. I forgot the exact words he said. Since I can't remember what was previously used, I decided to go for Xtenso which will cost Php3,000 already (inclusive of haircut). I gave the go signal to start the process. I was also asked what treatment do I want after the rebonding. I chose cellophane to add color to my hair. That cost around Php2,000 because of my hair length. The rebonding took around 4 hrs while the cellophane around 2.5 hrs. That was long but i was ready. I brought my copy of
Samantha Sotto's Before Ever After
to keep me company while they're doing my hair and my pedicure (Php100.00).
Here is the before and after results of my hair rebond and cellophane: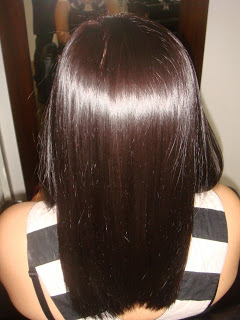 AFTER:  straight, smooth and silky
I love the result! I hope I can maintain it. It was just today that I was able to wash my hair to put shampoo and conditioner. It's a rule not to wash the hair for 3 days after rebonding. My hair is thin so I was advised that next time, semi-rebond is better for me. And that I should go back in a few months for a hair spa or try the Brazilian Blowout. Another advice is to get a trim every 2 months which will also help in strengthening my hair (I mentioned that I was having hair fall). That's how to take care of our crowning glory.
Here are a few pics I took when the doctor (dermatologist I think) gave me a tour: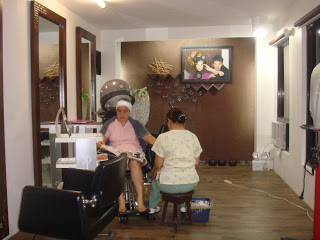 This was where I was sitted but that's not me in the picture.
Comfortable waiting lounge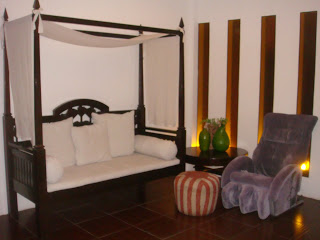 Waiting lounge in the massage area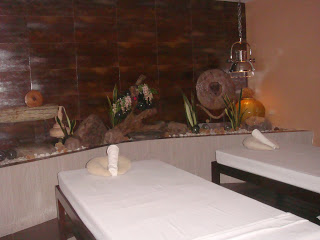 Couple's massage room
Sorry for taking only a few pictures. Some shots I didn't post because of the bad light in using just a point-and -shoot camera. 
I would definitely go back to this salon for my future hair treatments and to try out their massages 🙂
P.S. Prepare some change for the tip. I gave 4 tips to 4 persons (the senior hair stylist, the one who rinses my hair, the one who ironed my hair and the one who gave me the pedicure).