I was inspired by the chat I had with fellow n@wies in Facebook's group chat. Mommies started talking about 80's songs. I can totally relate since I was born 1980. Think "How Gee", "Ice Ice Baby", "Ragga Muffin Girl" and the list goes on. It's fun reminiscing songs we used to sing and hum, and those dance tunes that kept us on the move. While on our way to the office this morning, we passed by a public elementary school in Dasmarinas, Cavite. Students who were waiting for their classes to begin, are playing one of my all-time favorite indoor/outdoor games. And that's 10-20! I miss that game so much!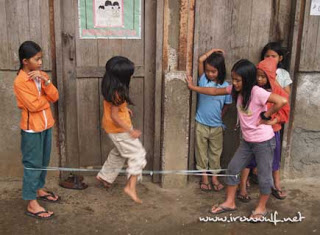 photo credit: www.ironwulf.com
I remember that game so well because I used to play that in our neighborhood with my childhood friends and also in school while waiting for my school bus. The game uses only chinese garter which is very cheap to buy. Skill on jumping and stretching is a must. Those were the days when our parents don't worry much when we ask permission to go out of the house and play with neighbors on the street. Unlike today, when safety is very questionable. It's either parents or nannies accompany the kids outdoors or never let them play outside thinking they might be kidnapped or what. And because of this, kids nowadays are spending time indoors either watching TV or playing with the computer and other gadgets.
Mark and I both experienced the fun of playing on the streets. We want Kelsea to feel that too 'coz it was so much fun. That's why we also chose to live in a place where we think it will be safe for her to play outside. (but that would be one of us looking after her). I even want to teach her all the games that I knew 🙂
Here are the games that Mark and I enjoyed during our childhood:
Outdoor Games:
– Ten-Twenty (you must jump high!)
– Chinese Garter (needs 'bwelo')
– Hide & Seek / Taguan (especially during the brownout days)
– Cops and Robbers (or Block 123)
– Piko (Hopscotch in English)
– Monkey Monkey (Do you still memorize the song?)
– Pepsi 7-Up
– Patintero (I love this too! Patotot!)
– Tumbang Preso
– Habulan Linya
– Dodgeball (using hankerchief)
– Luksong Baka
Indoor Games:
– Jackstones (including Chinese jackstones)
– Touch the Color
– Pick-up Sticks
– Taguan Tsinelas
– Bahay-Bahayan & Luto-Lutuan (we used  malunggay leaves)
– Making bubbles using Gumamela
Did you also try exchanging stationary and stickers with your friends? 🙂 I can also remember the square-shaped stationary with a curly edge. I used to have a big collection of stationary. And that includes scented and unscented ones.
Do you miss them? I bet you do!