It was one of Kelsea's tantrums day when she didn't want to take a bath and go with us to the office. She just wanna lie down on the bed. Hubby told me to dress her up without taking a bath but I told him I don't want to practice that. I want Kelsea to make it a habit to take a bath before leaving the house (except when she's sick where spongebath is okay). After countless encouragement, "lambing" and telling her the frogs might smell her smelly armpits, the little girl stayed still on the bed. Ha ha! She wants to get lazy. At the back of my mind, 'twas okay since kids should really stay at home to play. But I need to go to the office and work. She has her own set of toys and bed there. Time is running and we'll be late if we wait for her to agree on taking a bath so Mark told us to stay at home. Rest day for us yipee!
When you stay at home with a toddler, you need to keep things going and fun or else they'll get bored. Sometimes when we finish an activity, it seems that she really wants more because she asks me, 'Mommy, anong gawin natin?" So parents (mostly mommies) must be prepared for lots of activities in the house, whether indoors or outdoors.
Kids just like Kelsea's age love stickers. So I thought this could be our activity. I bought room decor decals from Japan Home Center in Festival Mall, Alabang. One set costs only Php66 or Php88 (sorry, i can't remember). I bought two designs that I'm planning to put on Kelsea's room. One set is butterflies and flowers while the other one is a set of moon,stars and sun. She was so excited when I showed them. She wants to stick them herself.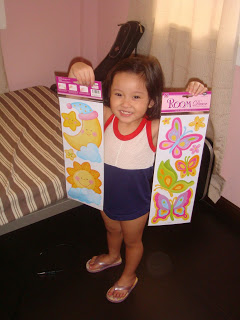 Kelsea showing the decals
Kelsea doesn't sleep on her own room yet but I'll slowly start decorating her rooom so that she'll have the feel of it. Here are pics of the Kelsea's pink room before sticking the decals: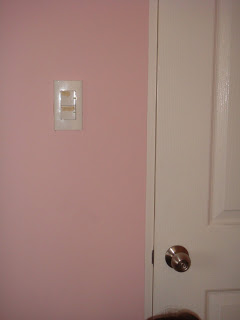 Boring switch area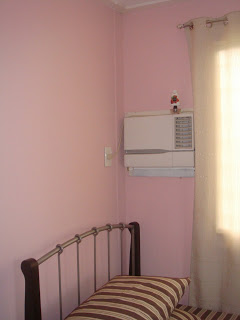 Aircon area
Now the finished product with the help of pretty Kelsea: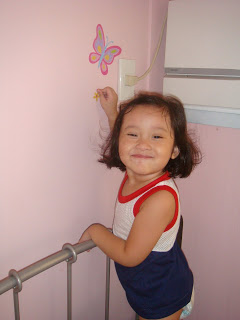 happy sticking the decals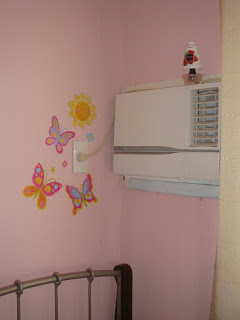 Not-so-boring plug
Butterflies and Kelsea
I'm starting to love decals! I hope I can find more soon for the other areas of the house 🙂