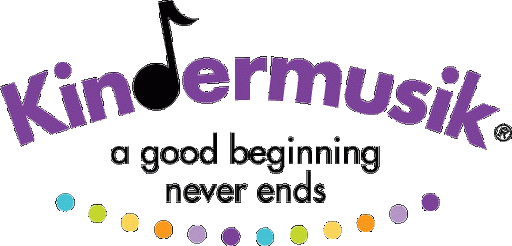 Before summer began, I told hubby that I want to enroll Kelsea in an enrichment class to further develop her personality and at the same time get to mingle with other kids. I learned about Kindermusik from n@w. Kindermusik is a music and lots of movement program for newborns up to 7-year-old kids. What's great about this program is the participation also of a parent/guardian or both parents. And to ensure quality of learning, class size is kept at a minimum of 6 and a maximum of 12 students. It was recommended by sisters who have tried enrolling their child/ren. Since we're from the South, the nearest educator is Teacher Ana.
We decided to attend first a trial class to see Kelsea's reaction. The nearest venue for us is in Ayala Alabang Country Club's Dance Studio. It was every Sunday mornings. When the class started, Kelsea was somewhat surprised and confused of what's going on. She was just in one corner and staring at the kids, parents and teacher. We wanted her to participate so hubby and I encouraged her. But she doesn't want to. She cried and had tantrums. Teacher Ana just told us not to worry and let her observe the whole session. After class, we were told that Kelsea's reaction was considered normal. So when we went home, we are to decide if we want to push through. We had another trial class but now with my best friend's son Kyle. Kelsea loosened up a bit but still a little aloof and little more observant. It seems that she want to participate but still shy. Kyle went to Toddlers Unlimited's summer class instead. For me, I'm positively thinking that Kelsea will eventually like Kindermusik.
I had an idea. We invited Erin (actually her parents who are our close friends too), Kelsea's bestfriend, to also join Kindermusik's summer class. I'm glad they joined too 🙂 The Kindermusik Adventures for their age (1-3yo) is Creatures at the Ocean. The class was from May 15 – June 19. It was a six-week program (every Sundays). It costs P4,170 which includes a take home CD with all songs sung in class , a literature component and an instrument (shell castanets). It's quite reasonable.
The two Chelsea's (Kirsten Chelsea and Erin Chelsea) had a blast! Below are highlight pics of them during the sessions: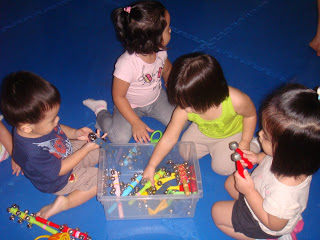 Getting familiar with the musical instrument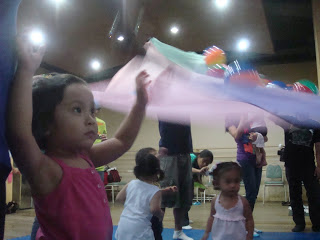 Enjoying the parachute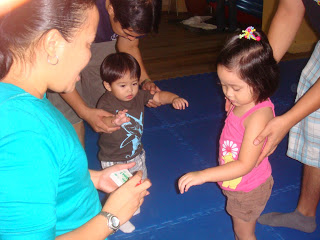 Stamp for a job well done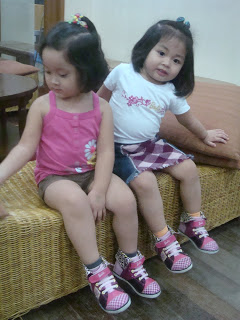 Kelsea and Erin: The Bestfriends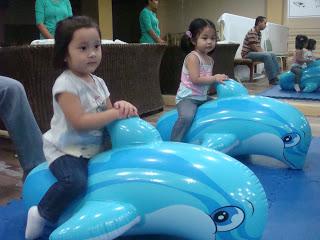 Riding the dolphins
Kelsea's fish artwork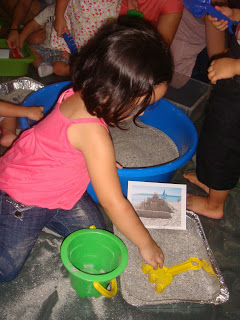 Playing with sand
With their sea creatures hats on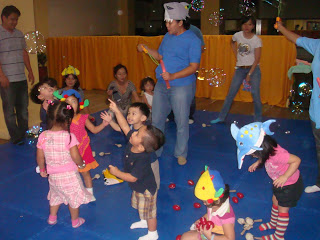 Kids really love bubbles
Crab painting
What I like about Kindermusik is the concept of using music in teaching. And parents get to be with their children on the floor mat. Teacher Ana also sings a tune when instructing kids to pack-away the toys or instruments used. Note: Licensed Kindermusik educators are required to carry a tune. Kids are also taught to take turns and share toys/instruments. The kids' behavior (such as jumping, crawling, clapping, etc) is also the basis of some actions that we all follow. There was also story telling wherein the kids get to react and express themselves based on the pictures shown to them. I also like the snacks prepared by Teacher Ana 🙂 Each snack is different every week. I dunno if other educators do this but it teaches kids that there is also time for eating. Hubby Mark and Ney (Erin's dad, who are yes, bestfriends too) love finishing off the snacks.
On the 6th week, Culminating Day is celebrated. There was a short class and then the presenting of certificates of participation to each student. We get to have our family pics with Teacher Ana. Then, a potluck party after class! Yum!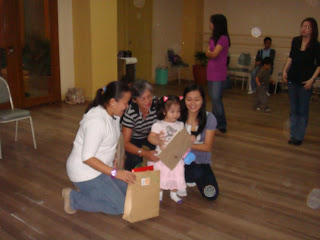 Erin's certificate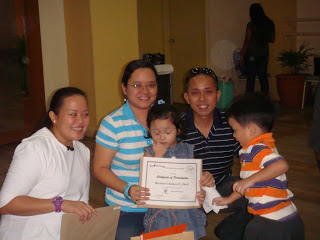 Kelsea's certificate (that's Charles, my nephew in orange)
Teacher Ana with the mommies and kiddos
Teacher Ana with Erin and Kelsea
Regular semester starts this July but we'll come back on the next semester which will be on November. Can't wait to look forward to Kindermusik again! 🙂
Interested to enroll your child? Contact:
Kindermusik® With Teacher Ana and Company
Maria Ana Cecilia S. Castro
Cellphone No: 09175322437
Telephone: 5028241
E-Mail: teacherana.company@gmail.com