I bought crayons and watercolor for Kelsea a long time ago for her to explore her creative side. She might have the talent since her Ninong Topher (her uncle – hubby's bro) and Ninang Sheila (her aunt – my cousin) are very artistic. Kelsea loves using her crayons on her coloring books while telling me, "Mommy, hindi na lampas o!". On the other hand, the paint brush of her watercolor is hardly used 'coz she uses her fingers to paint (actually more on abstract painting at this age of 2 yrs and 8 months).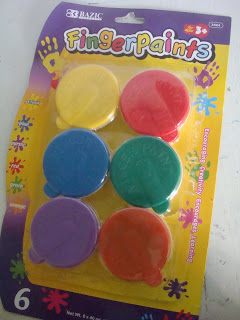 Fingerpaints from Japan Home
Last weekend, we went to Festival Mall and I couldn't resist going to my fave shop nowadays which is Japan Home Center.
I can stay there for hours just by looking at all of the interesting stuff. At 88 pesos, a few hundred bucks can allow me to buy lots of items already. As I was looking at the arts section, I was so delighted to see fingerpaints! At last, I was able to find one for Kelsea at a cheap price. I didn't have second thoughts in buying it so I immediately put it inside my shopping basket. I promised Kelsea that we will do this artsy thing in the office come Monday.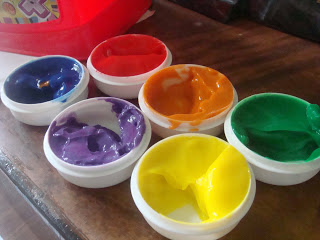 so colorful
So, 3 days ago, I let Kelsea try her new fingerpaints. And to make sure she kept her clothes clean, I let her wore her kiddie owl apron that we (n@w sis Faye and I) bought from Handy Mommy. Below are Kelsea's pics enjoying fingerpainting.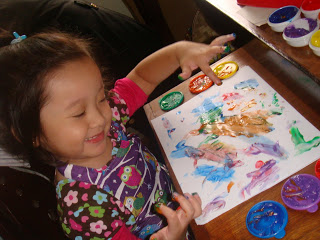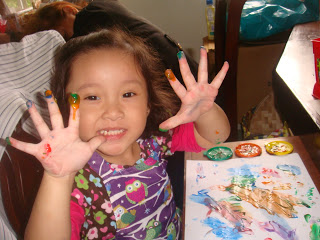 And here's her 1st fingerpaint artwork that I'll start collecting and might frame and hang it on her bedroom walls 🙂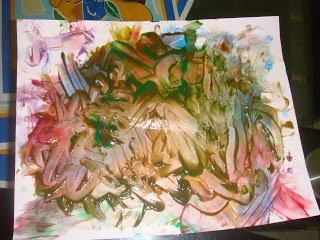 kelsea's artwork
Watch out for more of Kelsea's art project! I'm excited too! 🙂