Our much long-awaited family summer outing pushed through last April17-18 in
La Luz Beach Resort
located in Laiya, San Juan, Batangas. We had a hard time getting a reservation at first but thanks to connections, we were able to get a weekend 🙂 A headcount of 14pax riding in two separate vehicles, we were on our way to La Luz around 7:30 AM (Original plan is leave Las Pinas at 6:30 AM.. talk about Filipino time hehehe). Our departure time was way too late. There was already too much traffic in SLEX and Sto. Tomas, Batangas. We should have sticked to our original plan. Because of too much traffic and unfamiliarity of the place, we arrived around 12:15 PM. Whew! That was a 5-hr travel! Good thing, Kelsea has her car seat and slept almost throughout the ride BUT my nephew Charles was sleeping on my lap. He's so heavy.
We followed the directions provided by La Luz. When already in Laiya, a row of resorts can be seen, some were familiar names i have encountered when searching the net for alternative resorts in case we can't get La Luz. La Luz was i think the 2nd to the last resort on that strip (Palm Beach was the last). There was really a rough road that goes way up. Good thing is, the road is already under construction and will be cemented soon. For sure that project is because of the elections 😛
Upon arriving the resort (there were already many vehicles parked), i was looking for the information/reception area. It was downstairs. It was not elderly friendly (think going upstairs). I hope they do something about that in the future.
Here's the La Luz signage and the stairs going down from the parking: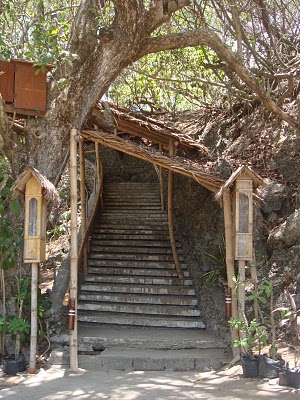 The information and registration area served us welcome drinks (Gulaman!). Check-in time is 1:00 PM so we were asked first to proceed to the dining area to have lunch. No food is allowed to be brought inside so guests must avail of their food meals worth Php 1,100/pax. This includes lunch upon arrival, PM snack, dinner, breakfast and AM snack. Check-out time is strictly 11:00 AM and we were asked if we want to avail of the buffet lunch worth Php 350. It was worth-it because food served was great and it's buffet style 🙂 No need to stress ourselves in planning what and who to cook. We are here to relax 🙂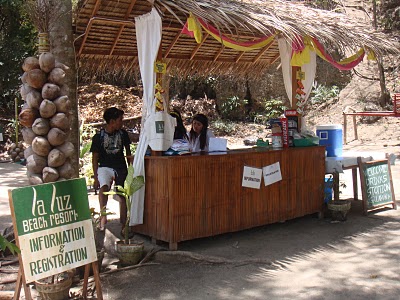 Here are some pics of what's around on our way to the dining area:
Waiting area (many big red ants roaming around the seats and table)


Mini playground for kids
Standby kayaks
Bikes for rent
Playful monkey
Buffet area

After eating lunch, we went to our rooms. We availed of the Premier (max of 6pax – Php 3,500) and Premier Loft (max of 10pax – Php 4,300). Very affordable! The room was spacious enough for the allowed no. of persons. Its very spacious shower area is separate from the toilet. I like that!
After settling down and taking a rest, Kelsea and I went for a walk while Mark was finishing some work. Mommy and daughter bonding 🙂 From afar, the sand looks white but it's really grayish up-close. La Luz got a nice and clean surroundings and it makes you think you're in a private beach. We later learned that people from other resorts are not allowed to swim in the shores fronting La Luz. There are lifeguards roaming around. As guests from La Luz, you would understand that they're doing this to keep the place exclusive and to maintain the peace and quiet surroundings.
Photos I took of Kelsea while enjoying the sand, the kayak and the fresh air.
Later on after the afternoon snack, family joined us and enjoyed the rest of the afternoon.
Tintin and Jelo with Kelsea.
My nephew Charles also enjoyed playing in the sand. Her mom Mabes wasn't able to joined us because it was her 1st day of class. Although a graduate of Marketing, she decided to pursue being a nurse and hopefully her dreams of working in the US to give Charles a better future.